Devon's ancient capital city is diverse, extraordinary and vibrant with many layers to explore. Honouring its history while embracing the best of modern life, Exeter has an eclectic mix of brilliant things to do, from exploring medieval passages and gazing at fine art to meandering through narrow streets of independent shops and enjoying a lively night out.
The historic city also boasts some lovely walks and flourishing gardens, providing the perfect place to stretch your legs after an afternoon of feasting in one of the many fabulous eateries.
Whatever your interests, you'll find something to inspire you in Exeter – here's a list of the top things to do, whether you're here for a day, weekend, or week long break.
Exeter Cathedral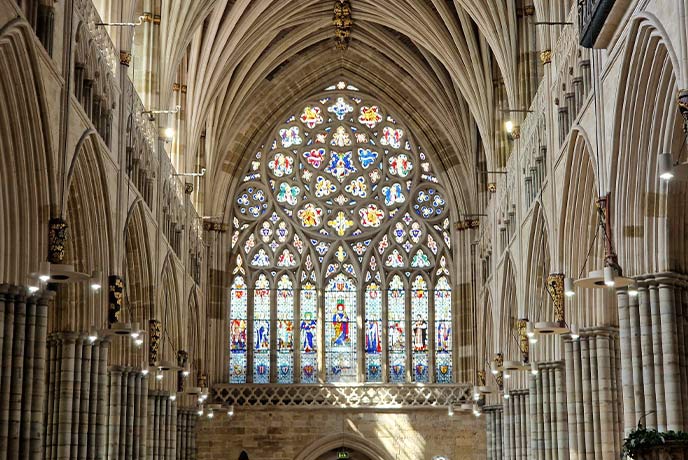 At the heart of the city, and of Devon itself, lies the incredibly beautiful Exeter Cathedral. Set within its own square, the imposing building was built in 1050 for the Bishop of Exeter in the Norman style, then torn down and rebuilt in 1342 in order to rival Salisbury Cathedral. Adorned with grimacing gargoyles and statues to welcome the weary pilgrim, many folks travelled from near and far to see this magnificent building of worship.
Step inside and look up and you'll discover the longest, continuous mediaeval stone vault in the world, adorned with over 400 carved Gothic images of animals, heads, strange figures and coats of arms. Wander through the cathedral and embrace the peace and tranquillity – if you're lucky you might hear the organ master practising, the choir's voices floating to the ceiling or even a wedding in process. It's a wonderful way to spend an hour, passing angelic statues and flickering candles, before heading back out into the bustling city. Make sure to explore the grounds and gaze at the beautiful cloisters which line the cobbled cathedral square – it's especially pretty after the sun has gone down and the streetlights flicker to life.
Historic Underground Passageways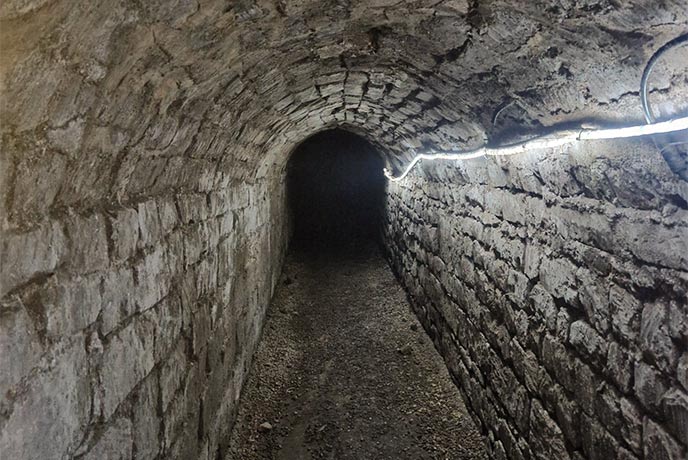 You'd be forgiven for missing sight of these one-of-a-kind tunnels. Situated in the city centre, the glass-fronted entrance to the passageways blends seamlessly with the neighbouring shops, but step inside and take the four flights of stairs down into the depths of the earth, and you'll find yourself transported back to mediaeval times. The only city in the UK to have passages of this type open to the public, they were meticulously created to bring a supply of fresh drinking water into the city, offering workers easy access when they needed fixing rather than having to guess where they needed to dig.
Guided tours of the passageways take place regularly throughout the day, where you'll first be shown a 10-minute film presentation before donning hard hats and descending even further underground, metres below the bustling high street. For 25 minutes you're taken through the brick and stone-lined tunnels, marvelling at the skill of the workers.
At points the passageways can be low and narrow (and not to mention spooky) as you're led deeper into the heart of the city by the extremely knowledgeable guides, who regale tales of the sometimes grim, but always fascinating, past. At the end, you're led back into daylight and left in wonder that such passageways weave maze-like beneath your feet. The tunnels are open Thursdays to Sundays, and it's important to book your visit beforehand as it can get very busy. You'll need to wear sensible shoes and if you're claustrophobic you'll probably want to sit this one out and go for a coffee instead!
Exeter Quayside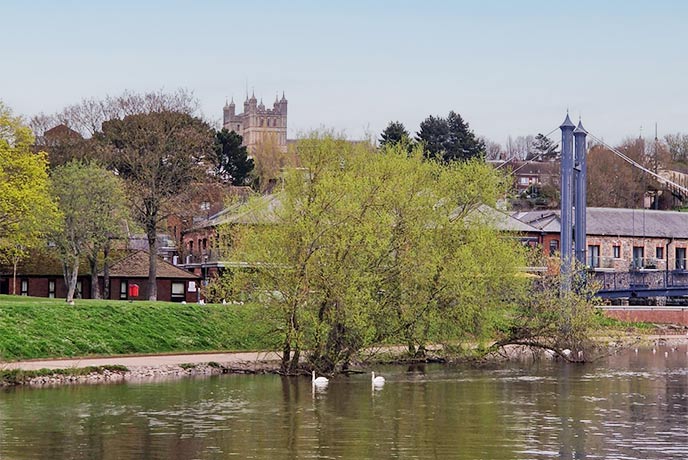 Just a short stroll from the city centre lies the beautiful quay beside the River Exe and Exeter Ship Canal. With cobbled streets and interesting architecture, the area has been restored to become a hub for cafés, restaurants and pubs and is a great way to spend a sunny afternoon watching the world go by or exploring the antiques shops.
If you're after something a little more active, you can hire bikes and cycle or walk along the Exeter Ship Canal and estuary to Topsham or hire canoes to go on the river, while The Quay Climbing Centre is great for those seeking a challenge. Alternatively, if you'd like to find out the history of the quay, head to the Custom House Visitor Centre, while Quayside Distillery is a must for any gin enthusiast (you can even make your own gin). If you're a bit of a foodie, Exeter Cookery School is based in the quay - a fantastic way to develop and hone your cooking skills to take home with you.
Royal Albert Memorial Museum & Gallery (RAMM)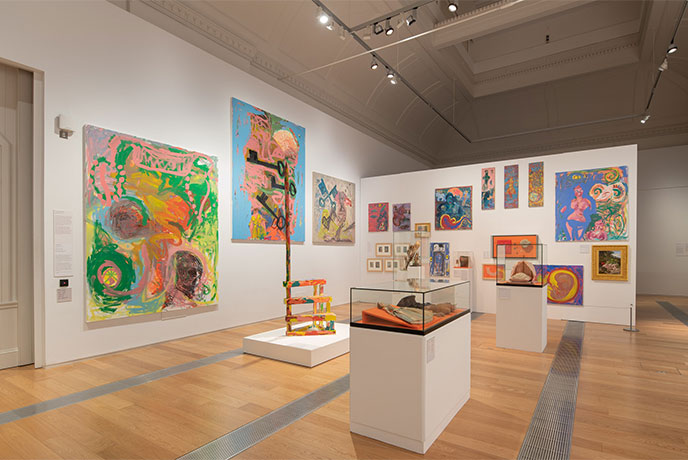 Established in 1861, this award-winning museum and gallery delves into Devon and Exeter's rich history and connections from around the world. Free to enter and with 16 galleries to explore within a splendid Victorian building, the subjects range from prehistory right up to the present day. Here you'll learn all about animals, birds, insects and cultures from around the world, as well as the city's own collection of glassware, silver, fine art, clocks and watches, local history and archaeological artefacts from the area as well as overseas.
There are three exhibition spaces which change regularly, so check their website for upcoming events, and there's a shop where you can pick up a souvenir or two. There are activities throughout the year for children, from building Lego castles and catapults to falconry and making illuminated bookmarks, while there's a museum trail and a family area so it's a great place to visit for all ages. The museum and gallery are open from Tuesdays to Sundays.
Red Coat Guided Tours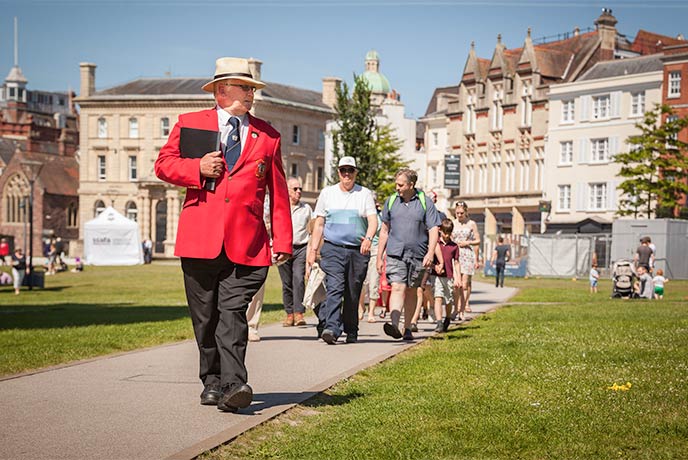 Running from the 1st of April to the 31st of October every year, Exeter's Red Coat Tours offer a free in-depth exploration into life in Exeter. With 15 tours available, from 'Forgotten Exeter' where you'll learn all about the hidden corners and curios of the city, to tours of the historic quayside and even a ghosts and legends tour, there is something for everyone.
All of the tours last approximately 90 minutes and depart from the Hooker Statue on Cathedral Green (except those featuring the quayside and canal) – check their website for the full itinerary of tours and when they take place.
Exeter City Wall Trail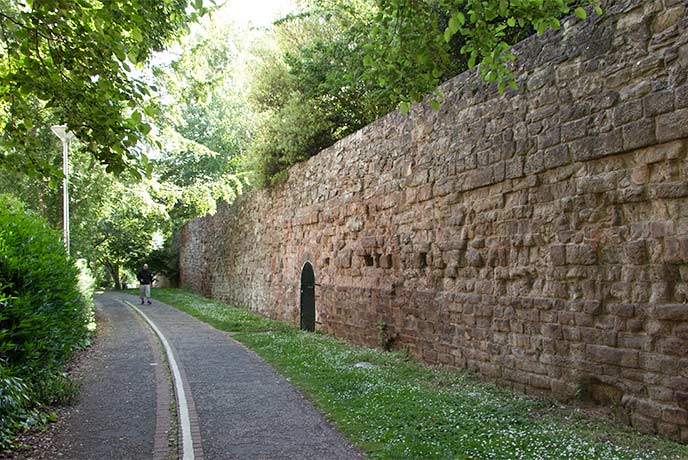 Almost 70% of Exeter's city wall remains intact, which is truly remarkable considering it's almost 2,000 years old. Having repelled invasions and rebellions, the wall weaves its way around today's modern city, passing characterful old houses and modern day shops, with striking views over the surrounding countryside at certain points.
It can be followed on a self-guided tour, and there's a leaflet available from the Custom House Visitor Centre at the quayside or online. With colourful information panels at important points along the way delving into the history of the city, you'll definitely learn a fact or two as you go. There are also quizzes and puzzles for children to do en route to keep them amused (make sure to bring pens with you).
St Nicholas Priory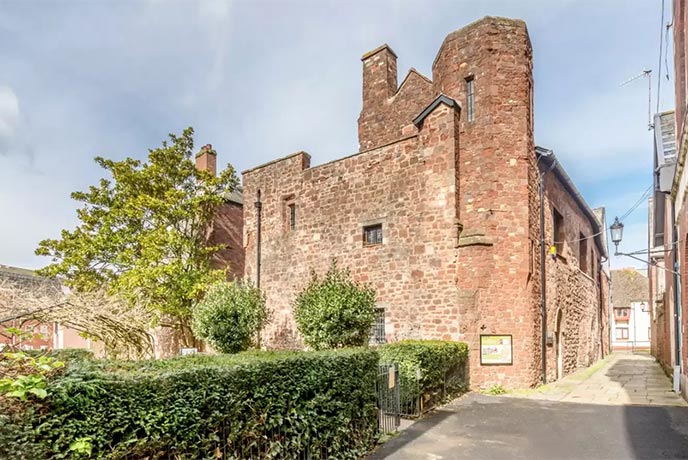 Exeter's oldest building, this magical priory is tucked away in the heart of the city in a blink-and-you'll-miss-it location. Founded by William the Conqueror in 1087, it has in turn been a residence for Benedictine monks with a hand in the local woollen trade, a wealthy merchant's home and a Roman Catholic mission.
Today, it's a living history museum where visitors can walk through the Tudor parlour, mediaeval kitchen, the Great Hall and a Tudor bedchamber. The priory is free to enter and open on Sundays and Mondays, but you can peer through the diamond-patterned lead windows when it's shut and catch a glimpse of times past.
Shopping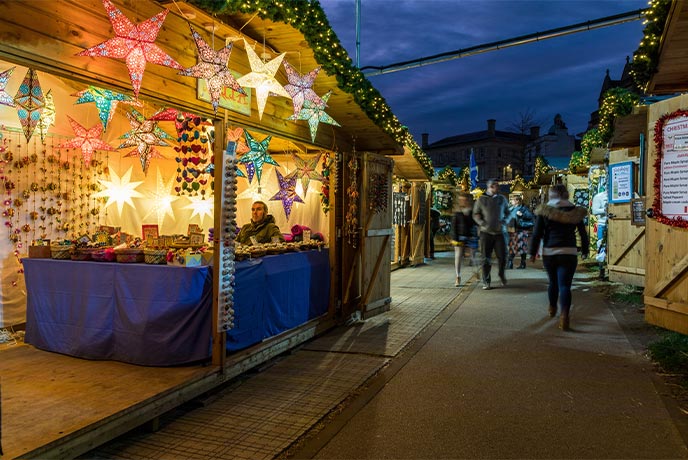 If you're in the mood for a bit of retail therapy, Exeter certainly delivers. A fantastic mix of high street and independent shops, there's something for everyone. The award-winning Princesshay, situated next to the cathedral, has over 60 firm favourites to explore, while the Cathedral Quarter is home to boutique shops and glittering jewellers.
Head to the West Quarter for the best independent shops, offering bespoke and artisan goods that are totally unique, while Magdalen Road has won accolades as one of the coolest places to shop in the world! If you're visiting over Christmas, be sure to check out Exeter's festive markets for seasonal bites and unique gifts aplenty.
The Exe Estuary Trail by bike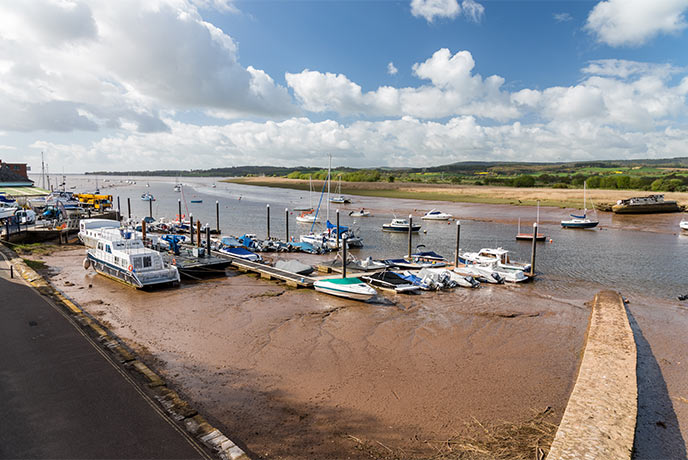 Discover a fantastic cycle and walkway that runs around the whole of the Exe Estuary linking Exmouth, Exeter and Dawlish Warren. A wonderful route for wildlife lovers, the Estuary boasts a wide range of flora and fauna in its marshland, especially for wintering birds, making the area a Site of Special Scientific Interest (SSSI) that's managed by the RSPB.
Following the river for much of the way, the views over the water are just lovely, while the waterside villages of Topsham and Exton are particularly pretty and well worth dismounting your bike for.
Exeter's Gardens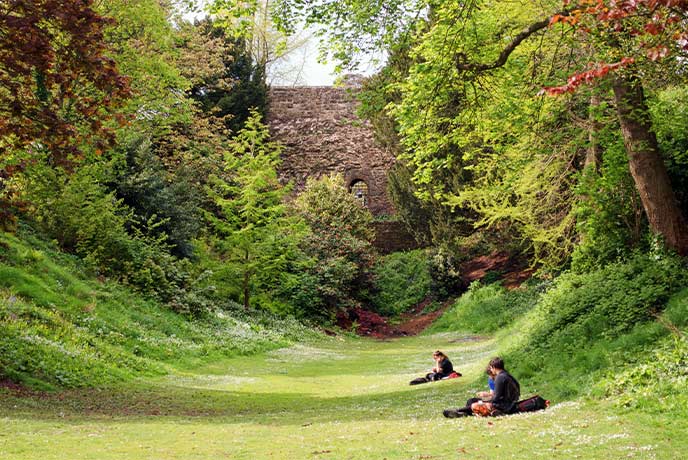 This lovely city is blessed with its green spaces, with peaceful parks, historical gardens and even cemeteries taken over by nature finding its home here. Northernhay Gardens are Grade II listed, being the oldest public gardens in England, while nearby Rougemont Gardens were originally part of Exeter Castle's defences. Even the University has a gorgeous botanical garden, which you can visit on one of their tours.
St Bartholomew's Cemetery is worth popping into if you're passing by – built following the cholera epidemic, you'll discover the entrance to rather creepy catacombs amongst the neglected tombstones, which although fenced off is enough to give you the shivers. If you're a keen walker, The Exeter Green Circle is a lovely 12-mile walk within the boundaries of Exeter that takes in all of the city's greenest spots.
Eating and drinking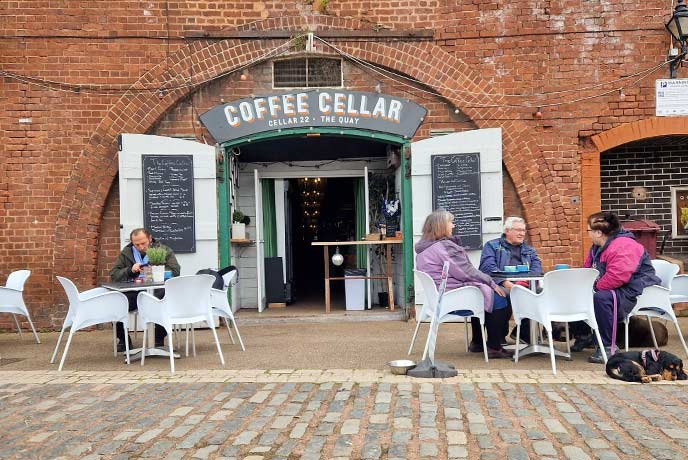 As befits a busy city, Exeter has more than a smattering of places to eat, whether you're after a cosy café, bustling pub, Michelin restaurant or a handy takeaway. Discover something for every occasion, from uber-cool eateries for celebratory meals, such as The Ivy set on the edge of the cathedral square, to farm shops and Exeter Farmers Market on a Thursday where you can pick up a selection of locally-made goodies to take back to your holiday cottage.
Take a stroll around the city and you're sure to come across a hidden gem, serving anything from Greek to German food, catering for all tastes. If you're more in the mood for a tipple, there are historic pubs aplenty, some said to have been frequented by the likes of Sir Francis Drake and Charles Dickens! Alternatively, there are a vast number of cool glass-fronted wine bars, artisan coffee shops and tucked-away tea shops to rest weary feet.
Discover this wonderful city for yourself in one of our holiday cottages in Exeter and start planning your visit now.