My small ones love a castle. A castle will always provide the perfect setting to fuel their imaginary worlds of knights and princesses. To them, a castle is a film location, a vast backdrop, a stage set, for their wild imaginings. They won't quibble whether Compton is a fortified manor house or a castle, they will just jump straight into their medieval world.
We started our visit with a lovely picnic in the orchard. This is a great space for families to eat. The trees were laden with apples, and the small enclosed space was perfect for ruining around in. As we entered the castle grounds we realised that we were lucky enough to arrive on one of the regular Tudor days. This meant that both volunteers and visiting children were running around in Tudor costume. I love the fact that the volunteers were relaxed enough to allow children to keep the costumes on as they played in the castle grounds.
Various outdoor games were scatted around for visitors to play on. We tried quoits and skittles, and croquet was also available. I love the old-fashioned charm of these kind of outdoor games. Give me a sunny day and some retro wooden games and I'll be happy for hours.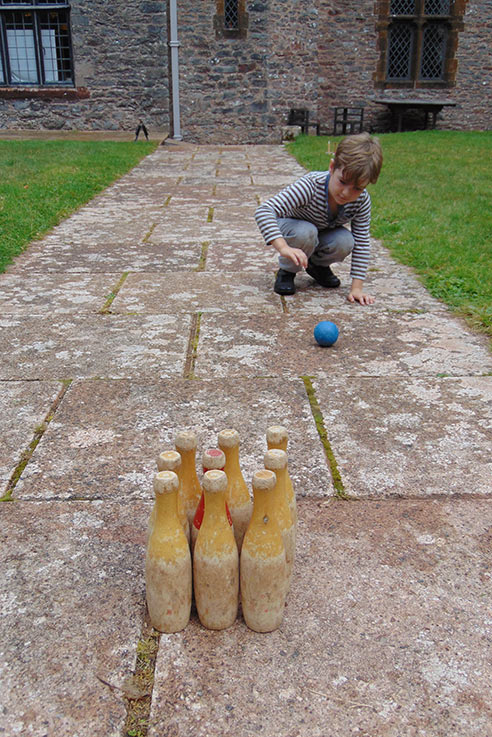 We were offered a choice of two trails to complete, but, as we weren't in a hurry we tried both. First, we did the easier nursery rhyme trail. The sheet explained that nursery rhymes often have a hidden meaning, which was fantastic for my 8-year-old as that is something she has been learning about at school. As we walked around she told me that the origins of the rhyme Little Jack Horner lie in Tudor times. According to my daughter, Jack Horner was a servant of the abbot of Glastonbury, who took a large Christmas pie to King Henry the 8th. Inside the pie were the deeds to a Manor house in a 'plum' location.
After completing the nursery rhyme trail, we searched for stuffed squirrels inside the castle. Squirrels are on the family crest of the Gilbert family who owned the castle before selling it to the National trust in 1951. Squirrel was the name of the ship which Sir Humphrey Gilbert sailed to Canada in 1583. Although the castle is not large it has a few creepy passageways to fuel my children's imaginations and we were soon running from imagined invaders and defending the castle gates against the oncoming hordes.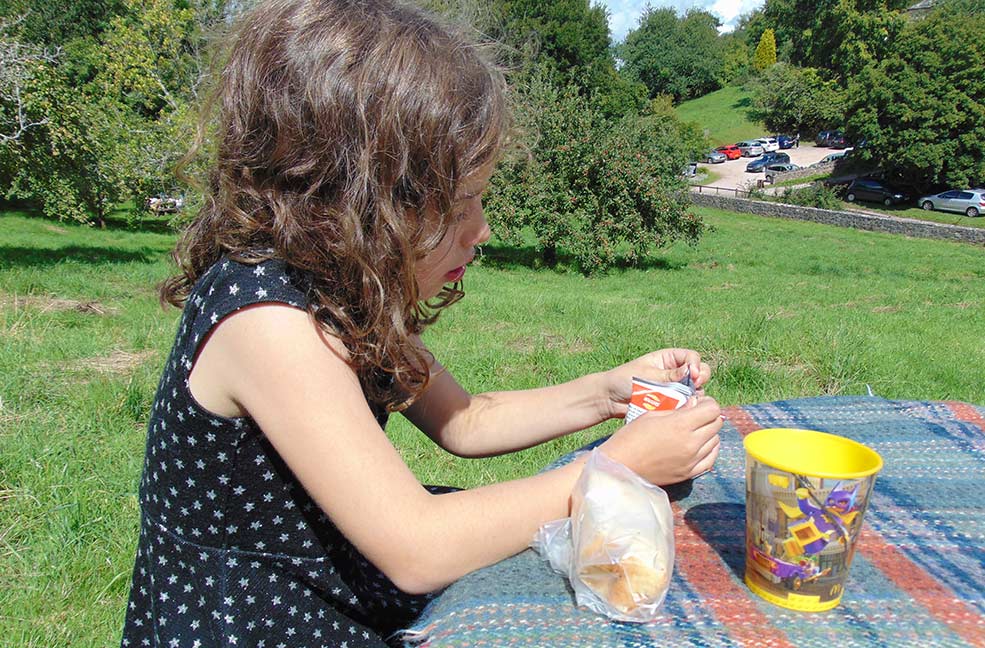 Compton is only small compared to some manor houses, and it's only open on Tuesdays, Wednesdays and Thursdays. It is also quite hard to find down small country lanes, but it is well worth a visit as it rarely gets crowded, and the volunteers seem very relaxed about the crazy imagined games of small children and their excitable father.