Oddicombe beach, in Torquay, is my family's favourite beach for stone-skimming.
None of us are very good at it, but that doesn't stop us all trying. And every once in a while, we get a few bounces. It just seems so magical seeing small flat stones bouncing on top of the water. The good thing about Oddicombe is that it is blessed with endless amounts of flat, smooth, round pebbles. On a good day I can achieve around 7 bounces but I am a long way from the world record of 51 bounces.
Oddicombe beach at a glance:
> Type of Beach: mixed sand, shingle and pebble
> Dog-friendly: only from October to April
> Child-friendly: yes
> Accessible: yes, via the funicular railway
> Cafe: one at Oddicombe, and a couple at Babbacombe
> Toilet: yes
> Best for stone-skimming
> In one sentence: a good all-rounder with a nice walk
If I could offer one piece of advice, I would advise people never to drive down. The road down to Oddicombe, and the sister beach of Babbacombe, is ridiculously steep and I'm forever spotting cars getting into trouble as the try to negotiate the precipitous winding roads. There is no need to drive, as the best way to arrive at the beach is to park on Babbacombe Downs and come down via the funicular railway.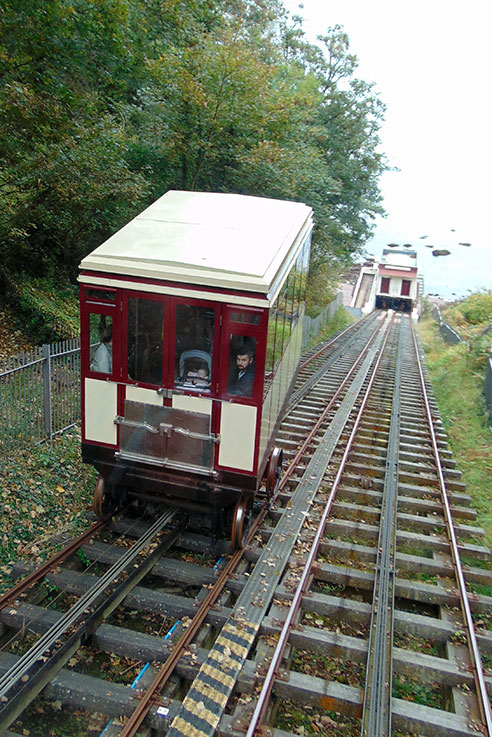 This lovely cliff-railway has been ferrying people up and down these hills for nearly one hundred years. The cliff top promenade at Babbacombe Downs is the highest in England, and on a clear day you can see as far as Portland Bill in Dorset. My children love the funicular railway and it is undoubtedly a great way to arrive at a beach. It effortlessly glides down the steep gradient offering fantastic views out to sea.
The beach has the deep red sand which is so iconic of The English Riviera. There has been a large cliff fall at the far end which infamously claimed a large house a couple of years ago. The event reached the national media as someone had just bought the house in a blind auction and never got to set foot in their new house before it collapsed. Most people avoid this area as it doesn't look particularly safe, but there is still plenty of beach left for exploring.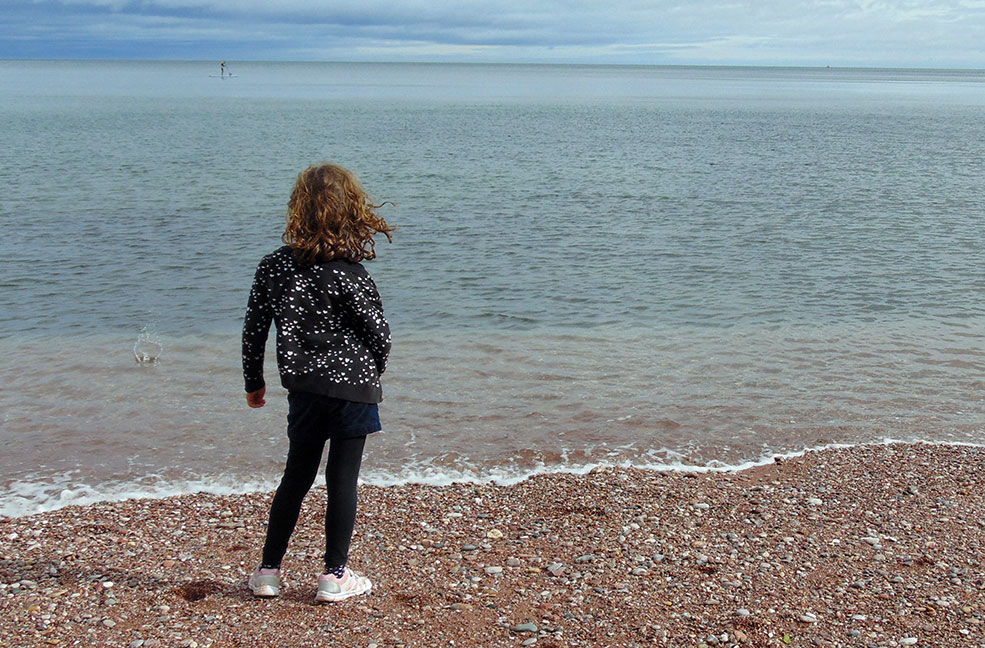 A national newspaper recently included Oddicombe as one of its top ten beaches across the UK, describing it as everything a British beach should be. The beach is a mixture of pebbles, sand and shingle with a gentle slope down to the sea. It is a well-resourced beach with clean toilets and a fine beach cafe. One of my favourite things to do is to walk along the undercliff walk towards Babbacombe Bay. This is only a short walk and not too difficult. The houses above Babbacombe Bay look spectacular as they cling to the cliff face. They include the large pub The Cary Arms. The small beach at Babbacombe Bay is equally as charming as Oddicombe, and has a small harbour wall which is good for crabbing, climbing and jumping from. The Cary Arms is well worth a visit, they do some of the best fish and chips in Devon.
Take a look at our collection of holiday cottages in Devon.