As a child my favourite stories were the Narnia Chronicles by CS Lewis and of these the opening story is The Lion, The Witch and The Wardrobe. Even as an adult I've spent my entire life checking large wardrobes just in case they lead to the magical snowy land of Narnia, so when I told my three children we'd be heading off to Narnia they were nearly as excited as I was myself.
The story starts when four children are evacuated to a large isolated house in the countryside; the 18th Century Manor house at Killerton made a perfect setting. Our journey started at a mocked up Killerton Halt railway station where the staff were dressed as ticket collectors. Following a trail of decorated trees we soon arrived at the house itself where everything was decorated to look snow covered and magical, blue lighting and white fairy lights adding sparkle. Each room contained a tableau from the stories; there was the Beaver's Lodge, Mr Tumnus' House and even the palace of the evil White Witch of Narnia. One room was decorated as the castle at Cair Paravel where the children in the story get crowned as Kings and Queens of Narnia and the whole experience made my own children feel like kings and queens themselves. As a lifetime fan I was instantly transported to a sense of childlike delight, but my four year old boy was equally enraptured despite never having read the stories.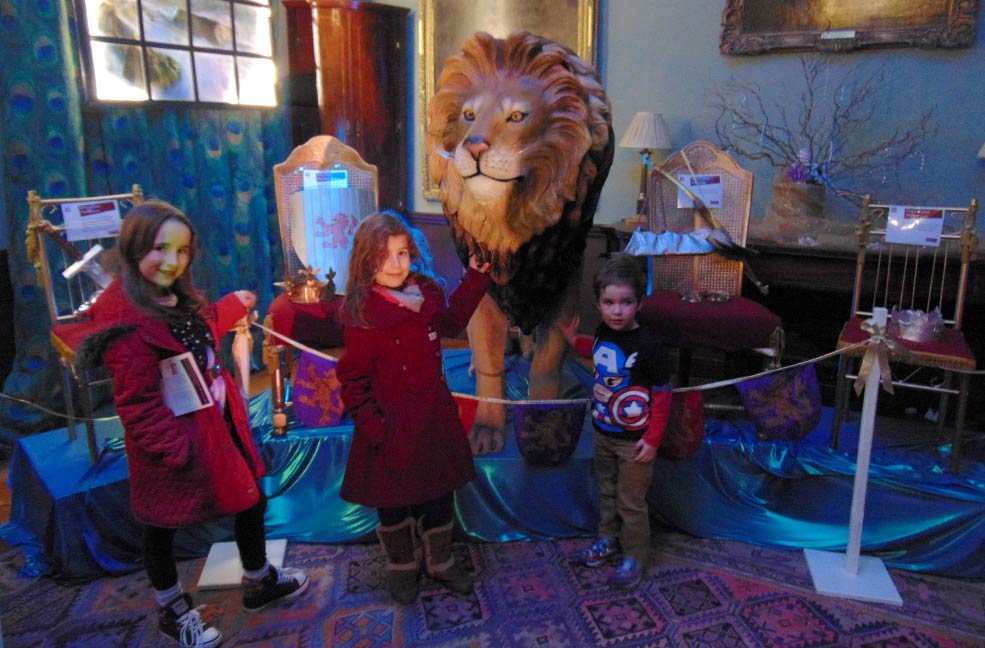 After an enchanting exploration of the house, including a walk-through wardrobe filled with fur coats, we stepped outside for a trail searching for Narnian words. Along the trail there were various games and puzzles to enjoy, including large jigsaws and a game of hoopla. Before finishing the trail we diverted to the incredible chapel which was decorated with Christmas trees donated by local community groups. I'm normally one of those sticklers who avoids anything Christmassy before 1st December but our day at Killerton completely worked its Narnia-themed magic on me and I came away singing out-of-tune carols and Christmas songs.
In the grounds of Killerton there was a Christmas market which had packed up by the time we left. One of the stall holders had dumped a large pile of frosted ice on the floor which they must have used to keep drinks cold. It took a large dose of childlike imagination to make this seem like a snow-drift, but the magic of Narnia had clearly worked on my children as well because they spent a good twenty minutes playing in this isolated patch of 'snow.' That night we did something we'd forgotten to do in the busy rush of everyday life and started to read CS Lewis' classic stories to my four year old boy.
You can stay near Narnia, oops, no we mean Killerton! It's not far if you have a holiday near Exeter.