With such fond memories of Dorset beaches both during my childhood and now in adulthood, it is hard to pick out my favourites. Despite Swanage being at the top, Lyme Regis also holds special memories of spending summers growing up.
When my parents divorced and left Swanage, Lyme Regis is where my father decided to set up home, and so it became somewhere I would spend the occasional weekend, learning about the coast, boats and fishing.
The seafront, with its old cobb and the waves crashing up against it, is easy to recall it from films such as The French Lieutenant's Woman, but for me it was a place to go and play chicken, seeing who had the nerve to stand on the edge and risk the waves splashing over your shoes. The small aquarium at the cobb's base was always a big draw for me and I would beg to visit over and over again, where I knew certain tanks contained fish that would follow my finger over the glass and where I'd have the opportunity to hold a starfish on my tiny palm. I can only assume that this is where my love of the ocean and fascination with aquatic wildlife came from, which has continued into adulthood.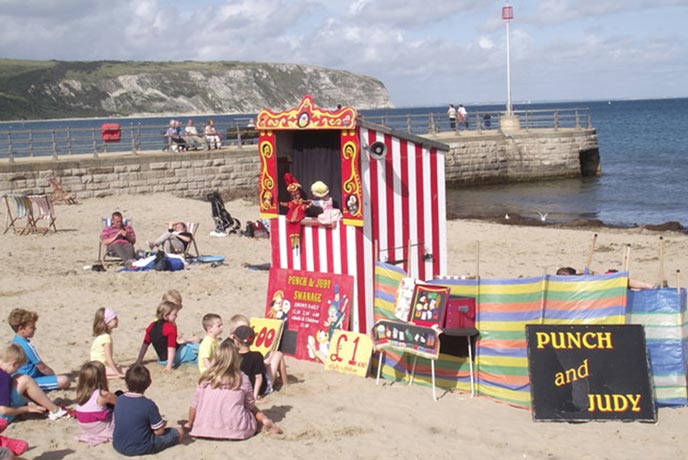 The western side of the beach away from all the tourists was the most exciting, as it meant little or no people, and lots of opportunities to scurry over the rocks looking for fossils. My dad was a keen fossil hunter and armed with his rock hammer, we would tap into rocks looking for ammonites to decorate his already overcrowded garden. He would always be the one to draw the short straw when it came to carrying any prizes home. If we were unsuccessful in our hunting, we would pop to the fossil shop, which is still in the high street today and remarkably popular, and spend my pocket money on gemstones, shark teeth and tiny ammonites that I would take home to show my mum.
The high street always fascinated me as it was always full of incredible smells; pasties, ice cream, fudge, and all the other kinds of things that make your mouth water and are bad for your teeth. If I was lucky I might get an ice cream, but not too much as I knew we'd be eating fresh fish for dinner that my dad had caught.
When the tide was right, we'd head out in his small boat, with me adorned in a fluorescent life jacket which was far too big for me. My dad would hand me a thin fishing line which trailed in the water behind us and with a few sudden turns of the boat, mackerel would attach themselves like magnets to the line. My dad would help me to haul them into the boat and I would look away whilst he prepared them right there and then on the boat for our supper. The seagulls were especially excited about this and would flock around us waiting to be thrown any scraps. As I got a little bigger, Barney the dog would also come with us and have a great time jumping in and out of the boat for swimming, always worrying me that we might capsize in his efforts to get back in once he had jumped out. More than once, my dad had told me stories of basking sharks and that if we fell overboard they might accidentally swallow us whole.
Lyme Regis still attracts thousands of visitors every year, with the safe sandy beach perfect for families tucked into the cove, as you can see on the Lyme Regis webcam, and rockier western side for explorers and fossil hunters. Plenty of fish and chip shops are dotted throughout the town, but sadly the parking leaves a little to be desired due to its lack of it.