With unseasonable but much-welcomed sunshine on our backs, my husband and I set out by bus from Ryde to East Cowes beach on a May Bank Holiday (Southern Vectis buses 4 and 5 alight at Waitrose). While it was our first visit, it won't be our last. Nearly perfect, this petite beach has everything we could ask for - except sand. Easy to reach and secluded, East Cowes is primarily a shingle beach but I wouldn't let that stop you from visiting this slice of R&R at the water's edge.
East Cowes Beach at a glance:
> Easily accessible
> Swimming and Sailing
> Toilets
> Dogs permitted year round, limited area 1 May to 30 September
> Ample parking
> Cafe/Snack Bar
> Playground and Splash Pool
The stroll up to East Cowes beach is simply charming. The sturdy Coastguard Cottages originally built in 1882, now family homes, give the area a real vintage vibe. As we approached, there, tucked into a wall was a small memorial to young Freddie Attrill who in 1852, while collecting shells, had his bucket kicked by Queen Victoria's son.
It seems the area is steeped in history. And while we didn't go inside on this visit, the beach is overlooked by the Classic Boat Museum (open Tues/Wed/Fri/Sat 10am to 3.30pm, admission £2 adults, £1 children) as well as the original propeller – a sculptural marvel - from the HMS Cavalier, a Royal Navy ship built in East Cowes in 1944.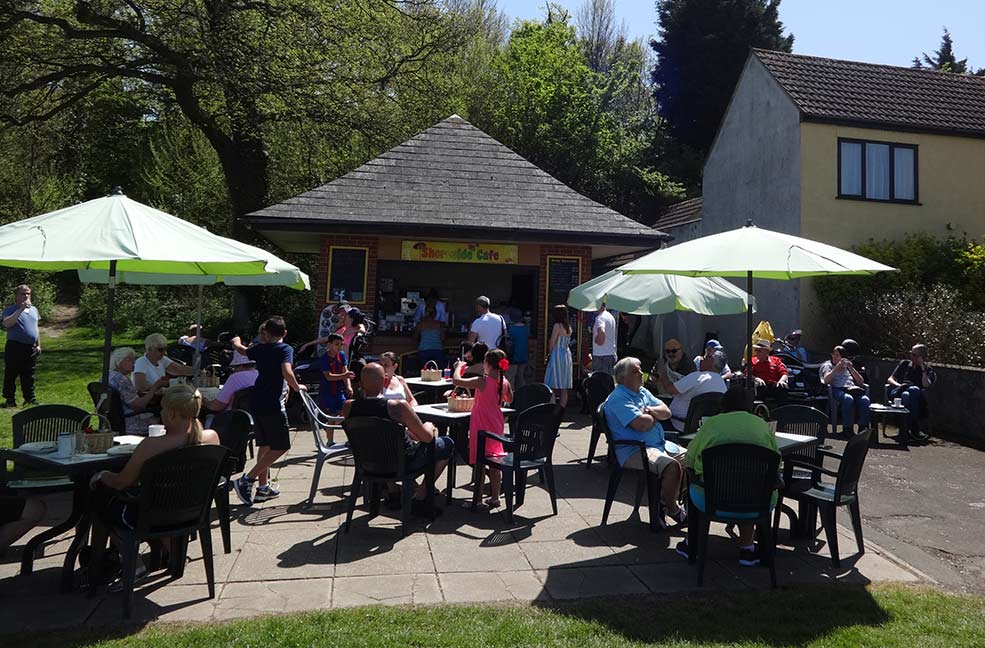 The street leading to the beach is lined with free parking and a small car park accommodates at least a dozen cars, with further parking just beyond in the grass. On a sunny Monday, we found East Cowes beach relatively quiet. While the highly-rated Shoreside Cafe was full of happy families, dogs and couples, the beach itself saw only a few sunbathers. The calm waters lapping at the shore did however host a sailing class of youngsters learning the ropes on a fleet of kid-sized sail boats. We got a kick out of watching these brave, bumbling junior yachtsmen. Add the stunning view of Cowes, as well as innumerable pleasure boats and working ships floating across the horizon line and East Cowes beach is a delight for the eye. From one of the benches at the top of the beach my husband and I lolled away a relaxing hour simply water watching.
But if I were a child – not merely a kid at heart – I'd be thrilled with the play area at East Cowes beach. Featuring everything from a mini zip-line to a paddling pool, this playground is second to none. In addition to the tall, cone-shaped climbing frame for older children and a stationary choo-choo train for toddlers, the selection of swings and slides will delight young ones for hours on end.
Other niceties include a Waitrose just 5 minutes away on foot, where we grabbed a light lunch before reaching the beach. And with Cowes just moments away on the nearby floating bridge, teenagers and shoppers alike have some scope to roam.
Next visit we'll pack folding chairs, paperbacks and sunscreen. Turns out everything else awaits us at this bright little beach.
Browse through our holiday cottages on the Isle of Wight and start planning your day out to East Cowes beach.