Walking my dog, Nigel, is probably one of my favourite things. Collecting sea glass at the same time is the perfect combination; Nigel gets his exercise and I add to my ever-growing collection of glass from all over the South and West.
Yaverland beach at Sandown Bay on the Isle of Wight is perfect for dogs in the winter months. Yaverland car park, at the eastern end of the beach (near the zoo), is £2 for 2 hours (2017) which is easily enough time for a wander. The beach is sandy with some rocky sections, broken up with wooden groins to stop the sea eroding Culver Cliffs.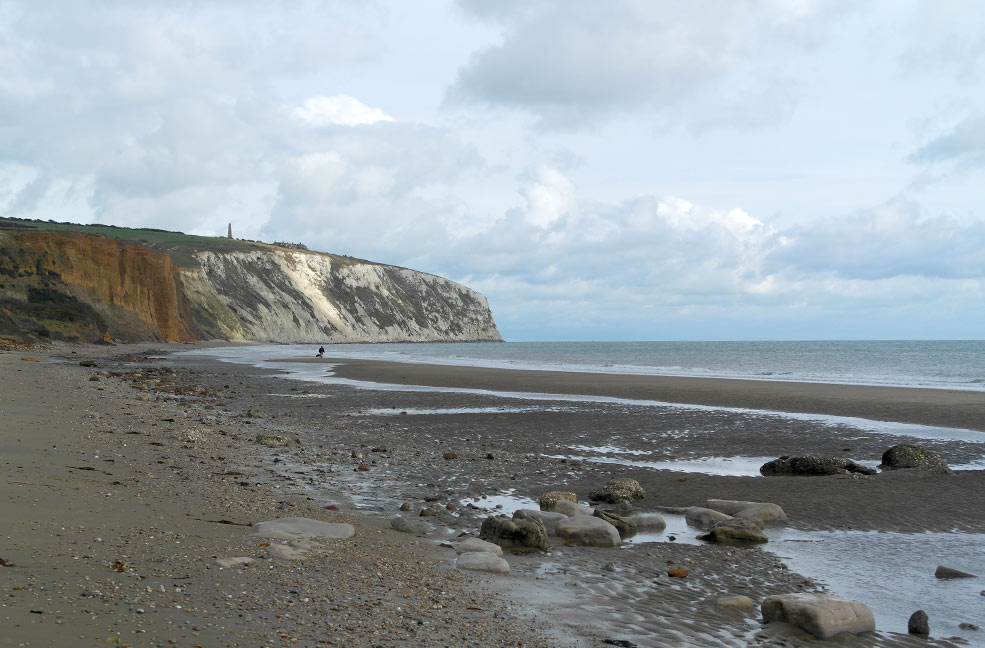 My walk with Nigel started in an easterly direction, towards Culver Cliffs. At low tide there's a wide expanse of sand; ideal for a bit of ball chasing (that's Nigel, not me). I passed lots of other walkers, all enjoying the views over the Solent, with ships passing slowing out at sea. It's an area renowned for dinosaur fossils and there were people with small hammers working away at the cliff face. Be careful if you have a go, the cliffs are soft and unstable in places so it's best to stick to chipping away at rocks that have already fallen.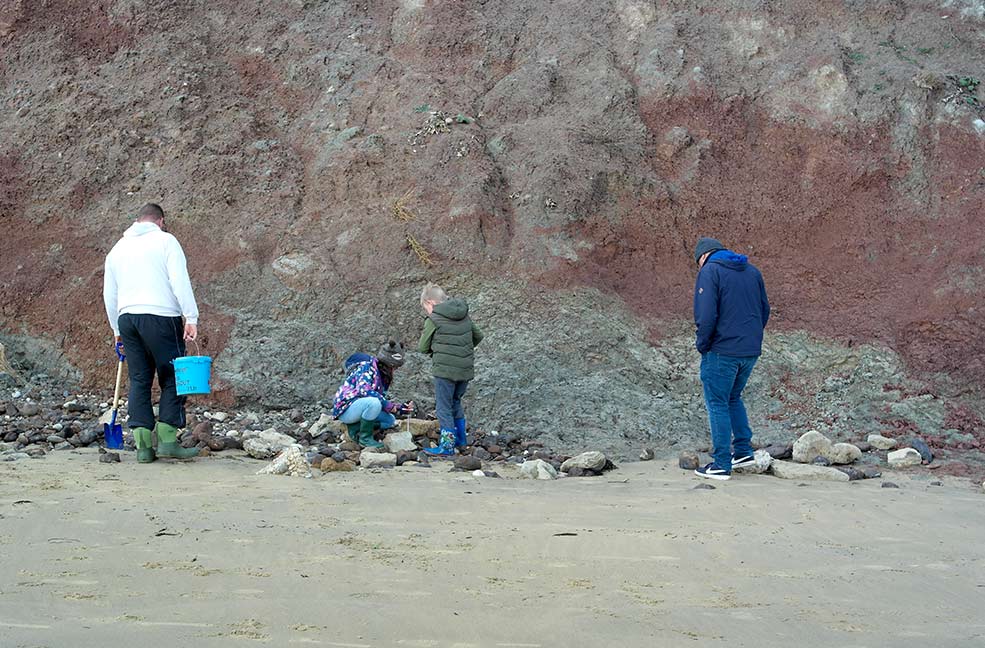 As you walk down the beach, the orange sandstone cliffs give way to the high rise chalk cliffs of Culver. Take your camera, it is an area worthy of pictures. We sauntered back the way we came, called in to the Yaverland Cafe (great sausage sandwich which I didn't share with Nigel) and then carried on towards Sandown.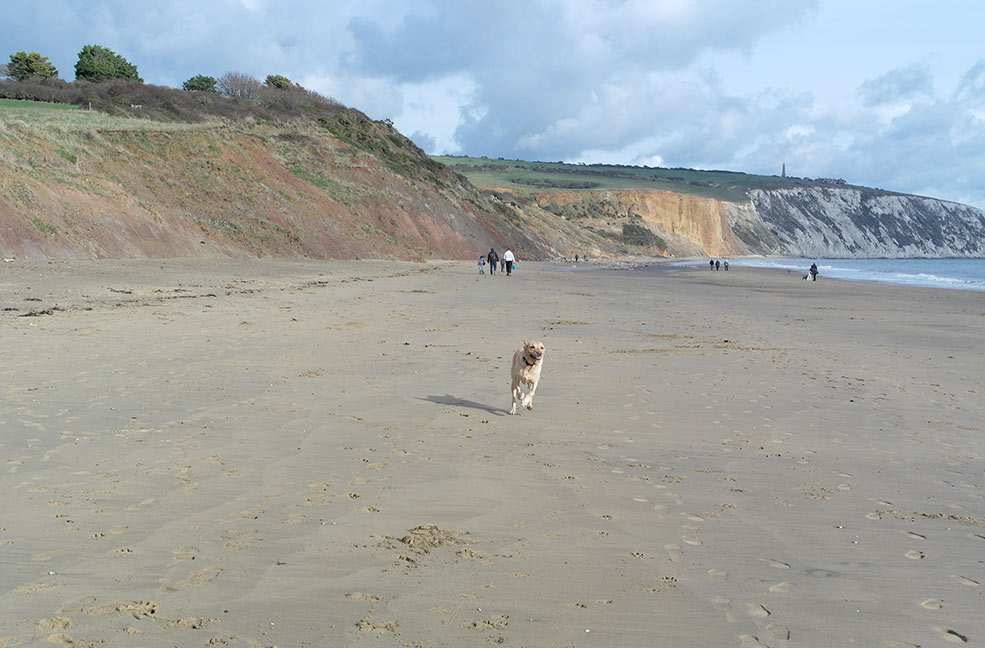 You can continue on the beach or walk along the promenade. However, if you choose the promenade route you miss the best bit; sea glass! I've collected sea glass since I was a little girl, family holidays would not have been compete without a quick search for this hidden treasure. Sea glass is often found washed up near the waters' edge, in among small and medium-sized pebbles. The best way is to unfocus your sight so that your eyes pick up unusual colours. Sea glass colours are different depending on where you are but here at Sandown the majority is white, followed by green. Brown is quite rare here and blue even more so. I could spend hours idly looking for sea glass and find it pretty addictive. Often it accumulates in patches so you can find a lot in a very small area (better than Christmas in my book!). Nigel is very happy for me to spend hours this way, he loves beach life and would spend all day there if I'd let him.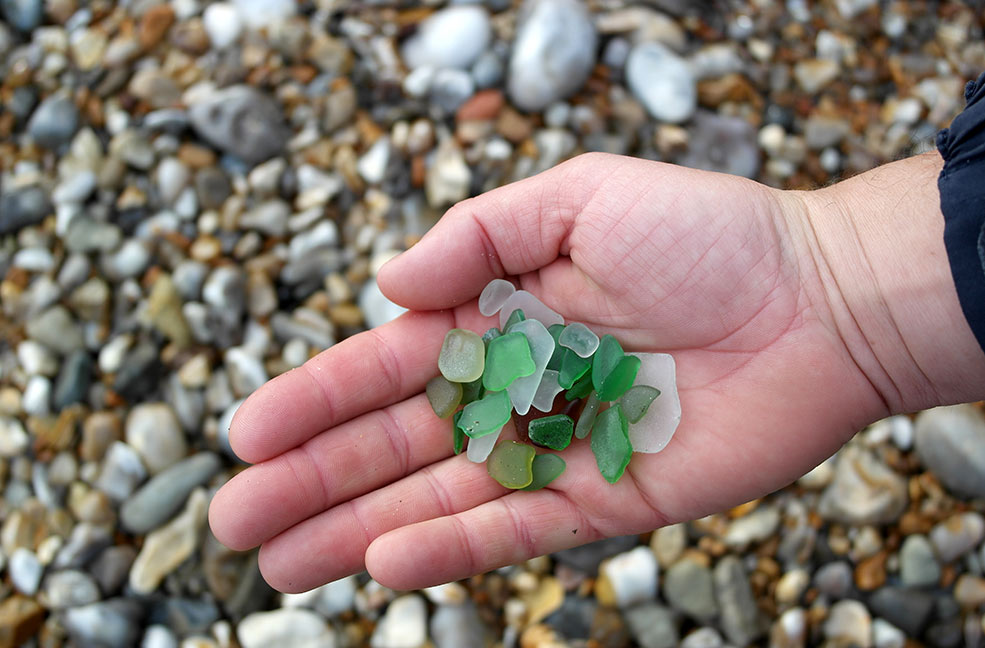 My glass collection has filled many a jar and vessel. I have so much these days I actually colour co-ordinate it! It does look best displayed in clear glass though, then the light picks up all the different shapes and shades. I'm wondering if I could make a Christmas display using small twinkly lights – I think that would be very pretty.
Autumn and winter are definitely the best times here with no dog restrictions and wide open, empty spaces. If you are lucky enough to visit the Isle of Wight (we can sort the ferry for you), go to Yaverland; just leave some glass for my next visit.