When on holiday with my family I always like to visit a market or car boot sale if I can. Bank holiday car boots are the best, when occasional 'booters' come out of the woodwork with their one-off purge. There is something quite satisfying about rooting through the piles of jumble to find that elusive treasure from a different part of the world to take home with you. But when you are in said unfamiliar part of the world it can be tricky to know which boot sales are worth visiting and which are best avoided. So here is my guide to the best car boot sales in South Devon:
Plympton car boot
Peacock Meadow in Plympton is awash with cars with wide open boots every Saturday and Sunday. This is a real bargain hunter's paradise as it attracts a lot of one-off sellers who are clearing away their houses and will gladly part with things for knock down prices. It is worth getting to this one early; on a Saturday sellers arrive from 7am and buyers from 7.45 while on a Sunday, both get a small lie-in with sellers arriving at 7.30 and buyers at 8.30. There is a small 50p charge for buyers at this car boot but I think on principal that buyers should go free to car boot sales. The money does go to the local community centre at least and this is the sort of place where most people can find something they will want to take home.
Paignton car boot
Windy Corner at Brixham Road in Paignton is a good place to find a bargain or two. This is one for people who like to have a lie-in on weekends - ideal for leisurely holiday mooches. Unlike a lot of the sales which can start at crazy-o'clock, this one has a much more relaxed start time of 1pm and runs till 4pm on a Saturday making it a lot less competitive than some, and means that the sellers are much more used to leisurely browsers.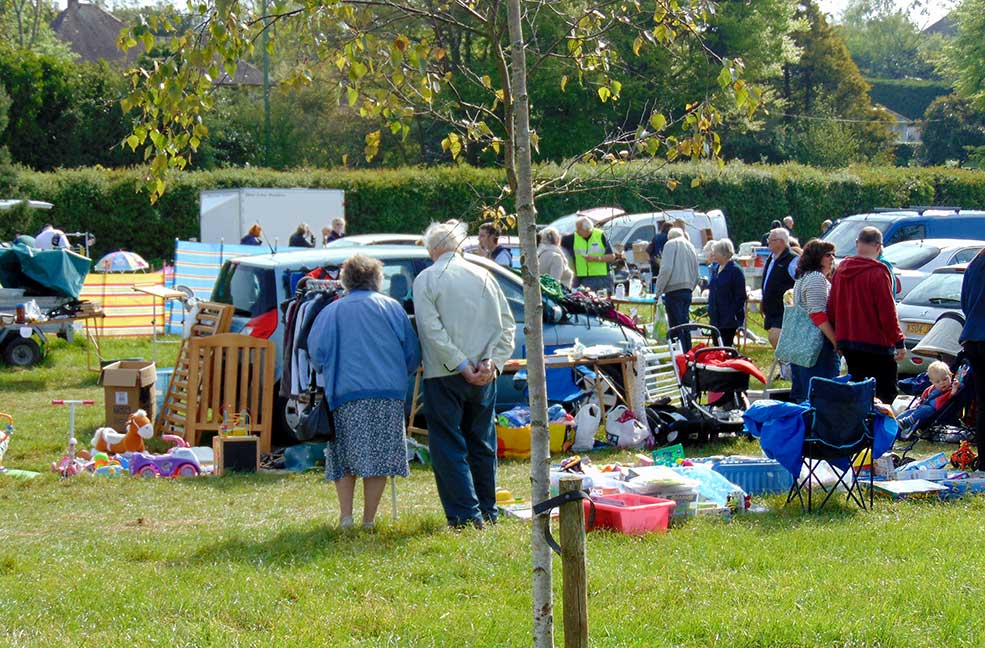 Exeter car boot
Exeter Matford Park & Ride at Marsh Barton, near Exeter, was my least successful car boot as a seller but one of my most successful as a buyer. This car boot is held on a hard surface concrete floor so it is less vulnerable to bad weather. There is space here for 350 pitches and is another one for early risers with sellers arriving at 6am and buyers arriving at 6.45 on Sunday mornings all year round. This one is free to buyers.
Newton Abbot car boot
Newton Abbot Racecourse car boot sale has a policy of no traders, which I like. I think that the best car boots for buyers are the ones where one-off sellers are more interested in clearing some space than in making lots of money. This event runs on certain Sundays between 7am and 1pm. Because this car boot location needs to fit around the racing, it is less regular than some, so it is worth checking the racecourse website for dates. When rain is forecast, the car boot takes place at the covered multi-storey car park in Newton Abbot instead.
Totnes car boot
Totnes Road, between Totnes and Paignton, holds a good field-based car boot sale on Saturday mornings. This sale is called Tilly's Car Boot Sale and is a Saturday morning sale through the Spring and Summer with an early start of 6.30am. This is one of those sales where the 'professional' car-booters arrive early and frantically haggle their way around the field before the amateur bargain hunters start strolling around a couple of hours later.
Exmouth Bank Holiday boot sale event
For many people, car boot sales are synonymous with Bank Holiday Mondays and a small but well-run Bank Holiday Monday boot sale is held at Exmouth Archery Club, Exmouth. This is an 'event' car boot with a bouncy castle and refreshments available in the clubhouse. Although there are only 150 pitches, people are loyal to this sale and will queue to get their regular pitch.