Think of all the things that fill your toddler with joy - baby animals to cuddle and feed, ride on tractors, big bouncy castles, climbing frames and trampolines, trains, pony rides - put them all in one place, nestled among the rolling hills of Buckfastleigh, and you have Pennywell Farm. It's no wonder so many parents rave about this place - it's well worth a visit if you're looking for a family day out.
Plan your day
I don't know about you but when it comes to parenting smalls, I like routine as much as much as my toddlers. It sort of makes the day more manageable to break it up into bite size chunks. Just after we arrived, we joined in the morning egg collection, followed by milking the goats and bottle-feeding the lambs.
For each activity, kids get a stamp on a special voucher - my three-year-old conscientiously clutched his stamp sheet for the entire day. If you collect all six stamps you get a free child entry for another visit - great activity for littlies and a nice little financial incentive for parents. Bonus.
Join in the activities or free style - up to you: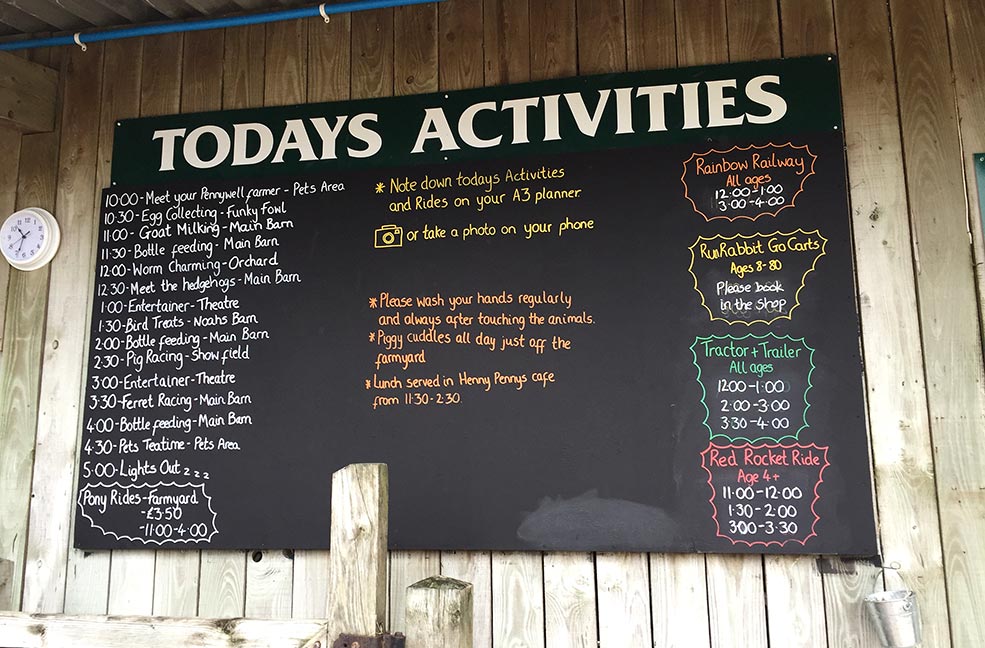 Egg collecting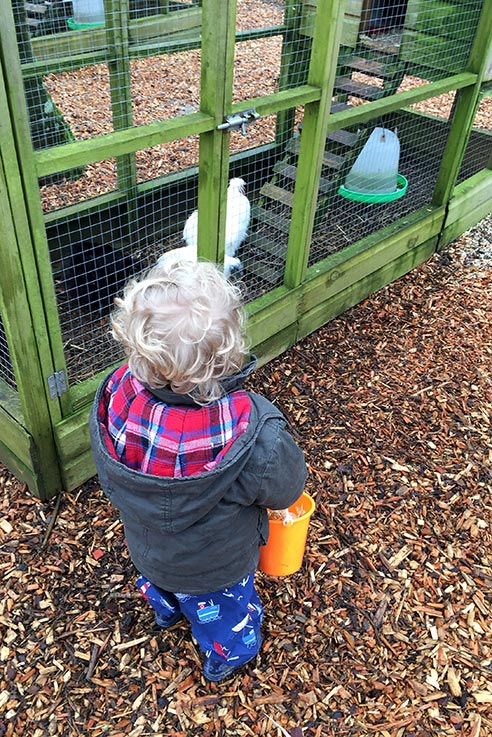 I love a spot of egg collecting - no idea why, maybe it's the heady combination of counting, rummaging, the surprise when you discover an egg and the adrenalin rush when you spy your youngest about to throw one.
Pennywell's guide, Sam, lured the children in with the promise of their very own bucket. He managed to manoeuvre the situation so that all the children collected the same number of eggs - impressive diplomacy skills, which are essential when toddlers are involved. Full marks, Sam.
When you arrive at Pennywell you get name labels so Sam used all the toddlers' names, which engaged them from the outset. It's the little things.
Thankfully my youngest didn't throw any:


Pigs in blankets
Oh my. Tiny baby piglets. We missed cuddling these weenie piggies but did get to snuggle with a bigger one.
Pigs in blankets anyone?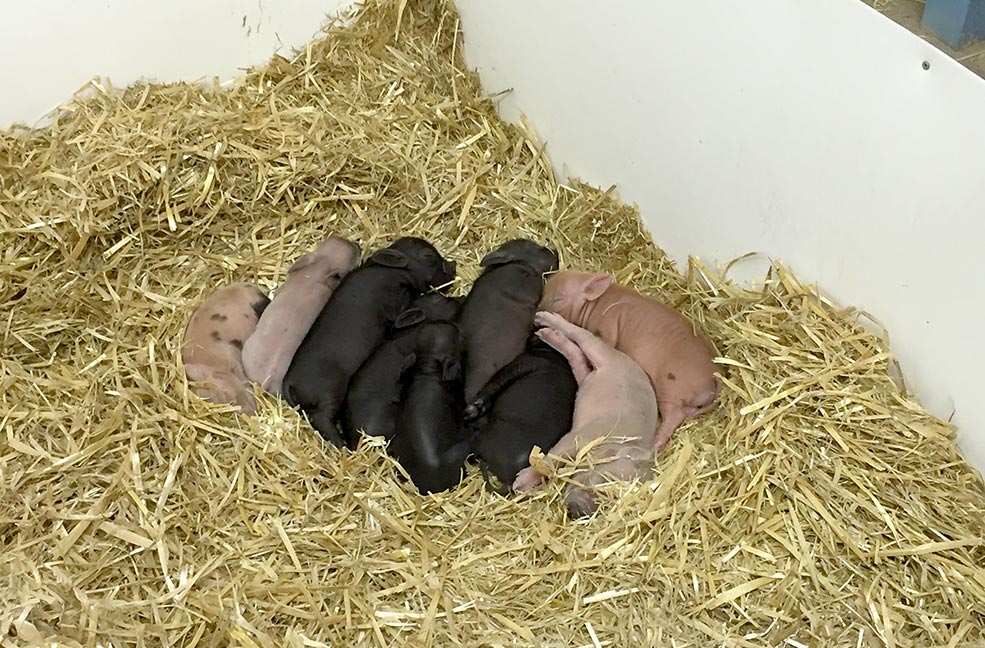 Pit stop
On this occasion we treated ourselves to lunch in the cafe - although you don't have to, Pennywell welcome you bringing a picnic, which I think is a nice touch. We were delighted with their kids box - my boys are always big fans of the little bags or boxes of goodies filled with crisps, juice cartoon and fruit. Most places offer a sandwich but Pennywell also have a hot dog option. My boys tucked into their sausage and buns - a warm, heartier meal for a busy day on a farm. Best of all was the animal masks enclosed, as modelled below. The box was £4.95 and lasted the rest of the day.
'Moo' :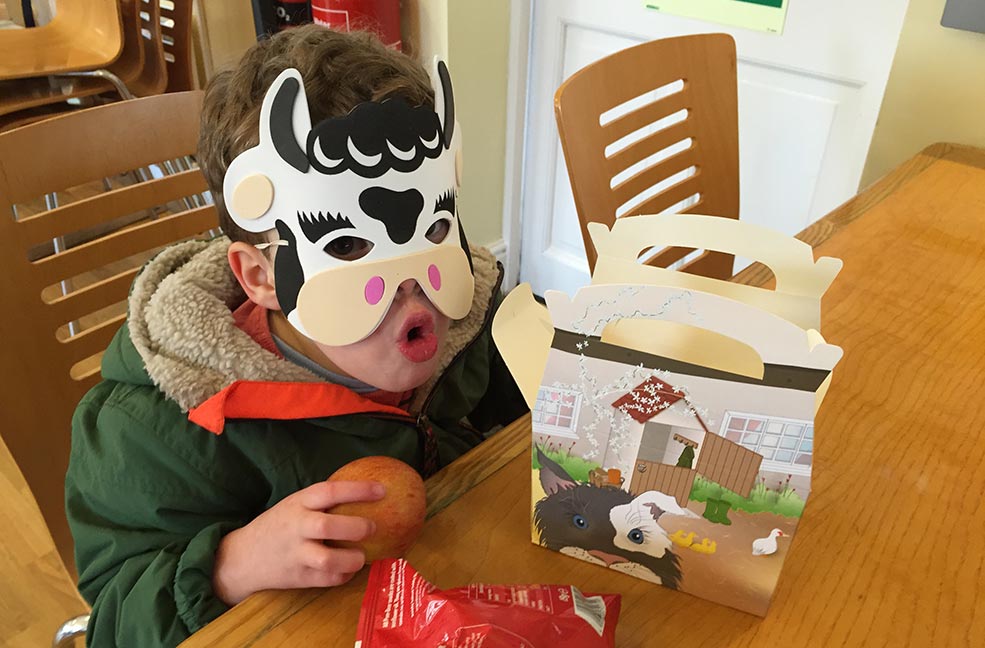 Rain or shine
We went to Pennywell Farm on a miserable February day but it didn't really matter. There was lots of stuff to do undercover. In fact most of the activities we wanted were covered, or partially sheltered: feeding the animals, tractor ride ons, the Bouncy Castle in Noah's Barn. So we didn't really notice the dismal cold weather - plus, we bagged a wet weather return voucher to use later that week. And we dutifully returned for more fun at Pennywell Farm (still clutching our stamp voucher).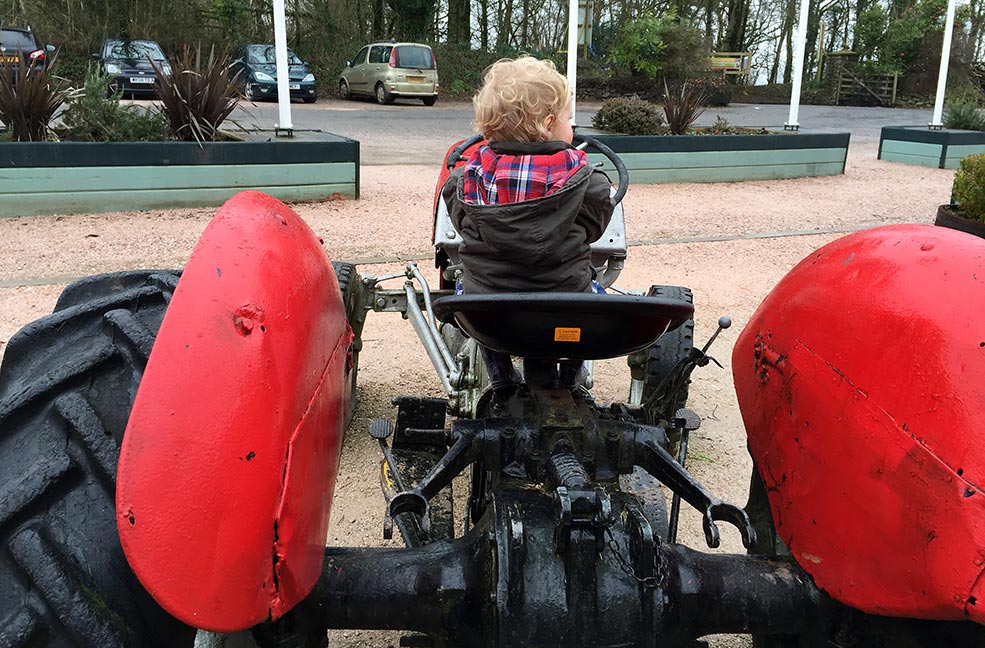 Find out more about Pennywell Farm, including prices and how to find it.