Kayleigh's day at Osborne House was a magical step back in time to the Victorian era, walking the same hallways where Queen Victoria and Prince Albert spent their summers on the Isle of Wight.
Whilst planning my visit to Osborne House, I really wasn't sure what to expect. A friend had recommended I spend at least a day at the English Heritage property. I initially planned to spend half a day there but found that once I was there, I just didn't want to leave.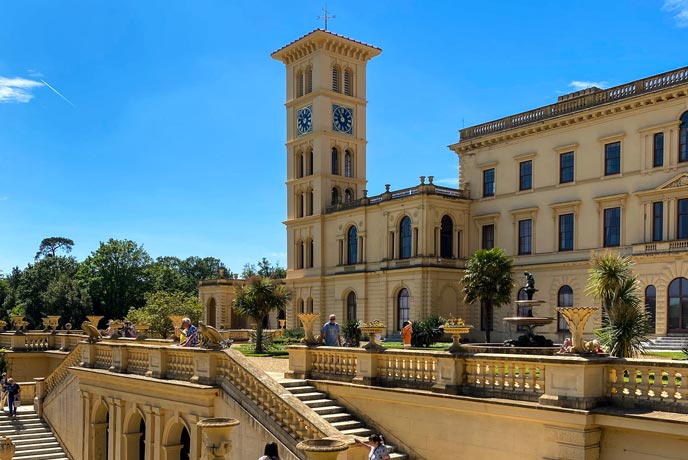 I arrived quite early on the day so there were plenty of parking spaces. As it was November too, Osborne was pretty quiet. The Isle of Wight has less visitors outside of school holidays and the summer months so November was a great time for a short break. I hate crowds so this was the perfect way to enjoy the island.
Osborne House is in East Cowes. I was astounded at how easy it is to find. I put the postcode into my satnav but the property is signposted from the main roads and there's a huge sign at the driveway so you know exactly where you are. On route, I considered how Queen Victoria would have made her way to her summer home. By water? By carriage? It was intriguing to say the least.
Once parked, I headed into the entrance building. I paid for my ticket and booked on to a tour of the house. During quiet times of the year, you have to pre-book a tour which can be done by phoning the English Heritage team there. After booking my tour, I had some time to walk around the cafe, shop and gardens.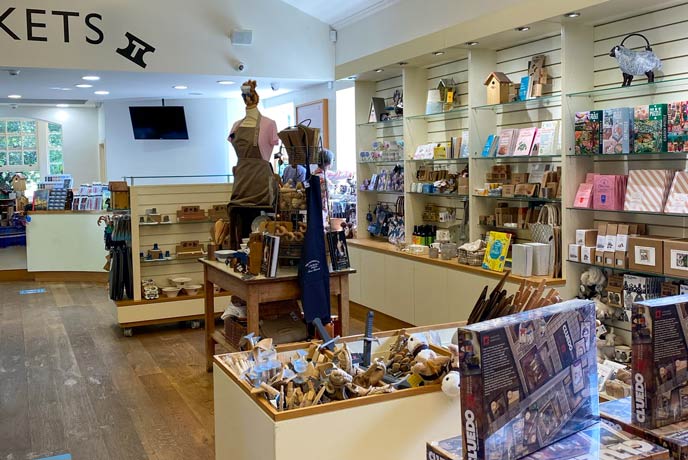 The shop was wonderfully stocked with beautiful items that would make perfect gifts. Many of them have a Victorian theme, keeping with the era of the house. If you fancy trying something from the Wight, they stock a number of local producers, such as Tipsy Wight, Mermaid's gin and Lyme Bay winery. I picked up a couple of mugs (one that said 'Her Ladyship' with Victoria's coat of arms) and a bottle of raspberry wine. I could have bought a lot more and had to exercise serious restraint.
I didn't get chance to stop in the cafe but the menu is the same high quality food as you'd expect at an English Heritage property. They cater for all the family so there's no need to worry about finding food on your visit.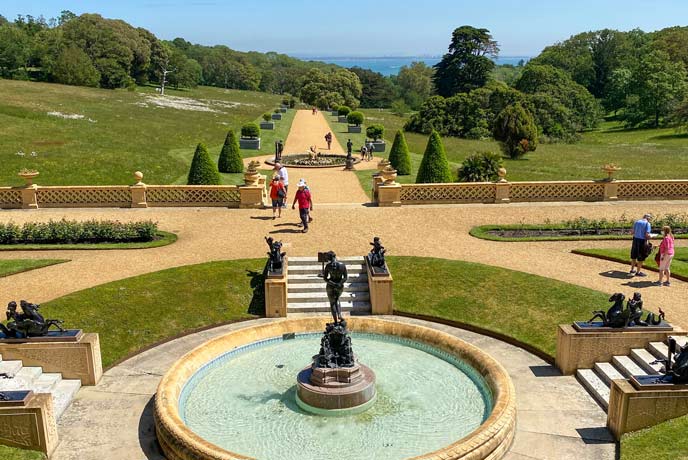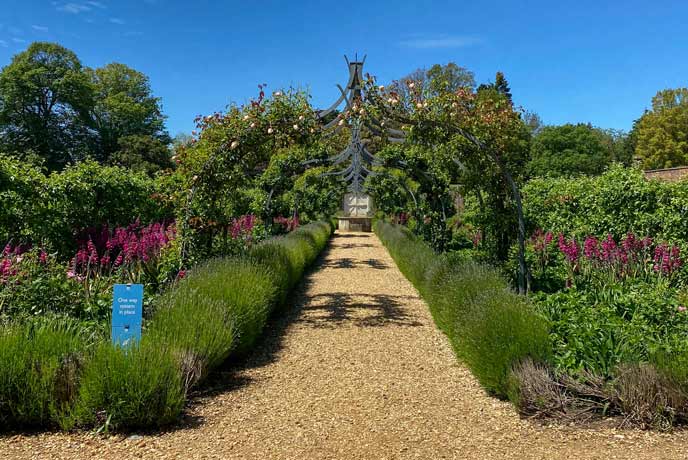 The gardens at Osborne house were just fantastic. The November weather meant that a lot of the plants and trees were bare but you could tell that these gardens are very well kept. I would love to return in the spring to see the beauty of the walled garden in bloom. In the grounds of the house there is also a Swiss cottage with activities for kids and Queen Victoria's private beach which looks over the Solent and towards Portsmouth. You could easily while away a summer's day watching the yachts come and go. There are even certain parts of the estate where you are welcome to take dogs on leads.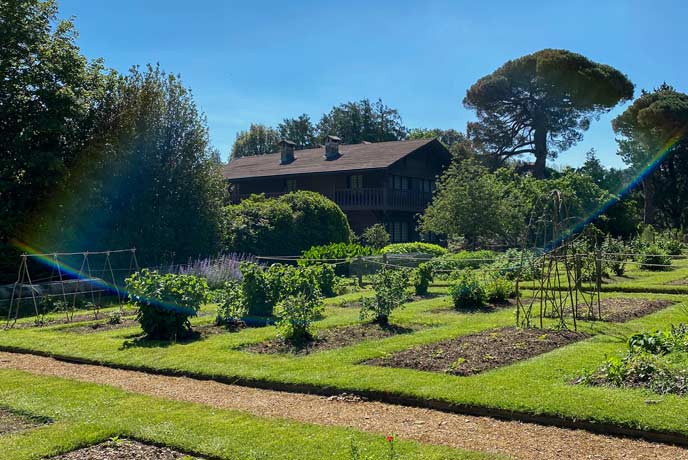 As I went in autumn, the trees were showing beautiful oranges and yellows. I love this time of year, you get those crisp mornings with crunchy leaves. There were plenty of leaves to jump in and I even managed to spot an elusive red squirrel, an exciting rarity. The Isle of Wight is one of only two locations in the UK where you can see reds in the wild. The isolation of the island means that the species hasn't been attacked by any invading grey squirrels.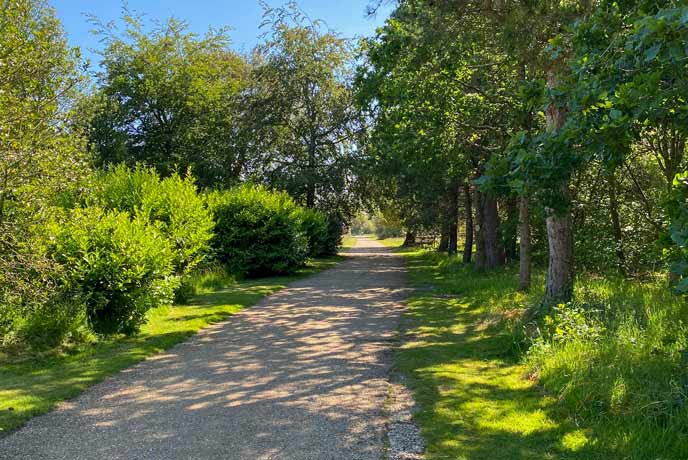 After a meander through the hedges and topiary, I went back to the entrance building ready for the start of my tour. My visit to Osborne was made extra special by the addition of all the Victorian Christmas decorations. The team there really go all out to show you what a typical festive season would look like for the royal family.
My tour guide was called Tim, exuding charm and knowledge about the house and it's residents he guided us around a selection of rooms. The tour took just over an hour. You don't see all of the house but you get a good idea of what life was like here, from servants up to the Queen herself, you see how each person fitted into the estate.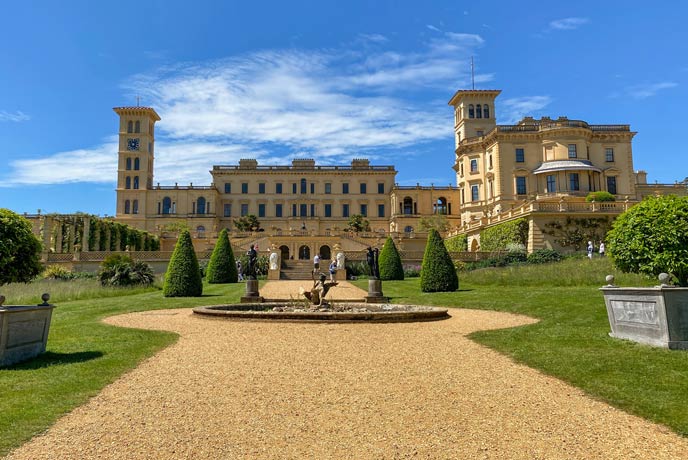 Each room was beautiful and had a full explanation from Tim. My favourites were the extravagant Drawing Room and the Durbah Room with amazing plaster decorations designed in the style of Indian interiors.
After exploring Osborne, I drove to Cowes via the river ferry and had (a very late) lunch. A visit to Osborne could also be followed by dinner in Newport or head back to your Isle of Wight holiday cottage to enjoy your Osborne purchases in the comfort of your home from home.