Walking With Bailey - Preston Beach to Hollicombe, Paignton
Just for a change, for this dog walk in Devon I thought we'd take a stroll along Preston Beach in Paignton. It seems that others have the same idea, except the tide wasn't playing ball! So Bailey had a dilemma, did she jump in the waves and end up looking like a drowned rat, or have a game of ball on Preston Green while the tide turned – yes. (She actually looks like a seal when she's swimming, so no offence intended to any rats, drowned or otherwise.)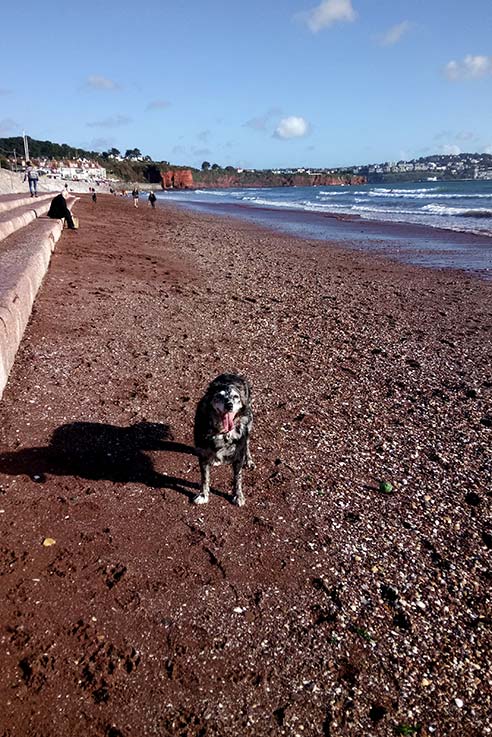 I don't know if it's right to feel sorry for beach huts, but there were a couple of solitary huts left behind on their concrete bases, looking woeful and neglected after 'doing their bit' all summer. All the others had been shifted to their 'winter accommodation' weeks before. We're so used to seeing the brightly painted huts nowadays; it's hard to imagine the seaside without them. And they have a story; the beach huts we are familiar with today are connected to part of a 250 year seaside history, which all seemed to start because doctors had discovered the potential benefits of a cold dip! I'm quite happy to let Bailey reap her own benefits – I'm staying on dry land!
While we're waiting for a bit of sand to appear, we head towards a rather splendid castellated building, built by Colonel Robert N Smith (b.1787 – d.1908). While he was in the Bengal Division of the Indian army, he became fascinated by Indian architecture and built his own home in the Indian style, with 23 bedrooms and its own tunnel leading to a plunge pool on the beach! (It is now called The Redcliffe Hotel.)
The Boathouse, adjacent to the side of the building, is now a popular restaurant/cafe and is very dog-friendly. It's also renowned for live music,('Paddy's Whiskers' are a brilliant local group who play here often) and open all year round. The opening times change during the winter months though, and it's worth checking the website for this and all other information.
I've spotted a bit of sand, so we head down to the beach and walk back towards the far end of Preston beach. You have to go up some steps here and walk past a row of houses and hotels. It gets quite busy along this short bit of road so beware of cars and coaches. More steps up to a grassy area, where I let Bailey off her lead again. Keep going along this path and you will come to Hollicombe beach and gardens (also known by locals as Gasworks beach). With a backdrop of red cliffs, secluded beach and a pretty garden to walk around, this has to go on the 'one of my favourites' list.