Plymouth describes itself as Britain's Ocean City. It is a vibrant, modern city with plenty of attractions and historic buildings, perfect for a holiday. It is strikingly located between the Plym and Tamar rivers. What really sets it apart from other cities is its stunning seafront location. The waterfront looks out over Plymouth Sound, the natural harbour which borders Plymouth. The city is rich in history, most notably as the site from where the Pilgrim Fathers set sail for America in 1620. It hosts the largest naval base in Western Europe, which means that naval ships can often be seen in the Sound. Alongside its fantastic views, the city offers many attractions, so here's my round up of things to do in Plymouth.
Days out in Plymouth
My son's number one favourite day out is a trip to The National Marine Aquarium. He is five years old and knows an extraordinary amount about the underwater life here, thanks, in no small part, to a programme on CBBC called The Octonauts. The Aquarium is a favourite with all my family. It is incredibly well laid out and keeps your interest throughout. Your visit starts with a discovery of the local sealife of Plymouth Sound then, after exploring the sealife around the coasts of Britain, you wander down to a massive aquarium showing animals from the Atlantic Ocean. My favourite animal is a gigantic grumpy-looking Conga Eel which never seems to move. You then pass over and under sharks and other incredible sea-creatures. The Aquarium hosts sharks, turtles, jellyfish and seahorses, as well as hundreds of species of local and tropical fish. It is home to the largest fish tank in the UK with 2.5 million litres of water.
If you are over 18 you can book a tour of the Plymouth Gin Distillery. Gin is incredibly popular now and the Black Friars Distillery, home to Plymouth Gin, is the oldest working gin distillery in England. It has been at its current site since 1793 in a building which was a monastery before that. A basic 40 minute tour costs £7, a Gin Connoisseur's Tour costs £20, and the really dedicated can spend 2 and a half hours on a Master Distiller's Tour for £40. On the basic tour, visitors receive an informative tour of the factory, a chance to sample the products and a Gin and Tonic at the bar.
For those who are looking for an adrenalin-fueled adventure, a good place to start is The Mount Batten Centre. This venue offers multiple outdoor activities. Being based on the Plymouth Sound waterfront, they are perfectly placed to offer a great range of watersports. From sailing, kayaking and windsurfing, all the way through to powerboating, there is something for everyone. They also organise caving, coasteering, gorge-walking and climbing.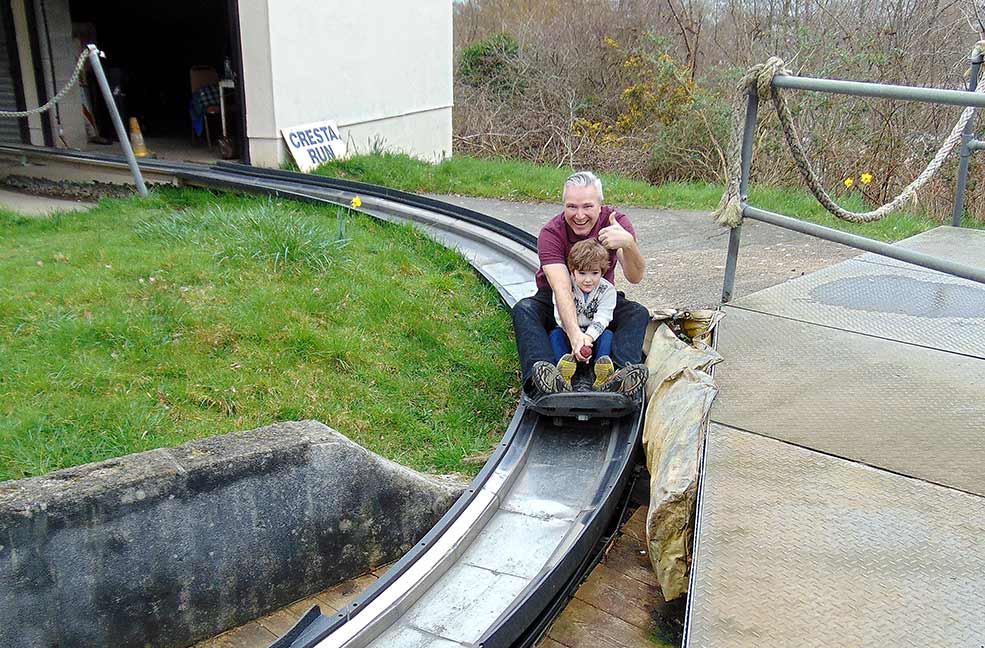 For something a little different you should check out Escape Rooms Plymouth. These kinds of mystery-solving centres are becoming increasingly popular. They are like being the star of your very own video game. You work together to solve clues and puzzles to escape from a locked room before the hour runs out. With four different rooms with varying difficulty ratings, you can visit multiple times.
For history buffs, there is a small monument to Plymouth's most famous event at the very spot where the Mayflower set sail for America on The Barbican. The Mayflower Monument itself is relatively plain but it does include a list of names of The Pilgrim Fathers. Because these people's adventure shaped the modern world so profoundly it is not difficult to be moved by the small monument.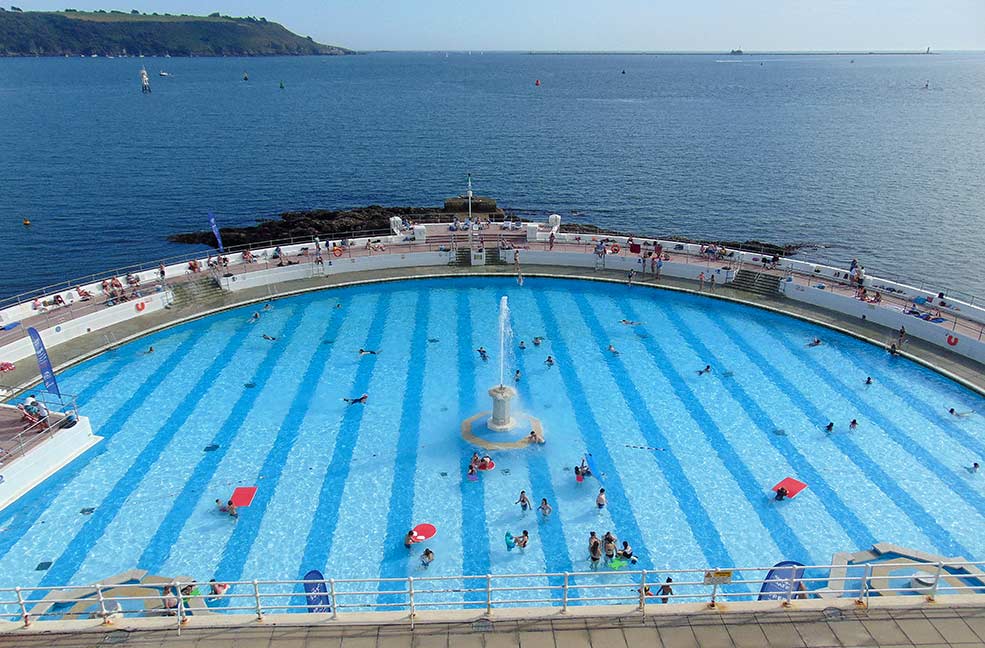 My wife's favourite Plymouth landmark is the iconic Tinside Lido. This beautiful open-air pool juts out into the Sound and provides a uniquely beautiful sight. The Lido itself is a gorgeous 1930's Art Deco building and a swim here feels like stepping back into an age of luxury. The water is unheated but by mid-summer it is warm and relaxing. The lido was closed due to neglect for many years but a huge renovation was undertaken and the pool re-opened in 2005. It is now open every summer between May and September.
Another of my family's favourite things to do in Plymouth is the Ski and Snowboard Centre. This dry ski slope is hard to miss just off the A38 when driving to Plymouth. Our favourite feature is the 650 metre toboggan run. Riders have some control of the speed of their toboggan and the ride is surprisingly fast so if you're planning not to brake at all I'd recommend building up to it! We also like the Sno-tubes, which are much gentler but still a lot of fun.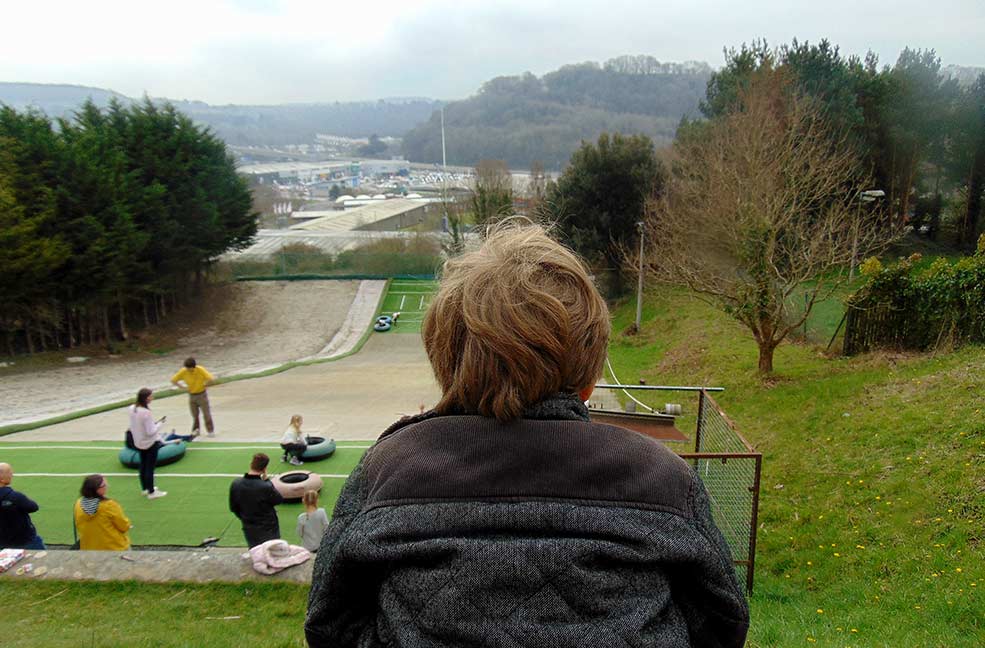 Areas of the city to explore
No visit to the city would be complete without a visit to Plymouth Hoe. When most people think of Plymouth, this beautiful waterfront location is the image which comes to mind. It is always worth going up Smeaton's Tower just because this attractive red and white striped lighthouse is such an iconic feature of the city.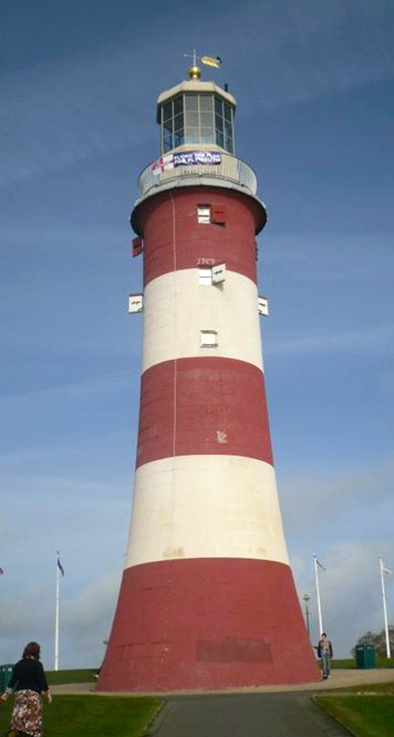 The Barbican area is tucked behind the more famous Hoe and is well worth a visit if you like quirky shops, lively pubs and great restaurants. This area is based around a working harbour so it has that authentic feel of seaside life. The Barbican is also the arts area of the city, with many art galleries and craft shops. It's well worth pottering around these cobbled streets, doing some window shopping and exploring. There are lots of enchanting little alleyways which lead to unusual shops, small galleries and junk markets.
Plymouth has a vibrant city centre with lots of great shops and one or two huge shopping centres. It is the biggest centre for shopping in the whole of Devon and Cornwall so, as you'd expect, all the big high street names are here, as well as many independent and family run shops. The main shopping areas are all pedestrianised and great for wandering around. The two largest shopping centres are Drake's Circus and the Armada Centre. Drake's circus has over 70 shops and lots of places to eat, while The Armada is slightly smaller but has more independent shops. Drake's Circus is in the heart of Plymouth city centre and has a variety of clothes shops, chemists, book shops and gift shops.
For something a little more unusual, why not visit The Independent Quarter in the city's West End. This area is where the more independent and specialist shops tend to be found. This part of town has had a makeover in recent years with new paving and benches. The heart of this area is Frankfurt Gate, a tree-lined square surrounded by small independent shops and restaurants. This area also includes The Pannier Market
Days out around Plymouth
Saltram House is a Georgian Mansion with extensive grounds and gardens set beside the River Plym on the outskirts of Plymouth. It is a National Trust owned property and visitors can view the house, the grounds, the formal gardens, the Chapel Gallery and the tea-rooms. There's also a small play park for children.
Plymbridge Woods is a maintained area of woodland right next to Plymouth which has been the city's playground for hundreds of years. There are various trails to follow and interesting historic ruined buildings which reflect the area's industrial past. There are also some fantastic views, particularly from the top of the viaduct. One of the must-do activities in Plymbridge woods is to go Peregrine Falcon spotting. There have been breeding Peregrine falcons at Cann Quarry for over 50 years. There is a big project to protect these birds and to teach visitors about them. The Plym Peregrine Project began in 2001, and has since helped to protect 34 chicks.
Places to eat and drink
As you'd expect from a city, Plymouth has an overwhelming range of eateries, offering every type of world food and British food. Many places specialise in seafood which always tastes better when you eat it by the sea.
Royal William Yard is an area of reclaimed dockland which looks out over Plymouth Sound. It is here that you can find the River Cottage Canteen & Deli. Celebrity chef Hugh Fearnley-Whittingstall owns this restaurant and offers seasonal and organic food which is almost all locally sourced by Hugh and his team.
The Barbican Kitchen is housed in the distillery. It is owned by celebrity chefs Chris and James Tanner, and has a menu which focuses on fine local food.
If you are down on the Hoe you can't miss the Wet Wok Chinese Restaurant. This floating restaurant has perfect sea-front views. These kinds of floating restaurants picked up a reputation a few years ago for not always having the best food, but if there is any truth in this idea then the Wet Wok is an exception. The food here is always great.
The Artillery Tower is a striking 1500s military building with sea views. They serve modern British food in a great setting. Inside there are exposed stone walls and a welcoming wood-burning stove.