This is a slightly special one; The National Trust's Studland Beach, combining a vast area of sandy beaches and heathland with views of Old Harry Rocks. By being in the care of the National Trust, it does mean that it isn't free to park here, unless you are a member of the National Trust and display the up-to-date member's window sticker in your car.
Before you get started on this article, browse our cottages in Dorset.
Studland Bay surrounds a national nature reserve where the heaths, wetlands and woodlands are home to a wonderful array of wildlife. The downlands stretching inland from Old Harry meanwhile play host to their own unique natural communities. The lowland heaths on the shores of Poole Harbour support rare birds, unique plant communities and all six native British reptiles, whereas the dune heath is a rare habitat where land and shoreline meet providing a thriving home where natural groups thrive. Despite being better known for its heaths and coastline, Purbeck is dotted with ancient woodlands which support some of our rarest wildlife and is the perfect spot for seeing deer, insects, birds and other wildlife. The site is also a protected Site of Special Scientific Interest, Area of Outstanding Natural Beauty, part of the Purbeck Heritage Coast, and a gateway to the Jurassic Coast World Heritage Site.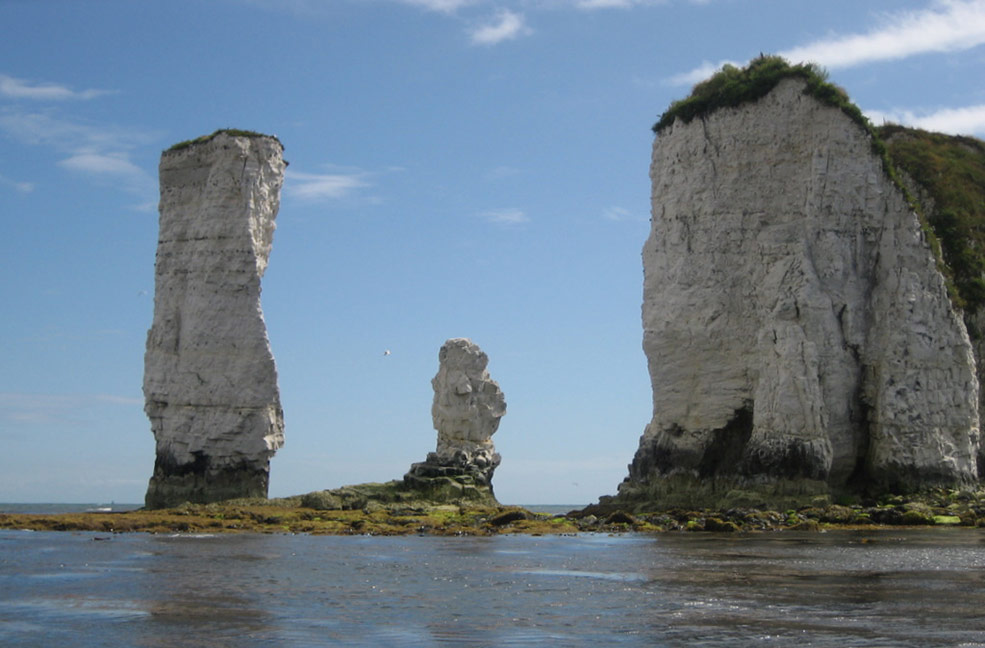 Standing on a mound on Godlingston Heath is the 17 ft (5.2 m) high Agglestone Rock, estimated to weigh 400 tons. The rock is also known as the Devil's Anvil, and local myth states that the devil threw it there from The Needles on the Isle of Wight, reputedly aiming for Corfe Castle, Bindon Abbey or Salisbury Cathedral.
Back to the beaches, which are amongst the most popular in the country, and fill up with thousands of people on hot summer weekends. If you're coming as a family, you will want to arrive early to get a good spot and avoid queueing for the car park. South Beach is the smallest and popular with locals, Middle Beach is sheltered by low cliffs while Knoll Beach, backed by a wilderness of dunes, has wide open spaces and includes a 1km designated naturist area. All are ideal for families…except perhaps the naturist beach…with gently shelving bathing waters, convenient parking and other facilities. No matter which you choose, you'll be met with sea views stretching from Old Harry to the Isle of Wight.
There are a range of water themed activities available, both free and those with a price, to keep you occupied for a full day in the water;
• Slacklining (free) – Knoll Beach and Shell Bay
• Beach volleyball (free) – Shell Bay
• Kayaking – Middle Beach or Knoll Beach
• Snorkelling – Middle Beach
• Paddleboarding, pedaloes, sailing or power boat trips – Knoll Beach
• Cycle hire – Knoll Beach
• Paddling, playing in the waves, building sandcastles and having fun – anywhere
The beach has been immortalised in music and TV as the setting of the opening scene from the first episode of Monty Python's Flying Circus with Michael Palin staggering out of the shallow sea and collapsing on the beach, the video for the Coldplay single "Yellow" was filmed on the beach, and the beach scene set in Spain in the Only Fools and Horses episode "It Never Rains..." was filmed on Studland beach. It was even the inspiration for Toytown in Enid Blyton's Noddy.