There are plenty of sandy beaches in south Devon but many of them have the distinctive red sand associated with this part of the world. Not so Exmouth, which has the more traditional golden sand which many people adore.
In one sentence: a convenient, sandy, beach with plenty of space and magnificent views.
Exmouth Beach at a glance:
> Type of Beach: sandy
> Dog-friendly: dogs are welcome on the main beach from October to the end of April, and all year round on parts of the beach.
> Child-friendly: yes
> Accessible: yes
> Cafe: many, along the promenade
> Toilet: many, along the promenade
> Best for: sandcastle-building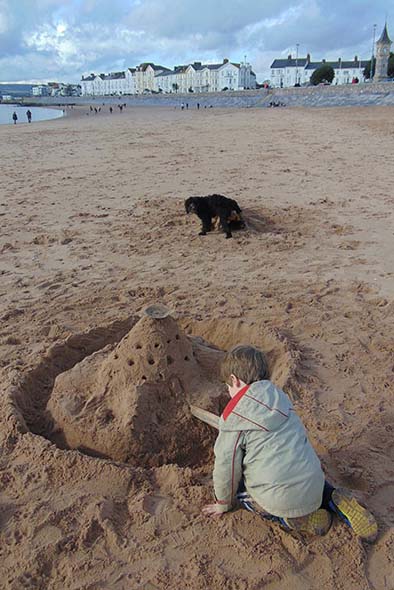 Exmouth is a long, clean, sandy beach, backed by a wide promenade. It's a great beach for strolling, dog-walking, paddling, snacking on ice-creams, sandcastle-building and playing beach games. With two miles of sand it's easy to find a lot of space to spread out in. For many people this is important, as a feeling of space beside the sea can be great for people's sense of wellbeing. Also, this is a great beach for a game of rounders or beach volleyball, as the sand is soft and forgiving.
In the summer, there are water sports available, including kite surfing, kayaking, paddle-boarding and windsurfing, as well as designated areas for jet skis. The promenade has plenty of parking available, and is lined with all manner of shops, cafes and pubs. There are some nice examples of Georgian, Victorian, and Edwardian architecture as Exmouth is the oldest seaside town in Devon. The promenade is two miles long and you can still find such retro favourites as swing boats, donkey rides and crazy golf. My children like to have an ice-cream at The Octagon, which is a little kiosk halfway along the front. We've also been known to grab lunch at a great pub called The Grove.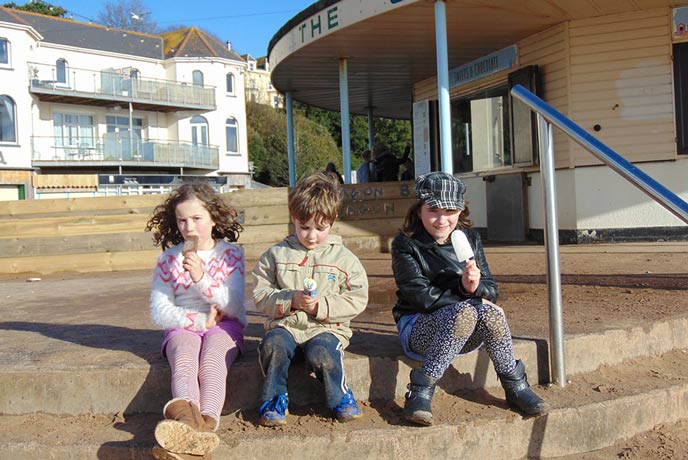 My children love this beach for sandcastle building and burying each other in the sand. Although I usually leave them to it, I well remember the feeling of cold damp sand pressing down on me. And then the joyous release as you sit up and shake the sand away. What I do still help with is sandcastle building. I love marking out a patch and then digging the moat and piling up the sand and patting it down. And then the hunt for decorations. These simple rituals are the stuff of life.
This beach is worth seeking out for a beach day. It has the convenience of nearby facilities, and the ease of access. But it also has plenty to do, to fill a good day.