When you're away on holiday there's no better start to the day than a cooked breakfast and here on the Isle of Wight Briddlesford Farm is the place to go. Next door there's a farm shop offering an abundance of local produce for you to take back to your self catering cottage.
I'd heard on the grapevine that breakfast at Briddlesford would be hard to beat. Briddlesford Farm is situated on Briddlesford Road, not far away from Wootton Bridge on the north east side of the Island. You have to keep a look out for the turning, it stands alone just off the main road. There's plenty of parking around the building and the farm is divided up into various sections, including an amazing farm shop.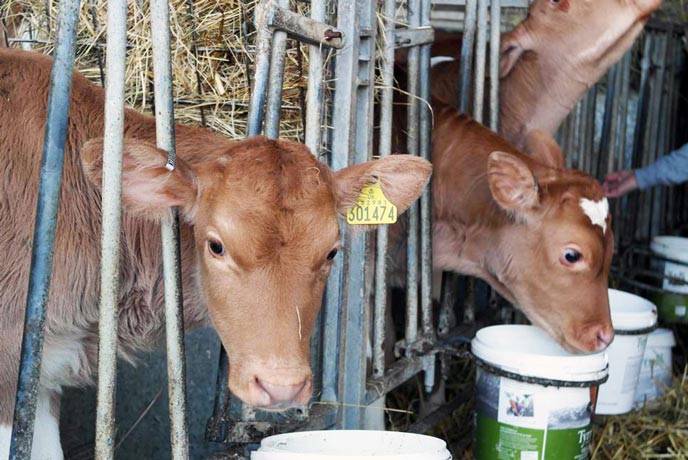 The short walk to the Bluebell restaurant passes the pens where the calves are reared. So cute! It's hard to resist saying hello. The Briddlesford herd are a leading pedigree Guernsey herd and their milk, cheese and butter is used alongside other local, fresh, seasonal produce from the island in the restaurant.
The restaurant is a converted barn and is light and airy with lots of natural daylight and exposed beams. There's plenty of seating so you shouldn't struggle to find a table, even during busy seasons. Food ordering takes place at the counter and I was quite distracted by the lovely cake display, even though I was there for breakfast. And what a choice there was. The full English of bacon, sausage, beans, mushrooms, grilled tomato and eggs sounded amazing but in the end I opted for the scrambled egg and smoked salmon. My friend chose the full English and when our orders arrived it was hard to decide which looked more appetising. I could really tell the food was made from local fresh produce and the portions were enormous. Like real troupers we battled on through, finishing off with tea and toast (freshly baked bread, of course).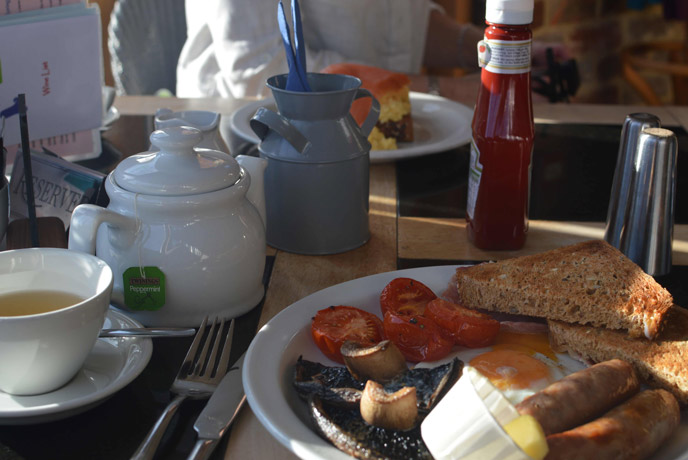 After a thoroughly enjoyable meal we headed out across the courtyard to peruse the farm shop. It was truly an Aladdin's cave of goodies from local bread, cheese and meat to Tipsy Vodka in funny unique bottles and Island Gin. There were plants for sale and also a colourful array of vegetables and fruit. It's a great place to stock up on weekly groceries for your self-catering holiday if you like your vegetables fresh out of the ground.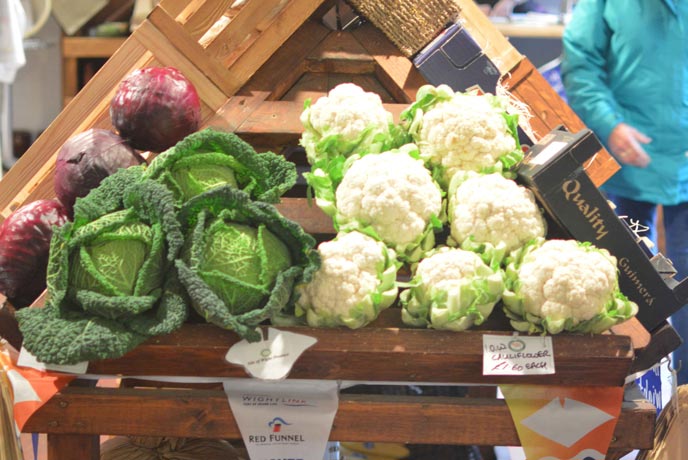 So Briddlesford Lodge Farm. This place should definitely be a place on your holiday "to do" list. It's open for breakfast, lunch and afternoon tea, seven days a week with some evening openings during the summer and there is some outside seating for warmer weather. I'd recommend giving them a call to check evening opening. Locals love this place, it's easy to see why.
If breakfast at Briddlesford Lodge Farm sounds tempting, take a look at our Isle of Wight cottages to find somewhere to stay nearby.