Stoke Gabriel is one of the prettiest villages in Devon. It sits between Paignton, Totnes and Dartmouth at the mouth of a small creek of the River Dart. It is only a small village, with just over a thousand residents, but it is well worth a visit on your next Devon holiday. Stoke Gabriel is a picture postcard perfect village, with an atmosphere of laid-back Devon charm.
Last Sunday I took my family and dog for a walk around Stoke Gabriel. We parked by the Mill Pond. There is an all day parking charge of £3.50 in the summer but its free to park here off-season. The Mill pond is a flat, peaceful body of water surrounded by Sessile Oaks. There is a flat tidal dam which gets flooded at high tide. At low tide you can walk right across the dam to explore the banks of the River Dart. Good walking shoes are recommended for this diversion, but the near-side of the pond can be explored in virtually any footwear.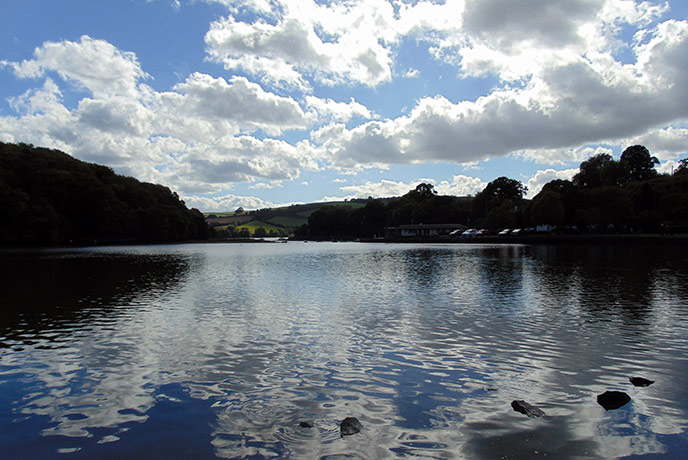 After a short diversion across the dam to forage for marsh samphire, we walked along the near edge of the lake. Our dog, Monty, was soon paddling out in the water. There are some beautiful trees along the water's edge, including a dramatic willow and a fabulous cherry tree. Dropping down onto the lake beach, we walked under overhanging oaks. The far end of the lake can get quite marshy so after a little while, we turned away from the lake to head up through the orchards.
The orchards here are a delight. Rather than fencing them off and discouraging scrumping, Stoke Gabriel encourages people to explore and enjoy the orchards. These old apple cider orchards have around 40 established trees growing various varieties like Bramleys, Sweet Copins, and even the delightfully named Slack Ma Girdle! Although the apples are sometimes picked by the local scouts, there is nothing to discourage you from helping yourself to one or two as you walk through. On our visit the ground was already carpeted with windfalls.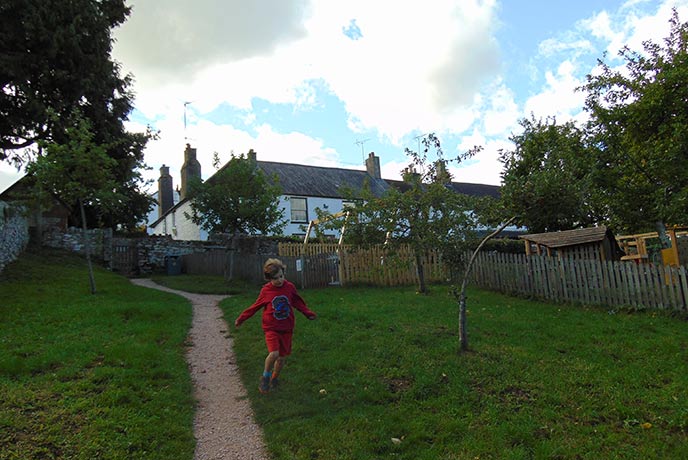 The apple theme is continued in the delightful play park. Although this is only a small play park it is one of my children's favourites. It is really well laid out and encourages imaginative play. There are nice touches like a small hut which makes a great play shop. My children had soon set up shop to sell apples to each other.
Overlooking the play park is an impressive 15th century church, with an even more impressive 13th century Norman tower. I love the fact that the church seems to be always open. I've never visited when its not been open, and I've often sat inside for a few minutes of quiet contemplation.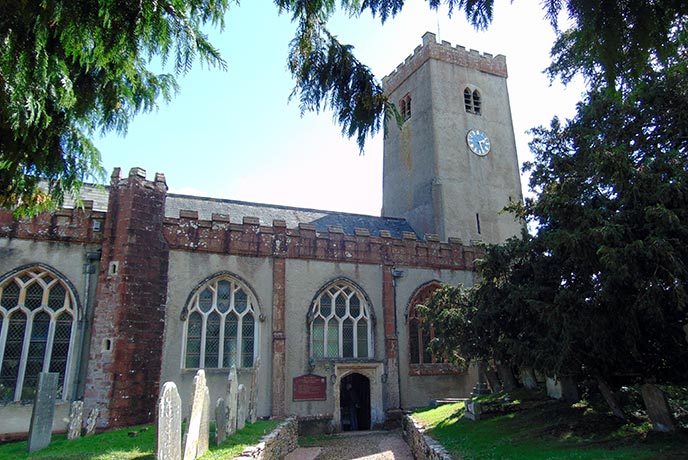 No visit to Stoke Gabriel would be complete without a visit to the incredible Yew Tree which sits in the church grounds. This tree is older than the church and is reckoned to be around a thousand years old. I love this Yew Tree. It's just so old and sprawling and imposing. A handy cut through of a tree trunk shows a snapshot of the history which this tree has survived, and goes right back to the Norman conquest in 1066. Next to this is another trunk carving which shows different aspects of village life. The wood is carved with pictures of cider making and salmon fishing.
There is lots to see in Stoke Gabriel, but it is the quirky touches which I enjoy so much. The carved explanations about the Yew Tree, the walkable dam, a red phone box decorated with flowers. All these things add to the charm and friendliness of the village. There always seems to be something going on. You might catch a weekend with a flower festival or a wassailing event, but even if you don't, there are always people spilling out of the two village pubs who are happy to socialise.