Set right between London and Brighton, Mayfield is in the depths of the Sussex countryside. If Sussex is known as the Garden of England, Mayfield and the surrounding High Weald Area of Outstanding Natural Beauty is the garden of that garden. Stay in one of our Mayfield holiday cottages and experience the village for yourself.
The winding roads guide you from place to place but with plenty of woodland and overarching trees, you're mostly hidden from the breath-taking views but now and again the gaps will open up and… wow! You'll see the blue sky, fields stretching to the horizon and maybe a smattering of houses between you and the horizon. It's a beautiful place to visit, the kind that will make you feel relaxed just from the thought of the place.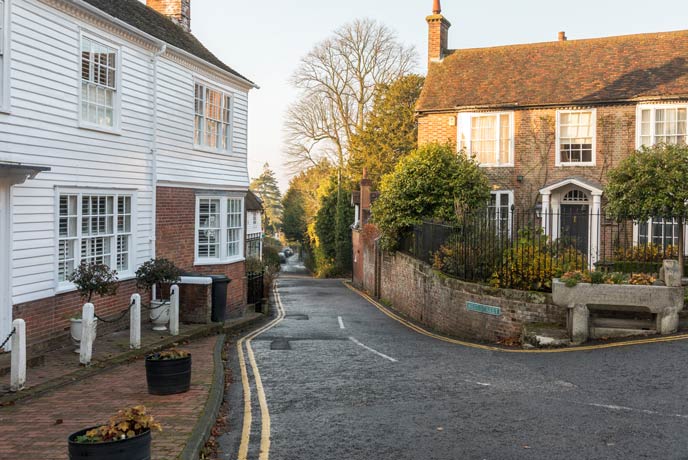 Mayfield itself is a pretty village with plenty of things to do and places to eat, you might even like to pick up a bottle of the famous Mayfield Gin! Steeped in history, the buildings tell a story of the lives that have been lived here. There's also a local park, two pubs and our wonderful Sussex regional office. Plan a holiday in Sussex and start with an afternoon wandering around Mayfield.
5 reasons to visit Mayfield:
1. It's a beautiful village steeped in history
2. The Middle House serves amazing food
3. It's a thriving Sussex village with plenty of activity
4. The Pink Cabbage is such a fun coffee shop
5. It's home to our South East regional office!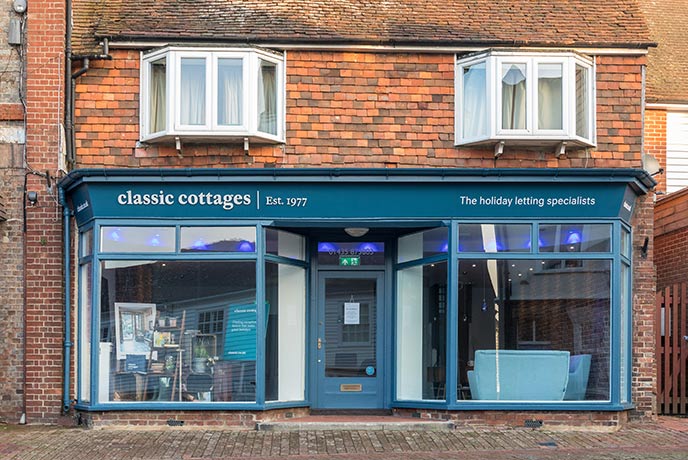 History of Mayfield
Mayfield and Five Ashes is the local parish surrounding the village of Mayfield, it dates back to before 1200 AD and was originally part of the Archbishop of Canterbury's estate that stretched from Lewes. Just over 100 years later, the village centre was developed from simple market stalls to more permanent houses and barns, helped by the status symbol of the Great Hall built by Michael of Canterbury, which is now the site of the Mayfield school chapel. Mayfield has made it through fire and falling out of favour with Archbishops to be romanticised by poets and those looking to enlightenment in the early 19th century and then revolutionised by the Victorian railway.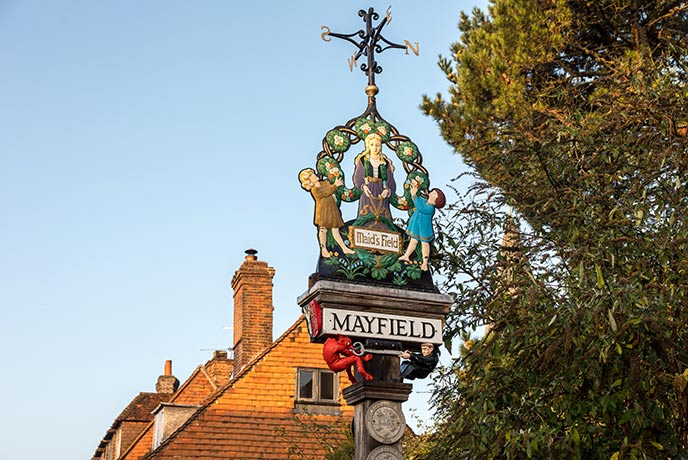 This pretty village has held a stalwart position throughout the changing landscape of history, a key location in some turning-point moments and always attracting people of high status for a retreat from their day-to-day lives.
Mayfield has many claims to fame, but for me, the most interesting is that Mary Poppins was written here so whether you're a writer or aspire to grow into one, where better to start?
Places to Eat in Mayfield
Mayfield offers a good choice of places to eat for saying it's a village. There's the Rose and Crown pub, The Middle House pub and restaurant, The Pink Cabbage cafe and Truffles Bakery for treats and snacks.
I've personally eaten in The Pink Cabbage and The Middle House and would recommend both over and over again. They both offer very different environments and menus but definitely worth visiting, both are conveniently on Mayfield's High Street so they're very easy to find.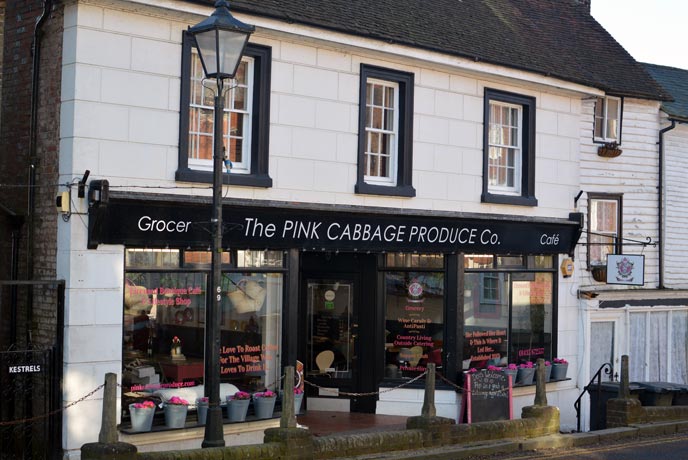 The Pink Cabbage is a lovely quirky café with American sweets and chocolate filling the shelves. The décor is a mx and match of soft furniture, reclaimed benches and wooden tables and the menu is a great choice of light dishes for breakfast and lunch. They also do small evening events with a set menu, well worth booking in advance and these sell out quickly.
The Middle House is a pub, restaurant and hotel with different sections depending on what kind of atmosphere you feel like. The pub part is incredibly rustic and filled with locals enjoying a post-work pint or a casual dinner with friends and family. The restaurant part is more like a gastropub: the food consists of pub classics that have been carefully presented and there's a huge focus on using local and seasonal ingredients. If you choose to book, ask to be in the older part as it's got a roaring fire and some lovely period features to the building.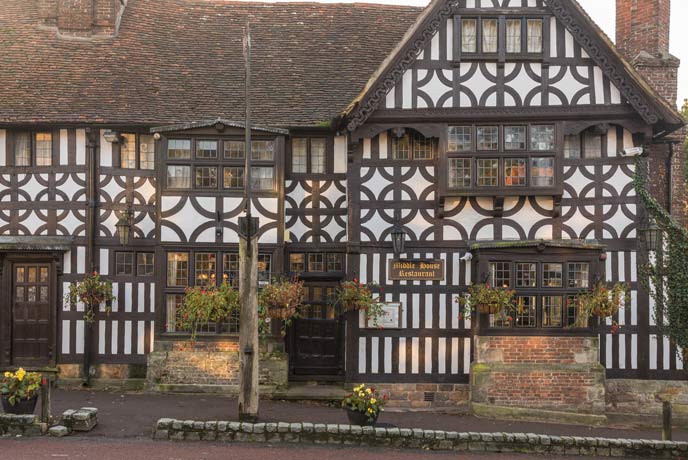 If you're looking for another pub to try, The Rose and Crown is just off the high street and is an equally brilliant offering for food and drink in Mayfield.
There are also several options for cooking at home or eating on the go. Truffles Bakery is a great place to start for bread and cakes but for a feast at home, the combination of The Middle House Kitchen and Deli and Fine Wines of Mayfield is sure to be a winner. The deli sells packaged versions of the pubs main dishes and has plenty of other little snacks, meats, cheeses and sweets to choose from. For anything else you might need or an emergency trip for milk, the village shop or the Shopping Basket have lots to choose from, including fresh fruit and vegetables.
If you do nothing else, find a bottle of Mayfield gin for a tasty slurp that'll also support a local business.
Mayfield Shopping
There are a handful of good choices for shopping on the Mayfield high street, don't expect big well-known stores but rather special independent offerings that you won't find anywhere else.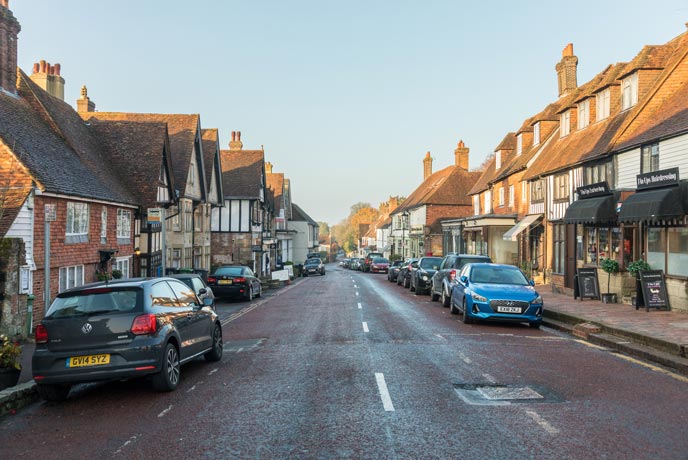 After visiting, I'm particularly in love with Flower House and Home, a local florist that's filled with little homeware goodies as well as beautiful fresh flowers and plants.
Four Winds sells clothes, accessories and Mayfield souvenirs so you can take a little piece of the village home with you.
You might also like to pop into the Middle House Kitchen and Deli for some sweet treats to give to friends and family when you return from your Sussex holiday.
Beyond Mayfield
Mayfield is in a great location for exploring Sussex and Kent. It's less than half an hour's drive to Royal Tunbridge Wells, ideal for a shopping trip or dinner out. Tunbridge Wells is great for history buffs who want to learn more about the town's colourful relationship with the upper-classes since the Victorian period.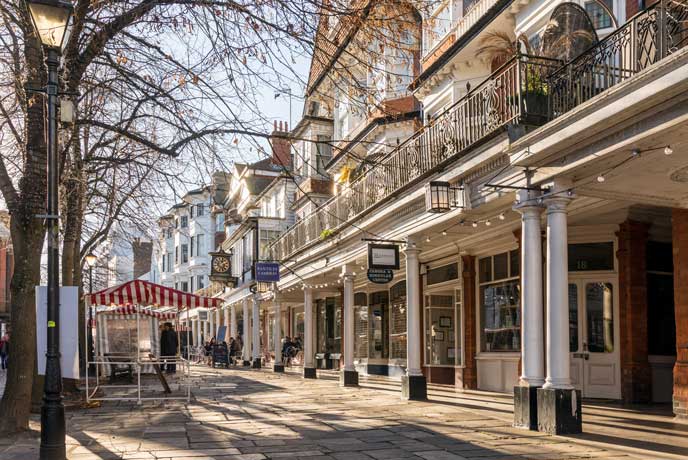 On the other side of Mayfield, you can visit the thriving, artistic towns of Lewes and Brighton. Brighton is about an hour and Lewes is around half an hour.
More locally, you can head to Buxted for a walk around Buxted Park, lunch at the Oast Farm and an afternoon of picking fresh fruit here too. There's also the family friendly Wilderness Wood which has nature at the heart of everything they do.
Being at the heart of the High Weald Area of Outstanding Natural Beauty, Mayfield is an ideal place to stay if you enjoy walking as there are so many routes for different abilities that either start from the village or just a short drive away.
Stay in one of our Sussex holiday cottages.