Join Heidi Reynolds, the creative mind and outdoors enthusiast behind Pebbletastic Sea Glass, to hear her story of how she came to live by the sea and her top tips for collecting sea glass in Cornwall.
It all started with my big glass jar!
I looked at the big glass jar in the corner and realised I had quite a collection! But what was I going to do with it? I'm Heidi owner and artist behind Pebbletastic Sea Glass, here to tell you about my art, my favourite Cornwall places and what I do with my scavenged shore-side finds.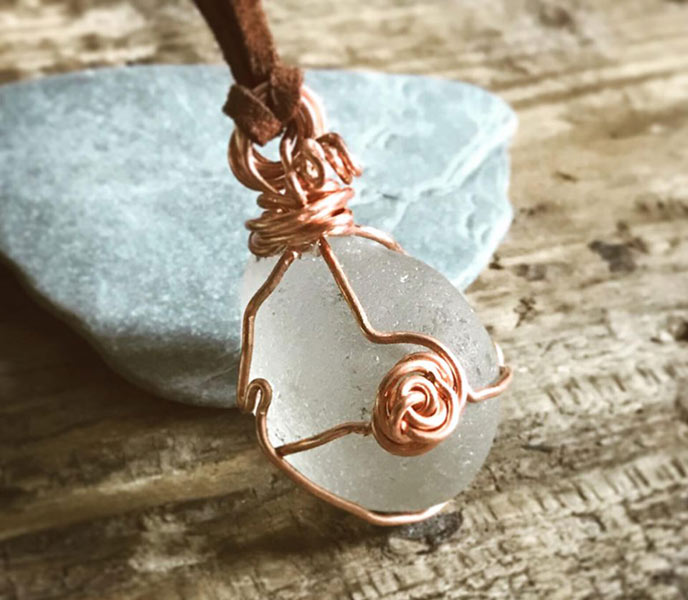 I have always collected glass just casually every time I was on the beach. The odd bit of driftwood was now collecting in the greenhouse too, regular paddle boarding trips around The Lizard Peninsula & beaches of the Helford river in this stunning corner of the world I have the privilege to call home . . . Cornwall, have you been?
Cornish Dream
So let's go right back! We (hubby and I) made our dream move here in February 2017. I've always had the sea in my blood having grown up by the beach in West Sussex.
There's just something about Cornwall that captures your heart: azure blue sea, dramatic cliffs, the simplicity of a cream tea or flask with friends. It's a far cry from my old life but despite everything I wouldn't change a thing. Well, maybe one.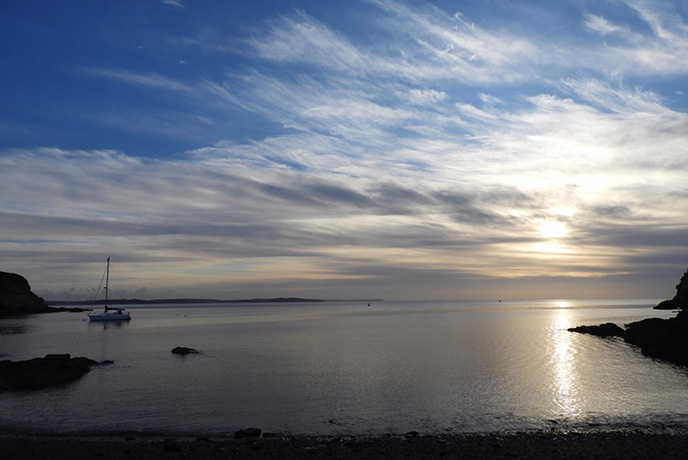 Life changed...Dancing in the rain!
In 2014, age 37, I was diagnosed with Parkinson's and subsequently medically retired.
As my favourite quote dictates:
"Life isn't about waiting for the storm to pass it's about learning to dance in the rain."
So you make a choice... I chose to dance and splash in the puddles. That included our move away from commuter land, after 20 years of holidays (a great number with Classic Cottages) in Cornwall.
As I said it had always been the plan to move here. We found a house we both fell in love with, a stones throw from the beach and so, my regular beach visits began. I carried one bag for litter and one for the bits and bobs I could find that looked pretty.
For Nanna
My first picture was for my hubby on what would have been his beloved Nanna's birthday. She adored daffodils and so that's what I made. I was hooked! I had never loved art in the way I loved this and still get excited at every new piece. They're totally unique too, due to the material I could never make the same thing twice and I think that's amazing!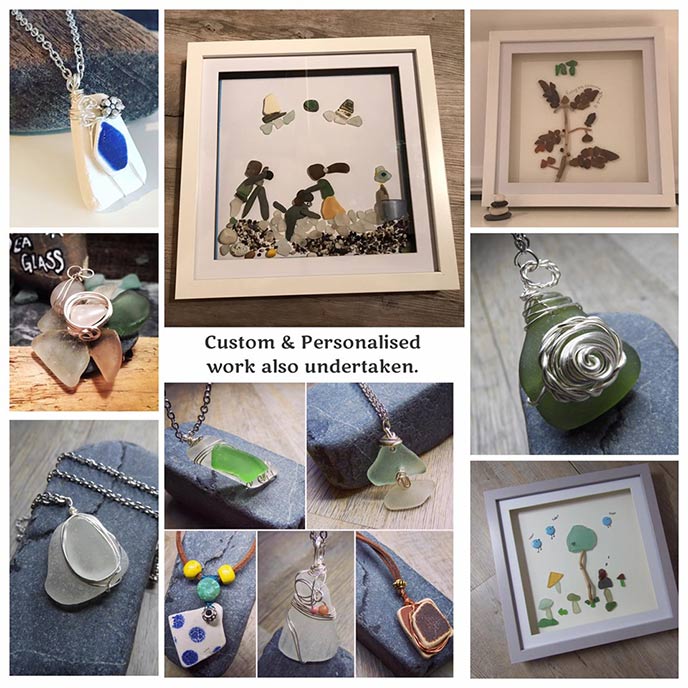 After being asked umpteen times if my work was for sale and our house starting to creek under the amount of sea glass, I took the plunge and Pebbletastic Sea Glass arrived, along with Facebook & Instagram pages.
It gave me numerous excuses too, I could legitimately disappear to the beach for hours! I could now call my crafting "my work" so couldn't possibly not do it: it would keep our beloved beaches cleaner, my paddle boarding would be a necessity. Win win.
Litter to glitter?
It's a question I'm asked a lot . . So what is sea glass! Well, it's basically litter. Sorry, that's the truth but I prefer mermaid treasure! How frosted it is determines how long it has been in the sea. Find a really frosted looking piece and that will have taken years to get like that so imagine what it might have been? It's the same with ceramics. I often look at the unique pieces wondering "What were you?".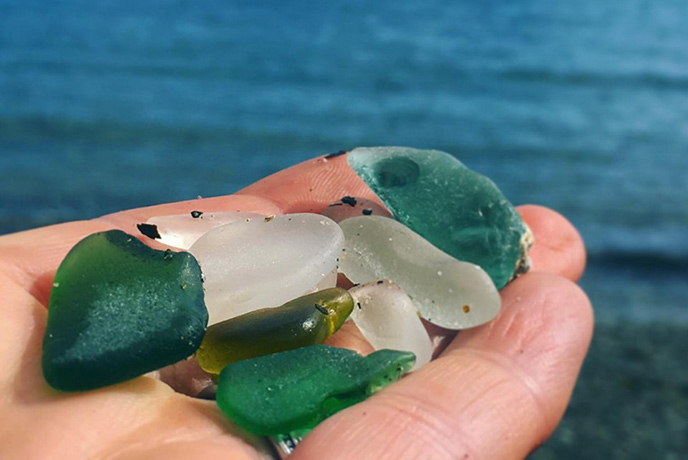 When I put my art and jewellery together, I don't cut the glass to make it fit the picture. i like to think of it like an immense jigsaw but one you have to go and find the right pieces for. Sometimes, I have to go out specifically looking for a sheep, foot or head, for example, and other times I find a piece that I build a picture around because it looked so much like a Christmas tree, cats head or fish.
Where & when?
Anywhere is the answer to the question "where should I look?" Some beaches are better than others, it's all a matter of tides and how much gets washed up. If a beach is on a shipping lane, it's more likely to have sea glass and pottery but you will find different types in different places, even the colour will vary. Yellow is the most rare but find a piece of blue and you'll also know you've had a good day.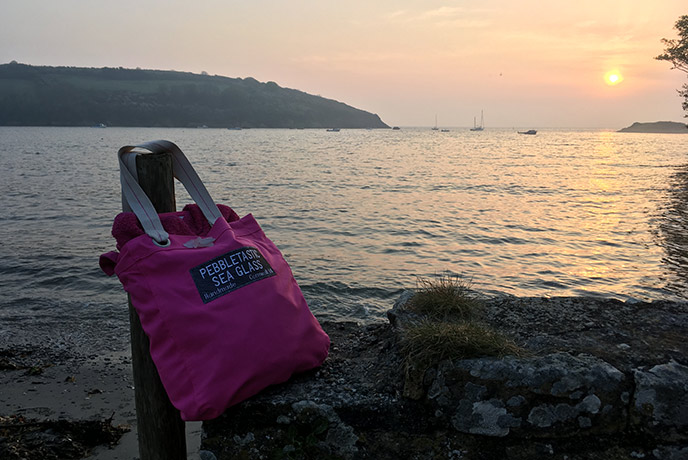 Inaccessible beaches, by that I mean ones reached only by kayak or paddle board are great too. Once you get your sea glass eyes you'll never look up at the sky while on a beach again! You know you're hooked when you smile from ear to ear at that beautiful aqua blue or perfect pendant shape you just found. It's also the perfect activity for keeping excitable children busy all day long - and costs nothing!
Then we take the pieces home and it's time to practice, play about with it, put it in a glass jar with fairy lights or better still give your pieces to someone like me and have something created with your find. You can't get more personal than that.
I personally don't charge any more for bespoke or personalised pieces compared to my ready made items: making you smile and keeping our wonderful beaches clean makes me happy and knowing I'm creating a piece of Cornwall for your home or family.
And, okay, it keeps me visiting the beach or paddle boarding with a genuine reason to do it too!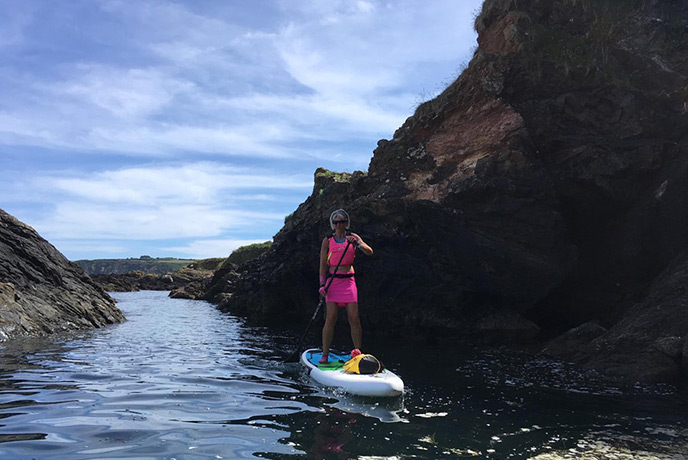 "It's for my art you know," I'll shout as I hear, "You off again?".
So this summer in fact any time of year don your sunnies or wrap up and get your sea glass eyes on... you'll be surprised at what beauties are just under your toes!
If you're inspired by Heidi's story, browse our Cornwall holiday cottages and start your own sea glass collection.