Most of us dream about sunny days, but the British climate has never been the most predictable. The good news is that rainy days don't have to be a write-off.
Board Games
Some of the best childhood holiday memories are made when sitting in lovely cottages while the rain falls outside. Spend the day playing games and making special family memories. From the traditional Monopoly, to Cludo and Scrabble
Board games have been a popular pastime amongst families for generations and are a great way to spend time together. Some properties, like Meadowgate and Number 3 The Old Antiques Centre have dedicated a corner to games, books, puzzles and in some cases, Lego!
Why try the drawing game Moster Mash-Up? A piece of paper is folded in half lengthways then in half again, to make 4 equal sections. In the top section each person draws a monster's head. Fold forwards but leave a couple of lines to show where the neck is. Pass the paper, then each person draws a monster's body connected to these neck lines. After passing again, people draw legs then feet. The person who draws the feet also draws the monster. Unfold and then laugh at the ridiculous creations. Perfect for a rainy day keeping the whole family entertained.
Indoor sports
Indoor sports tables like snooker tables, table tennis tables and ice hockey tables are always really popular and great additions to any holiday cottage, if there is space available. Take the Old Coastguard Station in Falmouth and Redcliffe in Shaldon which both house fantastic games rooms.
Some of our cottages have a small gym available for your use, others have classes you can sign up to, such as yoga, taught by the owners.
Historical Adventures
Britain has a wonderfully rich history. Cornwall and Wales have a strong mining heritage, Dorset is home to the Jurassic Coast (keep an out for a dinosaur fossil at the beach) and Sussex is famous for the Battle of Hastings in 1066, making for some wonderful museums not to mention the castles all over the country!
Why not have a look at our other blog all about castles in Sussex, and cottages near castles to find out a bit more. Classic even have a handful of cottages with a hint of history attached to them which makes for an interesting stay.
Storm watching
There is a beauty in the wind and rain, especially when it is stormy the British coastline becomes a new fascination. Wrap up warm, put on the waterproofs and head out to your favourite coastal spot with your hot drink to watch the waves roll in and crash against the cliffs.
One of our favourite places in Cornwall to storm watch is Porthleven, but here are a few other Cornish suggestions for storm watching in Cornwall.
Discover a new pub
What better than to spend a miserable day holed up in pub? Find a seat by the crackling fire to get super cosy and try out a delicious warming meal and a good drink. Take a pack of cards or a board game with you to really make the most of the warming environment that comes with a pub. Here are our suggestions for cosy pubs in Cornwall and south Devon.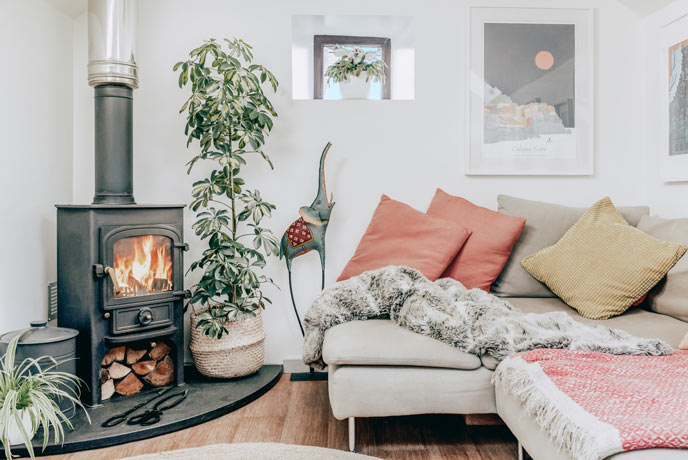 Sometimes though, all you want to do is curl up by the fire in your cottage with a good book and a hot cup of tea surrounded by your family and friends. So with that in mind, here are ten cosy cottages with fire perfect for hibernating in.