Whether staying in Shanklin or further afield, if you've come for a visit be sure to pop into these secret Shanklin stop offs.
Blueberrys Cafe and The Hideaway
Both these destination diners are situated on the cliff path, north east of Shanklin Station.
The Hideaway may be at its glorious best in summer but the cosy dining area with panoramic views, locally brewed beers, and delicious home cooking at reasonable prices, make it well worth finding in the cooler months. If your visit to the island includes a sunny winter's day, and it probably will, make tracks to The Hideaway. Whether staying outside of Shanklin in Ryde or Sandown or even as far afield as the West Wight consider taking the train to Lake and then ambling across the well-signed cliff path. This lovely, flat walk complete with spectacular bird's eye views of sea and sand is the perfect winter appetiser. Or celebrate twinkling stars and clear dark skies along with a gin and tonic made with the Island's Mermaid Gin expertly mixed at The Hideaway. The kitchen closes from 3 to 5, and dinner reservations are recommended, phone 01983 864 145.
Blueberrys Cafe serves fresh breakfasts and lovely lunches but undoubtedly this little hidden gem is best known for its spectacular cakes (and stunning views). Classics including Victoria Sponge, Coffee Walnut and Lemon Drizzle are popular favourites but Key Lime Cake and Gluten Free Mint Chocolate have also made appearances on the ever-changing cake menu. Proprietors Liam and Claire obviously enjoy feeding people and always have time for a chat. Like many small, out-of-the-way businesses on the Island, winter opening times can vary, so to avoid disappointment follow Blueberrys Cafe on Twitter (@blueberrys_cafe) or Facebook (BlueberrysCafe), or ring them at 01983 866 378. (Below image, The Hideaway, credit The Hideaway)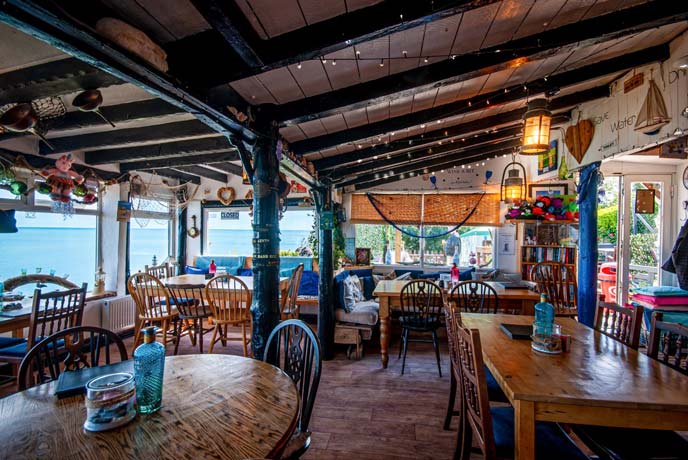 Babushka Books & Framing Gallery
Situated at the heart of Shanklin's shopping district on Regent Street, this literary emporium may feel like a secret because it's only recently moved to its new prime location. Inside you'll find an eclectic collection of quality used books, nicely organised, as well as interesting new releases. Along with a wide range iconic orange Penguin paperbacks and an array of books about the Island, owner Reuben Simpson-Little has curated tantalising titles across two floors of art work, ephemera, and nick knacks. Reuben, along with local experts, also finds and repairs vintage typewriters, selling them to grateful new owners who are keen to recycle and reuse these slick old machines. From poetry to bios, pulp fiction to Penguins, modern classics to kiddy literature you're sure to find a body of work that appeals inside Babushka. Find this independent retailer on Facebook at lovebabushkabooks. (Image credit Babushka Books Facebook)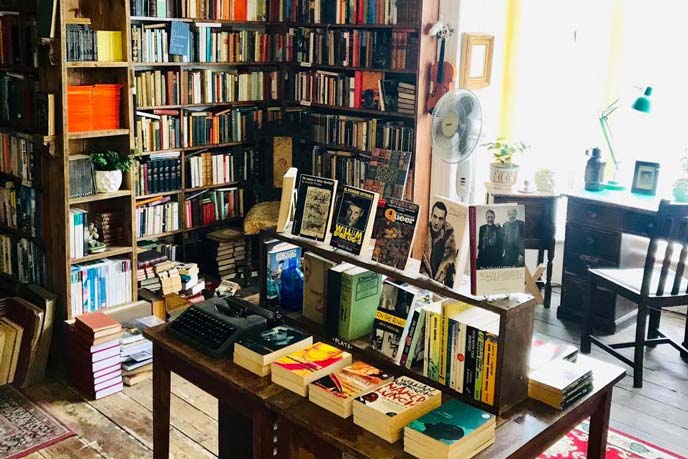 Deli-Cious in Shanklin Old Town
This cafe and deli offers the best of Polish groceries, fresh cooked meats, sausages, home-made cakes and breads. Made in house by the shop's master baker, it's the bread selection that is the star of this show. Baked daily, you're likely to find rye, white, wheat, pretzel rolls, even a heavily seeded flour-less option that is hearty and satisfying. Deli-Cious features a wide selection of Polish groceries including, thankfully, Wedel's Chocolates. If you've ever travelled to Krakow you will have certainly visited the E Wedel Chocolate Lounge, where nearly everything on the menu is made with this rich, dark national favourite. What a treat to discover this fine Polish confectionery here on the Isle of Wight. Be sure to take some home, along with a loaf of bread and a selection of cold cuts. What better way to stock your holiday cupboard? Find Deli-Cious on Facebook at deliciousiow. (Image credit Deli-Cious Facebook)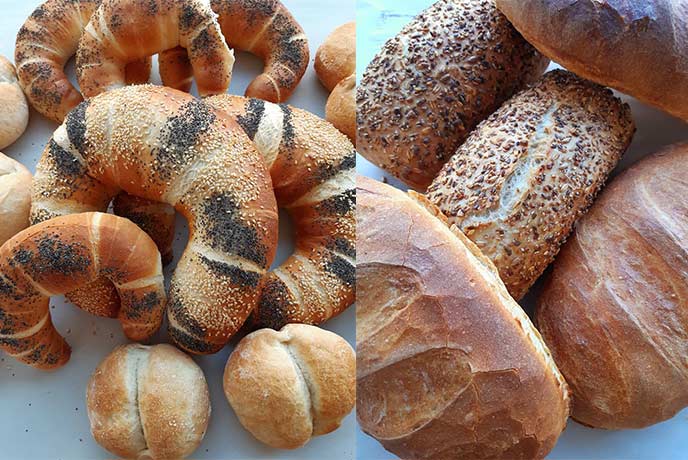 Like the look of what you see? Why not have a look at some of our properties nearby Shanklin to visit these places yourself.