The South and West are great areas to explore with dogs as there's plenty of space for them to run around, always a new beach or forest for you both to explore ready to make some great memories together.
Whether you're choosing to stay in Dorset or Devon, we have a fabulous selection of properties that welcome dogs with open arms. You may be looking for a couple's bolthole in Cornwall with a little extra space for your precious pooch or you might want a gorgeous Somerset farmhouse for the whole family and your furry friends. How about spending a short break discovering the New Forest in Hampshire or the rugged coast path in Pembrokeshire. There are plenty of dog friendly beaches in the South and West but we've found some of the best on the Isle of Wight. If your dog is a true escape artist, you might want to opt for a cottage with an enclosed garden for a little extra safety.
Dogs are indeed man's best friend and who wouldn't want to take their best friend on holiday? Here are our top tips for preparing for your holiday and having the best time while away.
1. Pack a doggy bag
Toys, check. Blanket, check. Coat, check. Lead, check. Before you know it, the car is full of everything the dog owns but nothing for you. Make a realistic list of things your four legged buddy may need while you're away and pack it all up into one bag. Then you know where everything is should you need it, especially if there's any kind of emergency. Don't forget any medication your dog might need and maybe consider bringing a water bowl for on the road.
2. Plan your itinerary
Planning ahead will definitely help keep your dog settled and will mean that you know exactly where you can take your pet. Tourist boards are a great source of information for dog friendly locales. The last thing you want is to go out for dinner and not be allowed inside with the dog. Call ahead to pubs or restaurants just to check their arrangements for dogs. In the same way, check where your dog is allowed to go in your holiday cottage. For example, some of our properties provide dog blankets but, for the most part, please keep doggies off the furniture and out of bedrooms.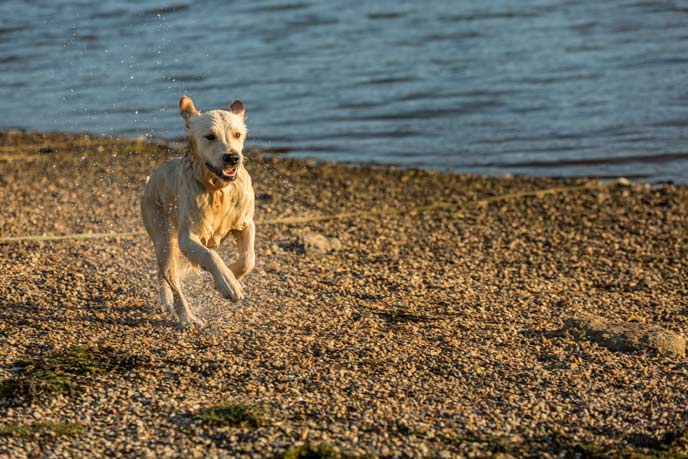 3. Visit the vets
It's always good to get a check up just before you go away. More for peace of mind than anything else. Then you'll know that your doggy is fit as a fiddle and ready to play away. As part of our booking conditions your dog's flea and worm treatments must be up to date to stay in a dog friendly cottage. Taking an unhappy dog on a long journey isn't going to be any fun for you or your dog. And trying to find a vet to help your poorly pooch may prove to be difficult if you're staying in a rural area. Play it safe and get a check up.
4. Travelling and settling your pooch
Make sure that your pet is comfortable in the car. Get them all settled with toys and even a shallow bowl of water just to keep them hydrated. If it's a long journey, keep stopping to check and give your dog a walk around the car. You could even find a little green patch at the service station to let them off for a quick run. Just keep an eye out to make sure they're safe. And don't forget those all-important doggie bags.
5. Safety first
Wherever you choose to go, always keep safety as your top priority. If you're unsure of a place, keep your dog on a leash until you're sure it's safe for him to explore. Never leave pets unattended and be aware of other dogs and other people around you. Keep an eye out for grazing animals as it can unsettle them and it won't make you popular with local farmers. You never know what could happen so make sure you're prepared for all eventualities.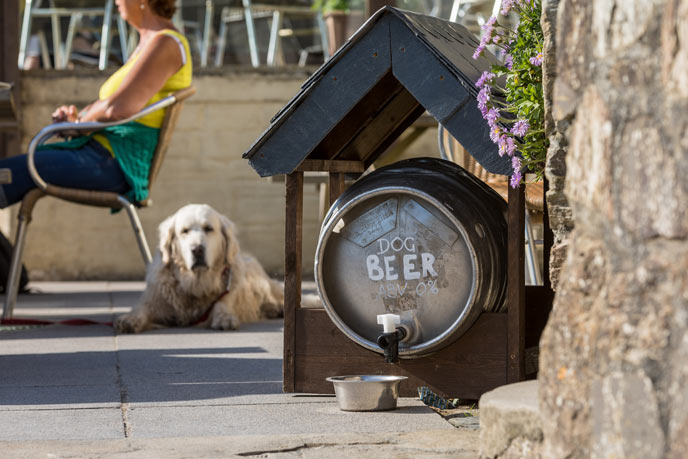 Finally, have a wonderful holiday. Share any fantastic photos of you and your doggy enjoying your break with us on Facebook, Twitter or Instagram. We'd love to see them.