Photography by Annabel Elston
Shops in Bude
Lansdown Dairy, Bude
Lovely deli for fine foodies. Good balance between local produce and hard to get hold of items and
ingredients. Sue Proudfoot's Cornish Crumbly cheese is a dream.
www.lansdowndairy.co.uk
Killock Farm Shop, Kilkhampton
The best pasty for miles around, made with beef reared in the field opposite. The flans are cracking too.
www.classicguide.co.uk/attractions/killockfarm-shop.html
The Bakery, Bude
The pink meringue elephants will bring a smile to any breakfast table.
Truscotts, Bude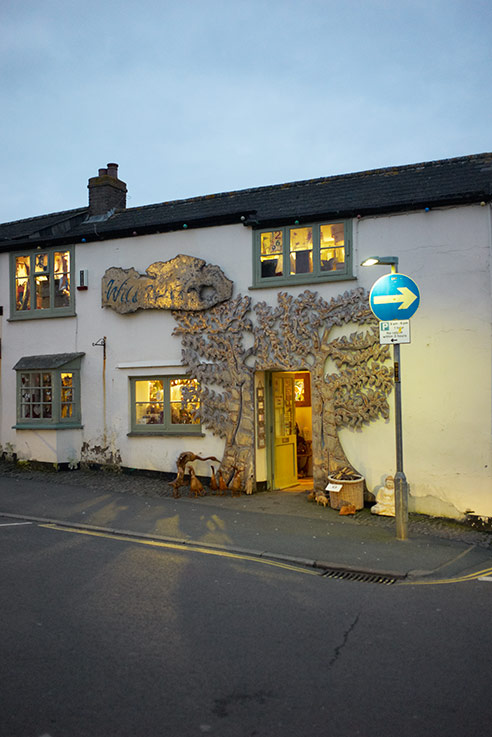 Olden days style ironmonger and kitchen shop. From charming enamel-ware to paper tassels to tie
round lamb cutlets. If you're lucky, they'll still hand-write your receipt.

Wild Wood, Bude
You can't miss it with a 2D tree growing up the front. Rammed with funky ethnic fashion (as worn by our photographer Annabel), hand-made local jewellery and 1,001 gifts that urge you to rummage.

Waggett's, Kilkhampton
Traditional toyshop in Kilkhampton where 99% of the toys are wooden. Owner Richard works with The Toymakers Guild to create toys of wit and integrity that last lifetimes.

Pubs, cafes and restaurants in Bude
The Tree Inn, Stratton
We love the place and Emma and Bob who create the very welcoming vibe. Food is spot on too. The Treehouse Band bang out a good tune and in the courtyard that catches the sun, kids can face up to Anthony Payne, the 7ft 4in Cornish giant who was born and died here in 1691 (winched down
through the ceiling due to his bulk).
www.treeinn.co.uk
The King's Arms, Stratton
Another freehouse, like The Tree Inn and just as friendly with wood-burners in winter. Good Beer Guide regulars.
Olive Tree, Bude
Simple bistro in the town if you fancy a quick cuppa. Does a decent soup and the pizzas aren't bad either.
www.olivetreebude.co.uk
Inn on the Green, Bude
Family-run hotel with lively bar and bistro near Crooklets beach. Rumour has it a cheery 73 years young eccentric called 'Chisholm' lives here in a cupboard, plaits smurfs in his long beard, wears shorts in winter and used to drive a fire engine as his personal vehicle of choice. He plays the bones in a band called Roadkill who jam here on Tuesday nights.
www.innonthegreen.co.uk
Life's a Beach, Bude
Trig calls it the best food in north Cornwall, but then he is a chef there. This is seafood as it's meant to be: caught, cooked and eaten in the same day. Always buzzing inside but try and eat out, the unfussy verandah overlooks Summerleaze Beach and the sun can stay up until half-ten.
www.lifesabeach.info

"Try the real ale mustard cheese at Lansdown Dairy, it's sensational."
Heather LOCAL, loved her holiday so much she moved here

Markets in Bude
Hatherleigh Market, Devon
Thriving traditional market with fabulous fresh produce at the smallest town in Devon. Lauded by BBC Food Programme. Take home a pot of jam, or possibly even a pony if you have a suitable trailer.