It was a brisk day in January as I set off to Burlawn, a little hamlet in a wooded valley, to stay at Well Cottage for the weekend. As you approach the cottage, you feel like you've arrived somewhere hidden away from the world, surrounded by nature. You wouldn't believe you're only a short drive away from the bustling town of Padstow or market town of Wadebridge.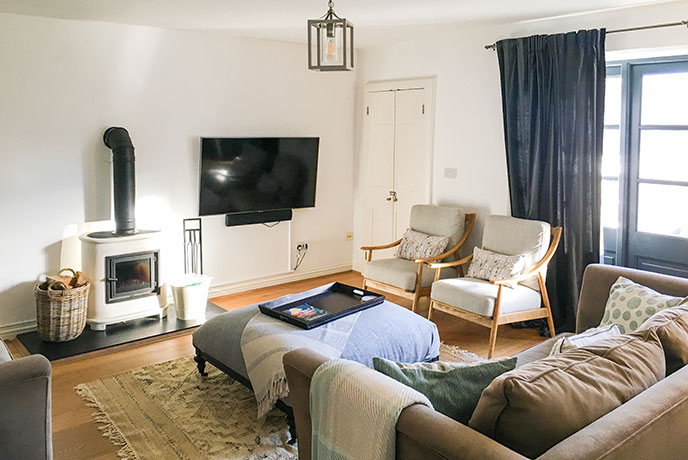 Well Cottage is pretty perfect – if you were asked to draw a rural Cornish cottage, I'm sure you'd end up with Well Cottage! A walled garden at the front of the house, a little wooden door in the middle and sash windows surrounding, the soul-warming sight is wonderfully welcoming on a cold and crisp January day.
When entering the cottage, the country charm continues. Every room is light, spacious and beautifully furnished - the owners have clearly taken great care over furnishing their home so it is super comfortable. Otto, my little dog, is also delighted to have a spacious garden at the back of the house to run around in! There are two lovely dining areas in the garden, along with a fabulous firepit so you can enjoy this sheltered private space year round and into the evenings too.
The peace doesn't last for long as my sister, her baby and my parents arrive shortly after I do! Our first 'multi-generational' family holiday and I think it is safe to say, we're all feeling a little apprehensive at this point! But Well Cottage puts us all at ease. With big open living spaces and a snug for us to escape to if needed, we very quickly settle into a new slower rhythm. The impressive wood burner in the living room certainly helped with that, enticing us to light it and to sit fireside within our first hour or so at the cottage.
Saturday: Circular walk to Wadebridge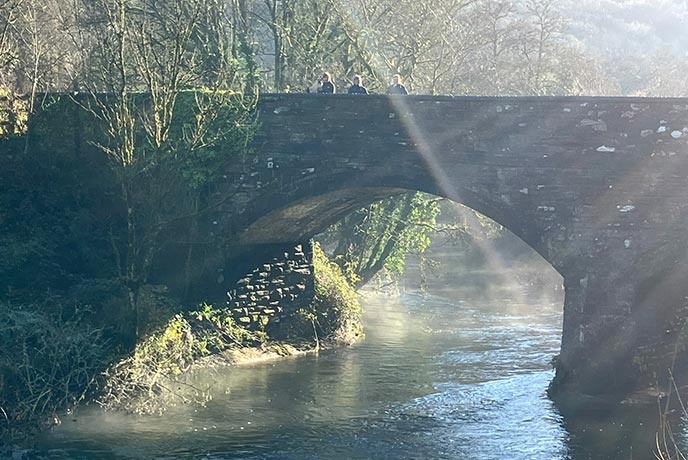 After nesting in by the fire and getting an early night, we were all up in good time the next day to make the most of the sunny weekend in North Cornwall. We were pretty determined to travel on foot and not get in the car. Turns out, this was really easy to do when staying at Well Cottage. Stroll down the lane for five minutes and you have vast amounts of footpaths and mountain bike trails in every direction. We turned left, taking us through Bishops Wood, which led to the Camel River. Here, we picked up the Camel Trail and followed this until we hit Wadebridge.
A down to earth market town, full of independent shops and cafés, Wadebridge is the perfect place to pause, grab a coffee, browse the shops and buy some things from the shop for lunch back at Well Cottage. The walk back to the house is a fab shortcut cross country - perfect for when lunch is calling your name. That afternoon we got stuck into a few games, read the weekend papers and cooked a hearty meal for supper. A great end to a day out exploring.
Sunday: Day trip to Padstow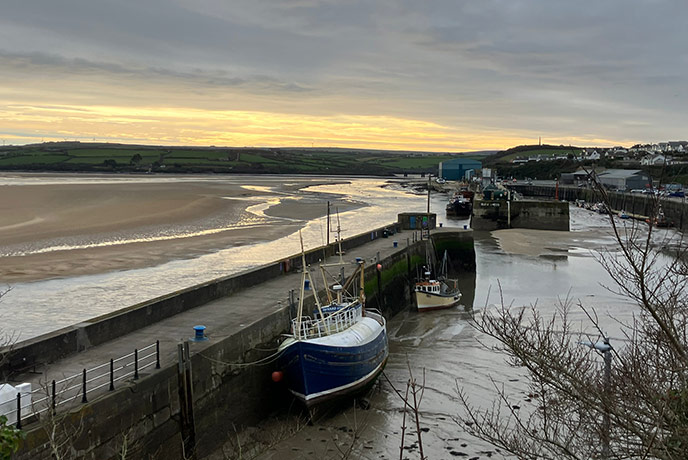 On Sunday we ventured out to Padstow. Nicely busy, even in winter, the town had a good weekend buzz. The tide was out so we walked out along the beach as far as the further headland, to the converted Lifeboat station, and walked back along the coastpath. Then, of course, we grabbed coffees and the most amazing cakes from Cherry Trees and sat on a bench in the harbour. The afternoon was a stroll through more nearby woodlands and another chilled night in. Although Well Cottage is close to many good eateries, with a young baby it meant we ended up cooking up feasts at home instead, which was no hardship as the cottage is very well equipped for cooking up something special for the big group of guests.
After a weekend away altogether in Well Cottage, we felt like we were coming out of a lovely little hibernation. Being so comfortable and quiet, it was a proper escape. I can see that this house will be wonderful in spring and summer too, exploring the fantastic coastpaths and beaches by day, and coming home to this sunsoaked idyll in the late afternoon for a barbecue or chill in the garden. Definitely one I'd return to in a heartbeat…
Holiday notes:
Recommended walk: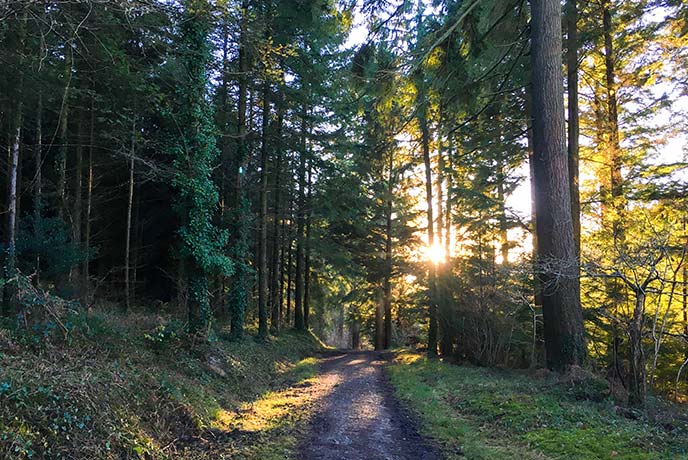 Well Cottage to Wadebridge circular walk
Distance: 5 miles
Starting at Burlawn, follow the road down to the river and old mill at the bottom of the hill. Turn left into Bishops Woods and follow the path for just over 1 mile. You'll reach a stone bridge on your left, having followed the Camel river upstream for a short distance. Cross the bridge and turn left, following the river downstream. From the bridge it is 2.5 miles to Wadebridge. From Wadebridge, walk back towards the Camel Trail, but instead of walking along the trail, bear right, following the footpath signs towards Treraven. When you reach the lane and farm here, turn left and follow the footpath up until you reach the road that takes you into Burlawn. Follow the road down to Burlawn and back to Well Cottage. It is around 1 mile or so from Wadebridge back to Burlawn.
Hidden gem – Hustyns Woodland and river
The river running through the valley at the bottom of the hill is idyllic. To get there, turn right when you reach the bottom of the hill and follow the footpath. After walking for about 5 minutes you'll come across two wooden bridges down to your right. It is very pretty here! If you want to make a loop walk out of it, carry on across the bridges and head up the hill. This whole loop will take you around half an hour, door to door.
Recommended towns to visit:
Padstow – For lovely shops, good cafés and bars and easy access to the beach and coastpath.
Wadebridge – This town has great independent shops including antique shops, bakeries and some lovely homeware type shops too.
Other things to do nearby:
Camel Valley Vineyard – A fantastic Cornish vineyard producing award winning wine and set in a beautiful location just upstream from Well Cottage. You can either walk, cycle or drive here easily from the cottage. They do daily tours, sell wine by the bottle and have a bar on site so you can sit with a glass of bubbles overlooking the vineyard and surrounding countryside.
Mountain biking - It becomes apparent very quickly when you enter the nearby woodlands that they are well set up for mountain biking. So if this is your thing, definitely make sure you bring your bikes along! There are multiple tracks through Hustyns Woods and Bishops Wood, which then connect onto the Camel Trail - a popular cycle track running from Bodmin to Padstow.
About Well Cottage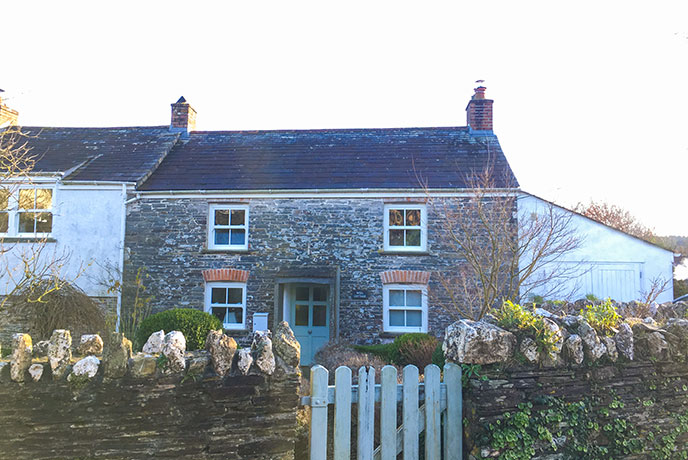 Well Cottage is a perfect home for both short breaks and full weeks away. You can sleep up to eight guests here. All rooms are spacious and beautifully furnished. The cottage extends out into the spaces either side of the main house, giving is a generous amount of room inside. The living spaces are also very well equipped for eight guests. The cottage also takes dogs and is baby friendly too.
Prices for a week from £998. Find out more here.