"Dynargh" once again, from Peter Kirby, writer and boyfriend of Kate Tregoning, graphic designer here at Classic. Peter grew up in St Ives, scooting off to the hidden coves with secret pools and to-die-for beaches that appear for only three hours a day. Together with Kate, who shared similar childhood adventures on the Lizard peninsula, they set about retracing their teenage years just like Bill Bryson, but without the beard.
Take two premier steak pasties from Philps of Fore Street, St Ives, a pack of wine gums, one willing dog, several lungs full of salt air and those you love, and head west. I guarantee that after this romp you will feel a generation younger, even if your knees try to plead otherwise.
The walk to Zennor is heaven. Granted, cherubs and harps are now extinct, but rumour has it, there's still a giant and a mermaid at the other end. Leaving the magical Tate of the West and Porthmeor Beach behind you, skirt round Clodgy Point, up the boggy trail over Man's Head and after 40 minutes or so, you'll meet the Trevalgan Trail, where the dog may well be waiting for you. Hopscotch the badger sets and run-a-ring around the stone circle, making a wish with a kiss out to sea. Inland from here roosts Eagles Nest, the home of the late Patrick Heron, the abstract colourist, who formed part of the St Ives School of Painting alongside Ben Nicholson, Barbara Hepworth and Naum Gabo.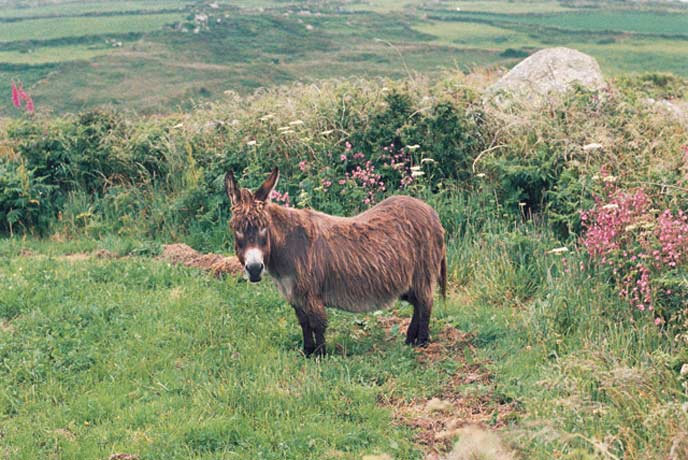 Once you reach River Cove, the fun really starts. It's here that the wild fuchsias almost belly-flop into the ocean and walkers join you from Wicca farm path. Let gravity haul you down towards Seal Island (reachable by boat from St Ives), where grey seals perform Nemo-esque routines. At low tide you can become part of their synchronised squad. Wonderful natural swimming pools, baked by the summer sun, invite the brave, but please take heed, the nearest lifeguard is about four miles away adjusting his sunglasses.
After the aquatic exercise, with a pocketful of mussels, mosey up the rocky track admiring the cosmically stunning Porthzennor Cove and take a weary left for a well-earned drink at the Tinners Arms in Zennor. The always delicious soup is whatever got picked or caught that day and in winter the fires dry out the most sodden socks, although the resident cat tends to hog the hearth. Bless her. If you'd rather devour a Cornish Cream Tea, drag your aching soul another half-mile up the road until you see a road going left to Penzance. The farmhouse perched above you serves exquisite cakes and perfectly brewed tea. The bagpuss here may cajole a crumb or two off you.
For the less masochistic stroller (St Ives to Zennor is 10km) there are numerous jaw-dropping walks. Potter round the mesmeric B3306 for one mile and you'll see the Gurnard's Head Hotel, a charming pub with eclectic portraits of local heroes (from darts amateurs to lifeboat pros). The food is home-baked, buttery and will send you into a blissful ten year sleep. The Head itself is uncannily like a basking gurnard, and on the secret beach below, for two hours a day, hide the smoothest, roundest, cuddliest boulders, known to the locals as 'dinosaur eggs'. Please stroke them, they don't bite, but leave them be, as it is now illegal to remove them from their natural habitat.
---
Further round the coast lies the beach that tip-toed in from paradise. Along with Porth Chapel on the south coast, Portheras is, or rather was until I told you, the locals' Mecca (no doubt I will now be bombarded with dinosaur eggs). Take a right after Morvah, park at Chypraze Farm and pay the 20p that is politely requested (but please don't tell them I sent you).
---
Double back on yourself and take the Penzance road to Madron for a mile until you reach the ancient monuments of Lanyon Quoit and Men An Tol on your left. The latter, a seven foot giant granite ring, should be climbed through nine times to aid fertility and banish disease, so they say. Atop the three legged Lanyon Quoit, you can see all three coasts, and maybe even Chysauster, an entire medieval village near Gulval.
Back to the magnetic coast, you can test your finger-grips by scaling the vertigo-inducing Bosigran cliffs. Should you get a bout of jelly-legs like us, kick back and watch these amazing spidery lunatics skit up the 150 foot vertical granite face. Just as spectacular, but a little clammier, is Geevor Tin Mine. 1500 feet down and three miles out to sea, this is Britain's largest mining history site. The guided tour is I'm told fascinating, but as I get the eebie-jeebies in a lift, I'll leave the exploring up to you.
Continuing south is Gwenver, the shyer sister beach of Sennen, where you'll see England's 'most-stared-at' sunset (about 10.30pm in late June). This is arguably the UK's best wave for surfing and has a bohemian air about it. Talking of air, you can ride from St Ives to Land's End in an open top double-decker bus, which is breathtaking if a little kamikaze at times. Should the westerly drizzle ever roll in, let the kids go doollally at Land's End, where they can play pirates and peg-legs in a concrete galleon.
The seals you met earlier may now have swum round to Nanjizal, a delightful cove accessible on foot from Polgigga in St Levan on the B3315. The cliff here has 'half run away' leaving a natural arch you can swim under. Next on the loop is Porthgwarra, a story-book fishing hamlet with a fairytale to boot. Fable has it that a forbidden couple eloped here, were spied by an old lady and the sinful sailor sent his ship down, thus earning Porthgwarra the dubious title of Sweetheart's Cove. For real drama, there's The Minack – the world's most romantic open-air theatre. Carved into the cliff-face by the bare hands of Rowena Cade in 1932, this pinch-me auditorium now seats 750 and stages all manner of shows from The Tempest to The Jungle Book. Pack a picnic and hire a 'carry-me' Minack seat for a quid. Across Porthcurno bay you can just see Logan Rock, a gigantic boulder on a natural fulcrum that was once toppled into the sea by drunken navvies, then hauled back up and re-sat to assuage the locals.
Our final secret walk is a gem. St Loy is as hard to find as it is to miss. Stay on the B3315 and park on the chicane at Trevedran. Hurdle the stile and meander through the woods chasing the stream to the sea. The bamboo forest signals the ocean and the trees literally spill onto the beach which is one huge nest of giant dinosaur eggs. As you leave, it's superstitious to weave anti-clockwise in and out of the ancient Merry Maidens standing stones just outside of Lamorna. Do ten laps and you'll earn a Jelberts ice cream from Newlyn, made with (wait for this) clotted cream.
If all this wild outdoory stuff is too much, best mosey round St Ives. Eat at the Porthgwidden Café where you may share a café latte with Dame Judy Dench and Maggie Smith. Such is the popularity of The Tate, there are now some 40 art galleries in St Ives, the best of which are Wills Lane Gallery and the Barbara Hepworth Museum. Finally if, like me, you can squeeze in just one more morsel, make it a saffron cake from Ferrels in Fore Street, the world's smallest bakery.
---
Activities
Surfing the swell - Gwithian Academy of Surfing, Prosper Hill, Gwithian, Hayle, TR27 5BW Tel: 01736 755 493
Riding on the moors - Penhalwyn Trekking Centre, Halsetown, St Ives, TR26 3NA Tel: 01736 796 461
Golf against the elements - Cape Cornwall Golf Club, St Just, Penzance, TR19 7NL Tel: 01736 788 611
Sailing to Seal Island and Hell's Mouth - The St Ives Pleasure Boat Association, The Harbour, St Ives Tel: 0777 300 8000
---
Places of Interest
St Erth to St Ives Railway - Train journeys don't get more ahhh. Tel: 08457 484 950
---
Pubs, Cafes and Restaurants
The Tinners Arms - Zennor, St Ives, TR26 3BY Tel: 01736 796 927
Logan Rock Inn - Treen, St Levan, Penzance, TR19 6LG Tel: 01736 810 495
Gurnard's Head Hotel - Zennor, St Ives, TR26 3DE Tel: 01736 796 928
Porthgwidden Cafe - Porthgwidden, St Ives Tel: 01736 796 791

---
Gardens
Hardy Exotics Nursery - Europe's most boho garden centre whose owner made Princess Di's wedding shoes. Gilly Lane, Whitecross, Penzance, TR20 8BZ Tel: 01736 740 660
Trengwainton Gardens - Penzance, TR20 8RZ Tel: 01736 363 148
---
Attractions
Geevor Tin Mine - Pendeen, Penzance, TR19 7EW Tel: 01736 788 662
Wayside Folk Museum - Zennor, St Ives, TR26 3DA Tel: 01736 796 945
Tate St Ives - Porthmeor Beach, St Ives, TR26 1TG Tel: 01736 796 226
The Minack Theatre - Porthcurno, Penzance, TR19 6JU Tel: 01736 810 181
---
Historic Sites
Chysauster Ancient Village - Gulval, Penzance, TR20 8XA Tel: 07831 757934
St Michael's Mount - Marazion, Penzance, TR17 0EF Tel: 01736 710 507
---
General Information
South West Tourism - A variety of useful information from the region's tourist board - particularly good for local events. Tel: 0870 4420 880
National Trust - They run miles upon miles of the spectacular West Penwith coastline. Tel: 0870 4584 000
St Ives Tourist Information Centre - The Guildhall, Street-an-Pol, St Ives, TR26 2DS Tel: 0905 252 2250