One thing that confused me when I recently visited this beach was its actual name. Now I know that sounds daft but look on a map it's Ryde Beach, ask a local and they may call it Appley beach (named after Appley Tower)! When we visited recently Nigel, my Labrador Retriever didn't have an opinion on the name. Nor did he care about the weather, he just wanted to run. And this was the perfect beach for just that.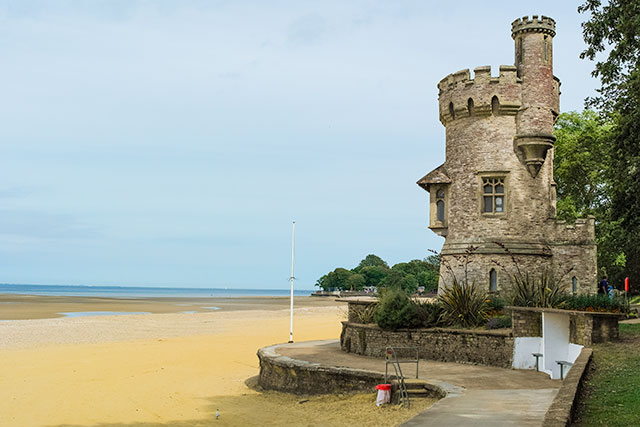 Ryde at a glance:
> The Solent's largest sandy beach
> Backed by acres of woodland
> Two cafes/public conveniences
> Ample car parking (pay and display)
> Play area
> Dog restrictions 1st May – 30th September
Ryde Beach is flat, sandy, and when the tide is out stretches from Ryde pier where the ferry and hover craft dock, all the way to Puckpool and Seaview. At low tide the sand stretches for miles out to sea, in fact Ryde Pier was built because it goes out so far and Victorian ladies were cross about getting their skirts wet from the sea! We wandered along the entire length of the beach, Nigel chasing his tennis ball (and occasionally stealing someone else's!), me idly taking in the views over the Solent and watching the slow progress of the cargo ships and cruise liners sailing out of Portsmouth and Southampton. The beach is backed by a row of splendidly coloured beach huts and Appley Park, a lush woodland area great for exploring.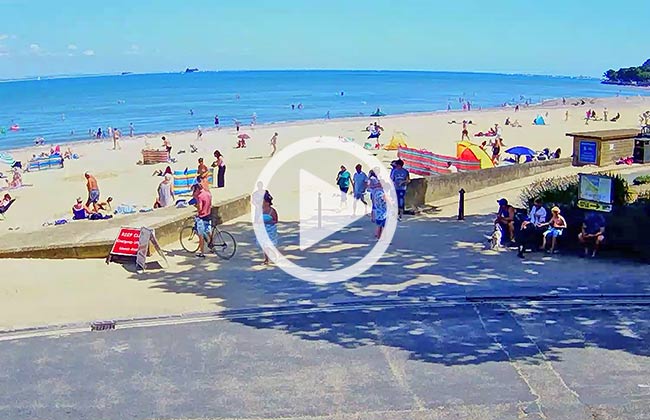 Each end of the beach has a very conveniently situated café, The Dell at one end, Three Buoys at the other, and it would have been rude not to call in to at least one of them for coffee and cake. If the tide is out it's worth following the beach around the corner from The Dell where you get a lovely view towards Seaview and St Helens.
It's not hard to imagine how this beach morphs into something quite different during summer. With lovely, soft yellow sand gently sloping towards the sea, I can just image a gaggle of kids messing around in the shallows with beach balls and inflatable dinghy's (note though, the tide turns quickly and comes in at quite a rate so do keep an eye out). There are areas of shingle and shells can be found in amongst the pebbles making it a great beach for seeking treasure. In summer there are deck chairs and windbreaks to rent and masses of space for those ever competitive games of beach cricket or frisbee.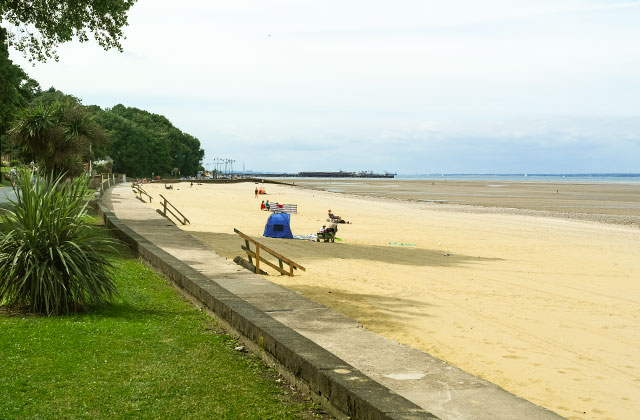 If walking on the sand and shingle is a bit hard going you can walk along the promenade from one end to the other. This is great for kids on bikes, pushchairs and people on mobility scooters. With occasional seating and Appley Tower en-route there are plenty of places to stop and enjoy the views.
So, which is best, Ryde beach in summer or winter. Nigel thinks it's winter when dog restrictions don't come into force and he is free to run to his hearts content. Me, I think he could be right although a bit of sunshine is always welcome! Check out the weather today from our live webcam.