How can you lessen the pain of the end of summer and the onslaught of mizzle? I heartily recommend eating out in Cornwall - in particular munching a pizza at The Stable overlooking Fistral Beach in Newquay. Because it doesn't matter whether the sun is gloriously shining or a storm is brewing, the view from the floor to ceiling panoramic window is captivating whatever the weather. And the pizza is, quite frankly, the best I've had this side of Rome.
The Stable concept started in Dorset and has made its way South West bit by bit. For good food in Cornwall you'll find one in Falmouth's Custom Quay House, a gorgeous Grade II listed gem with waterside views over Falmouth's harbour. But my favourite is Fistral – the combination of iconic surf beach, epic windows and laid back industrial decor is a winner in my books.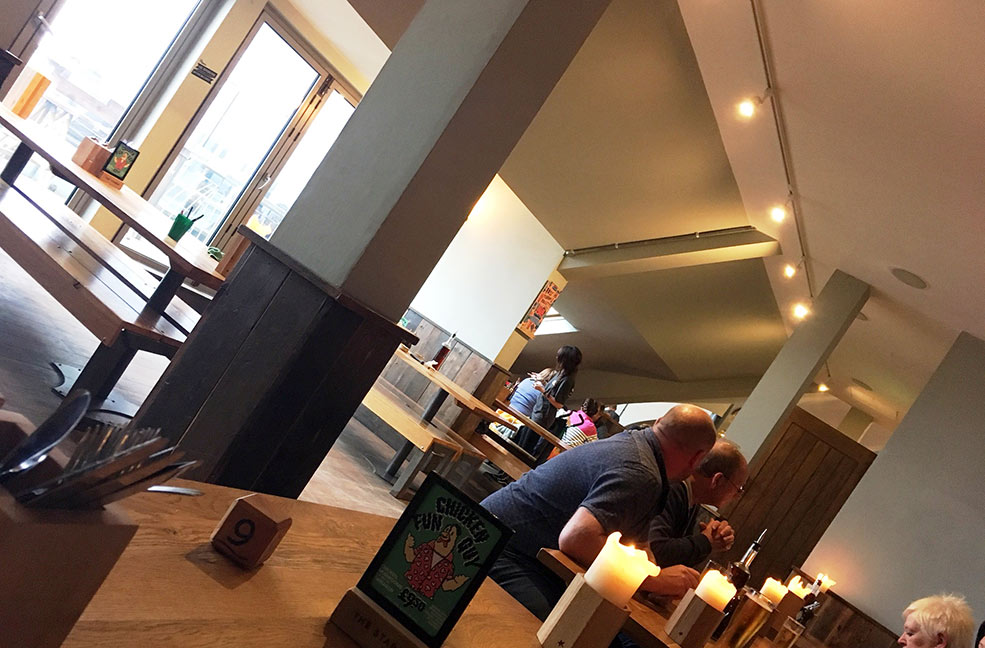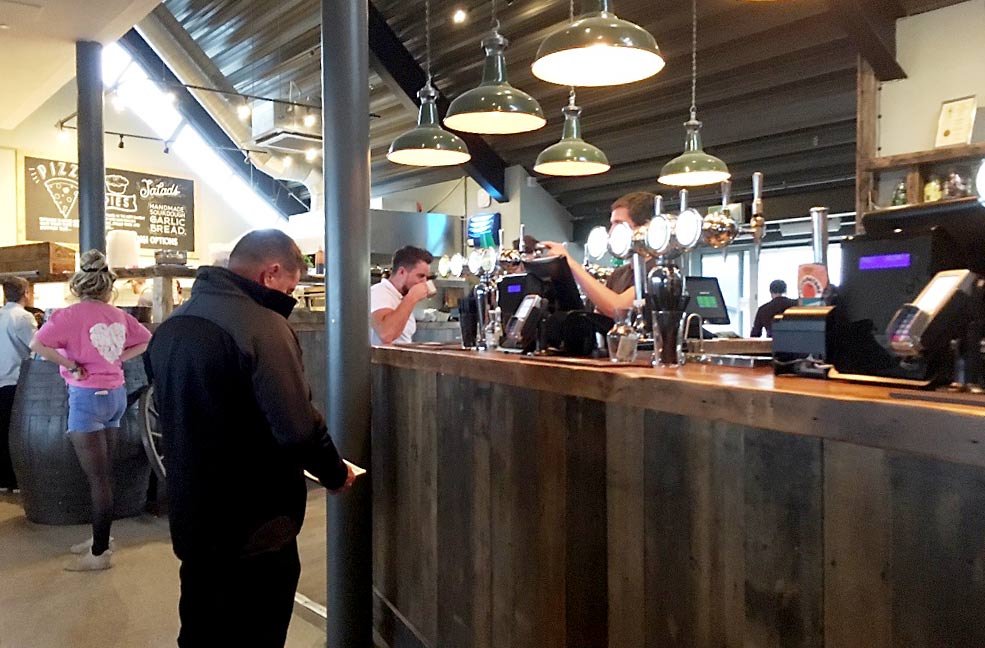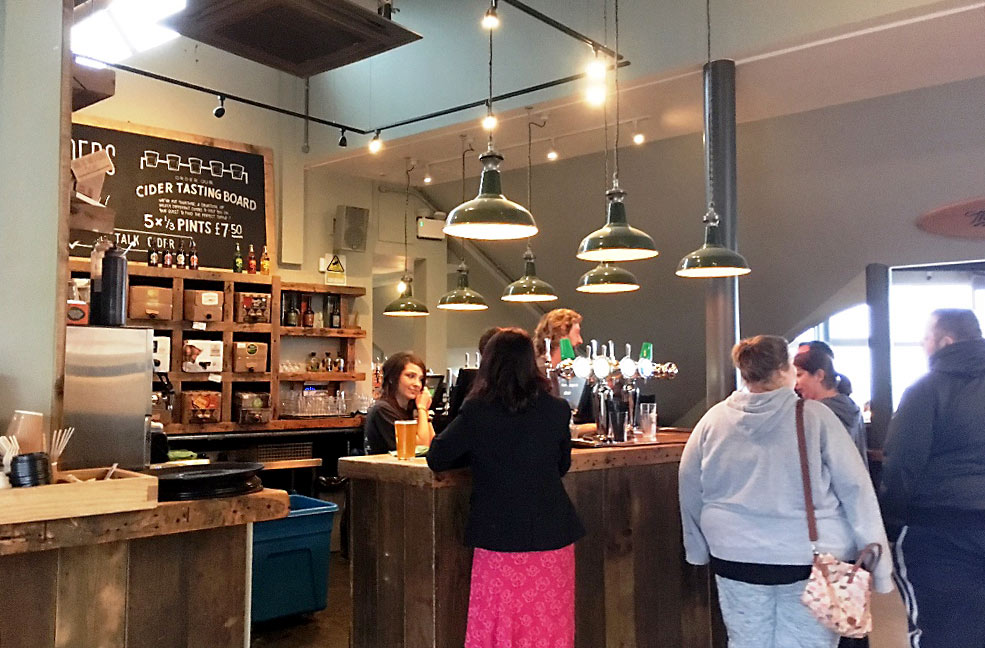 But enough about all that - what about the food? The pizzas are all handmade to order and come with a sourdough base and fresh tomato sauce. While there are plenty of standard toppings, you'll find some quirkier options on the menu too. They also cater exceeding well to gluten-free eaters and vegans - there is a whole separate vegan menu with four pizza choices, two salads and even a side. Impressed is an understatement.
I opted for The Hazel Nutter which came with spinach, caramelised onions, field mushrooms, asparagus and vegan mozzarella topped with roasted hazelnuts. It was utterly glorious and I devoured the whole thing with ease! Which isn't to say their portions are measly; quite the opposite, it was just that good. My dining partner had the Billy the Kid pizza which was similar to mine, but featured actual mozzarella as well as goats' cheese. His was gone very quickly too!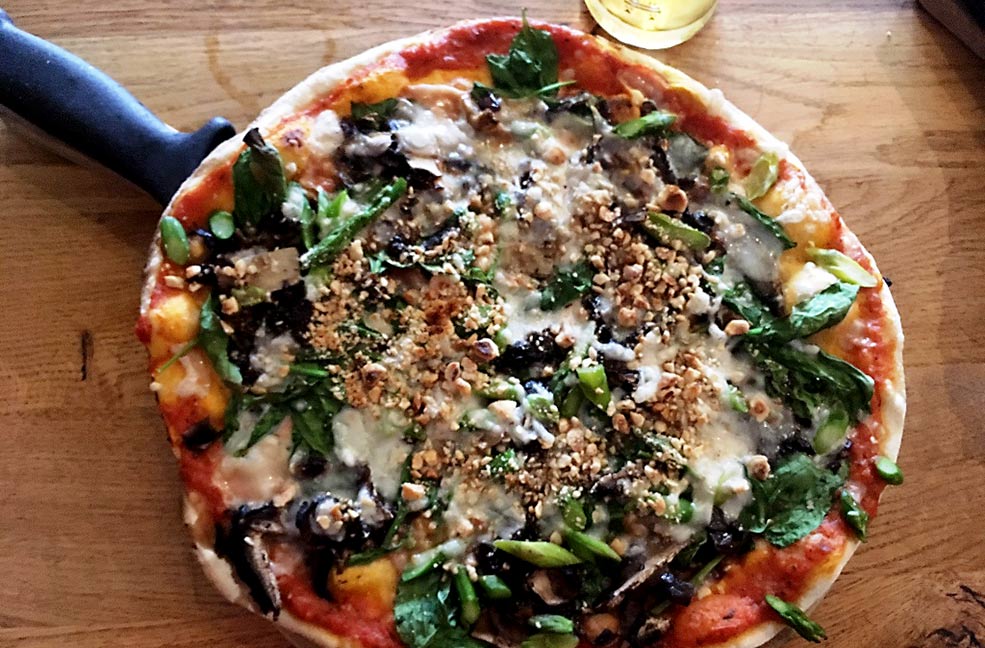 If you hate pizza (what is wrong with you?!) then fear not, there are more options on the menu. From steak and stout pie to fennel, roasted butternut squash and feta salad, there is something to tempt most taste buds. There is also a short but sweet dessert menu packed full of classics like cheesecake and brownies, and, what with this being The Stable, there is also a Nutella pizza pudding. You'll also find a dedicated kids menu with kid-size pizzas and puddings.
We washed our pizzas down with a pint of Korev, but if cider is your drink of choice you'll be treated here. In fact, you can even book a cider-tasting experience if you want to do your cider homework. From elegant sparklers to rough and ready scrumpies, you'll be talked through – and get to taste – a whole range of ciders.
If you love live music, time it right and head there between 7 – 9pm on Saturday or Sunday for treat for your ears (and mouth). Check out their Facebook page for all the details.
At around £30 for two pizzas and two pints (2017), I think it was a very fair price considering the quality of ingredients, taste, service and stunning surroundings. I will definitely back again. And again.