Whether you love homegrown vegetables or beer carefully brewed to perfection, the Isle of Wight has plenty of producers lovingly growing and making fresh food and drink to share with the world. Islanders love their home and are keen to share their tasty products with visitors. Finding tasty food to take back to your self catering cottage for dinner is all part of your holiday experience.
Although the Isle of Wight is famous for classic 'Bucket and Spade' holidays, there's more to island life than meets the eye. It's also a foodie haven; home to some of the finest produce and ingredients, some of which ship all over the world. The island's microclimate is perfect for growing fruit and veg and the tenacity and drive of island people has helped this industry grow.
We love finding those special places to go for brunch or spend the day tasting new food while picking up a little something to take back to your holiday home. Whether you like jams and chutneys or a good steak, there's something to suit all tastes and palates on the Isle of Wight.
A family-run Island-based producer of chilli jams, chutneys and pesto. Each jar is crammed with fresh, natural ingredients, mostly farmed from the island but with a dash of essential ingredients from the mainland. The business was originally started in the 1880s and is still going strong today.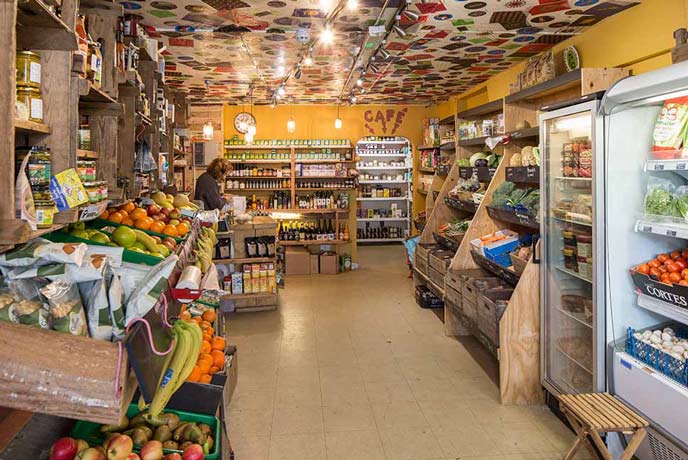 A traditional farm shop at the heart of Bembridge which stocks tons of local and seasonal produce alongside a growing range of wholefoods and health foods. Above the shop is the fantastic No 8 cafe serving a variety of vegetarian dishes, cakes and drinks. Our island team recently visited and have made this a regular stop on their weekends.
This is a truly unique experience for your holiday. The site is at the foot of the Mersley Downs, overlooking the beautiful Arreton Valley. With a cafe on site, this is the perfect location to sit back and admire the view with a coffee in hand. You might also spot a few red squirrels from here too. After trying the garlicky products in the taste experience, head to the restaurant for gourmet garlic-based dishes or hit the shop for gift ideas and some ingredients to take back to your holiday home.
Based at Barnsley Farm on the outskirts of Ryde, Goddards is the oldest independent brewery on the Isle of Wight. With beers named things like 'Ale of Wight', 'Wight Squirrel' and 'Fuggle-dee-dum', this is a fun island based brand. Find their beers in dozens of pubs and bars across the island.
A beautiful location for a farm shop. Briddlesford have a herd of dairy cows providing milk that goes into all of their creations in the farm shop and Bluebell Cafe. The shop is located in the old milking stable and stocks a variety of local meat, veg, eggs, bread, jams and chutneys and much more. The Bluebell cafe serves up a wonderful brunch menu, we particularly love the Full English fry up.