This Coronation weekend I'm going to be celebrating with my family on the Isles of Scillies. Our plan is to visit some local producers and try out the islands' foodie scene and I will definitely be looking for a good cream tea in a café. Homemade scones, Cornish clotted cream and a dollop of decent strawberry jam is a national treasure. If you want to make your own scones for your friends and family then try out my Classic Cottages recipe created at the fantastic Turner Hall in Dartmoor.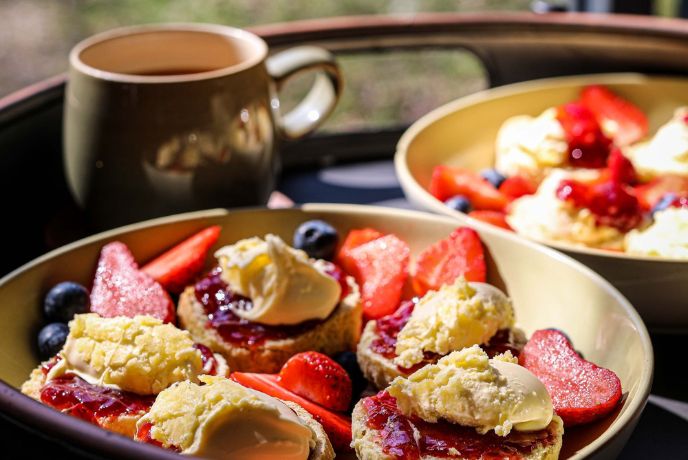 I've tried all sorts of scone recipes over the years and although the traditional is still my favourite, you can be extremely inventive and prepare cream teas with a twist. Try using marmalade instead of jam, or mix it up by making savoury scones with mature cheddar and red tomato chutney. You can even add cocoa powder to the scone mix, top with chocolate spread and add a segment of clementine. Or drizzle on salt caramel, a slice of banana and clotted cream with grated chocolate for a Banoffee version. Join the scone revolution and celebrate the Coronation in style this weekend!
Let's even put the Great Cream Tea debate aside for one weekend and say it doesn't matter if you are a jam first or cream first supporter - just enjoy serving up a Classic Coronation cream tea. For something extra special you could even crown the top with edible gold leaf...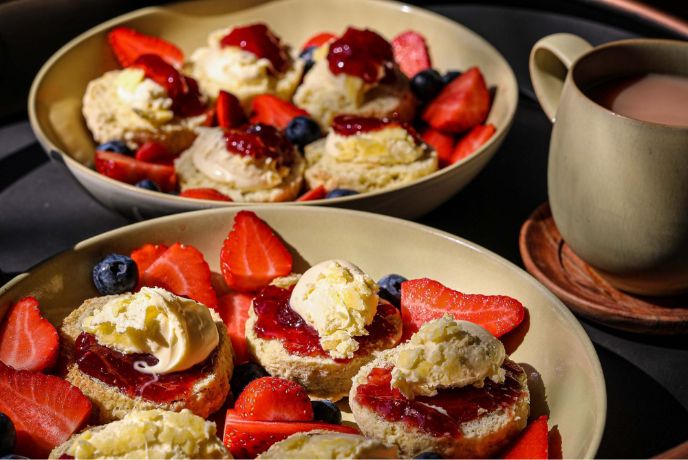 Coronation Cream Tea Recipe
Serves 4
INGREDIENTS
For the scones:
350g self-raising flour
1 tsp baking powder
85g cold butter, diced
3 tbsp caster sugar
175ml warm whole milk
Pinch of sea salt
1 beaten egg, to glaze
To serve:
Clotted Cream
Strawberry Jam
Fresh strawberries and blueberries to garnish
Method
1. Preheat your oven to 200˚C and line a baking tray. In a mixing bowl stir the flour, salt and baking powder and then using your fingertips rub your butter into the mix until it resembles fine breadcrumbs.
2. Next add in the sugar followed by warm but not too hot your milk. Knead the dough for 1-2 minutes and roll out on a floured surface until it is 4cm deep.
3. Using a 5cm pastry cutter cut out your scones and place onto the lined baking tray. Press what's left of the scone dough back together so you can cut out more scones.
4. Brush the tops with beaten eggs and bake for 10 mins until they are golden.
5. Allow to cool slightly on a wire rack and then spread with strawberry jam first and finish with a generous dollop of clotted cream.