If the phrase 'food van', makes you think about a sweaty man, serving overcooked burgers by the side of a busy road, then you need to check out these beauties. Food vans have become quite a feature of life in south Devon and make the perfect stop for lunch or an afternoon cake while on holiday in Devon.
The vans on this list produce fine quality street-food in attractive vans, next to some of the most beautiful locations in the area. The food at these vans is often locally-sourced using the freshest ingredients. With a variety of different food on offer, these vans have become a destination in themselves. The food vans in this list are the height of gastronomic good taste, next to beautiful scenery, and all with friendly helpful staff. These places might be mobile, but they don't cut corners when it comes to taste or service. So, here's my list of the best food vans in south Devon.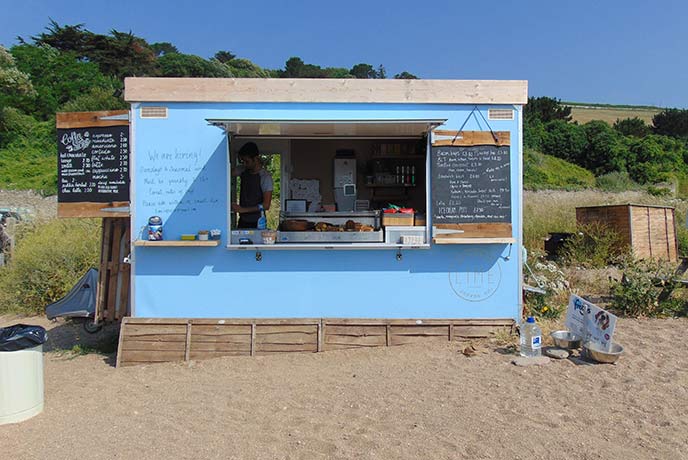 This mobile shack is at Strete Gate car park, by Slapton Sands. Open from around 10 every morning in the summer season, they sell coffee, baps, ice-cream and croissants among other things. I love their ham, cheese and tomato toasted croissant. Slapton Sands is a lovely beach which is popular with dog-walkers and sun-lovers. It also has the most amazing beach flowers in spring and summer. This is a great place to un-wind. They have plenty of tables, good food, great coffee and friendly service.
The Gastrobus at Bantham Beach is a local institution. It arrived in 2012 and quickly became a firm favourite. There are now a couple of buses offering a wide range of options. They have cute pastel vans in bright summery colours which make you feel special. There are tables outside on a nice grassy patch. Open on warm days in the summer season, they offer breakfast from 10 and then a lunch menu between 12 and 4. There are also snacks, ice-creams and hot and cold drinks available. The Gastrobus team really have thought of everything to take beach food to a whole new level. The beach at Bantham is one of the nicest in the area, and the Gastrobus adds something special to an already breath-taking place.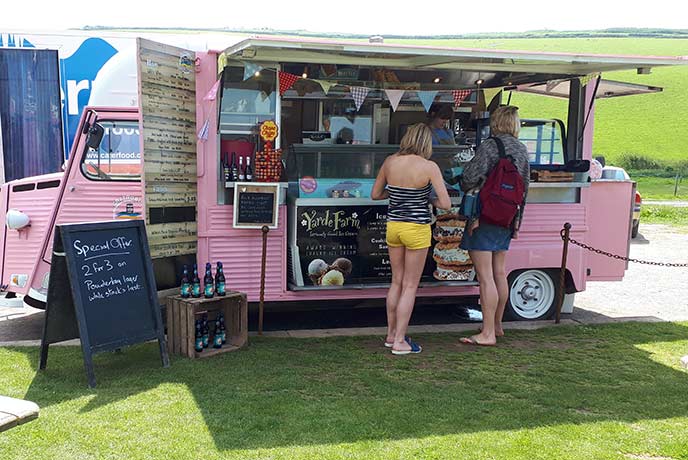 The pretty Lollapalooza van parks at Mill Bay Beach. This beach is widely seen as one of the finest beaches in South Devon, and the Lollapalooza van adds a certain something. Mill Bay Beach is sheltered by trees and has fine views across to Salcombe. It has fine yellow sand and a pretty beach stream. This beach is perfect for families, and when people inevitably get the urge for an ice-cream or snack there is the beautiful Lollapalooza van parked nearby. The van offers ice-creams, snacks, drinks and crepes.
Gara Rock
Gara Rock beach is a real hidden gem. It is situated on the Prawle Peninsula, near to East Portlemouth. The actual name of the beach is Seacombe Sands, but locals call it Gara Rock. The car-park, with its honesty box, is where there is a little mobile tea hut offering teas, coffees and interesting soft drinks.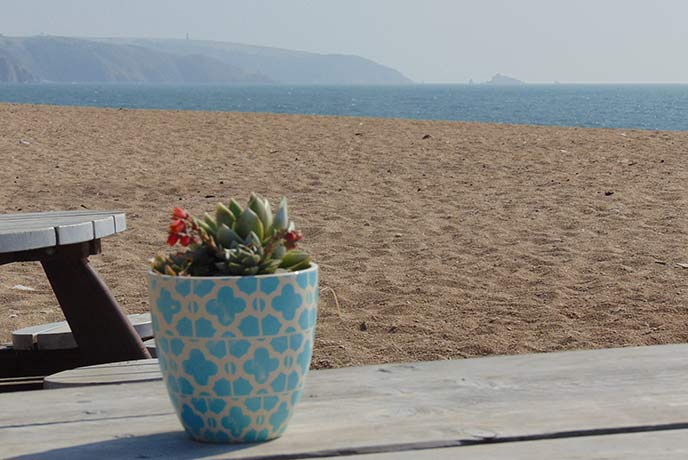 Haytor is one of the most popular walks on Dartmoor. The walk to the Tor itself is a good one, or you could explore the beautiful Haytor Quarries. Either way, be sure to check out the Home Park catering van by the car-park. Home Park Cafe itself has built a very good reputation locally and their van does not disappoint. It has a really good coffee machine and they serve great cakes. A few decent snacks like bacon baps are also available. Service is friendly, and the food is delicious. You can never guarantee the weather up on the moors, so the van can be a beacon for people serving cold snacks in hot weather, or hot drinks on cold days.
Inspired to try the tasty grub of Devon? Start your holiday now with a browse through our holiday cottage collection.