I stumbled across this little gem completely by accident, and I'm very glad I did!
I am lucky enough to live on the Lizard Peninsula with my dog, Nigel, and we spend most weekends exploring the hidden coves and wild open spaces along the South West coast path. It should be said that you need nerves of steel to drive along the country lanes to get to certain special spots. The roads are narrow and have towering Cornish hedges made of local rock so you need to have your wits about you but the journey will be worth it, I promise.
One particular day last summer we set off for Porthallow, a cute chocolate box seaside village where parking is on the pebbly beach and you pay for the privilege by honesty box. The coastal path runs in either direction from here and whichever way you choose it is a stunning way to see the coastline. Nigel and I headed towards Nare Point which is a fairly strenuous walk with some steep sections to navigate. Of course we took plenty of scenic stops en-route to take in the vast ocean vistas but there's no access to the sea as the coastline here is too rocky so no opportunity for a paddle. When we reached the Coast Watch station we turned about and headed back to Porthallow, the walk there and back took us under two hours and do watch out for the field of cows! After a quick dip in the sea (for Nigel, not me) and some stone skimming practice (for me, not Nigel) we picked up the car and headed inland.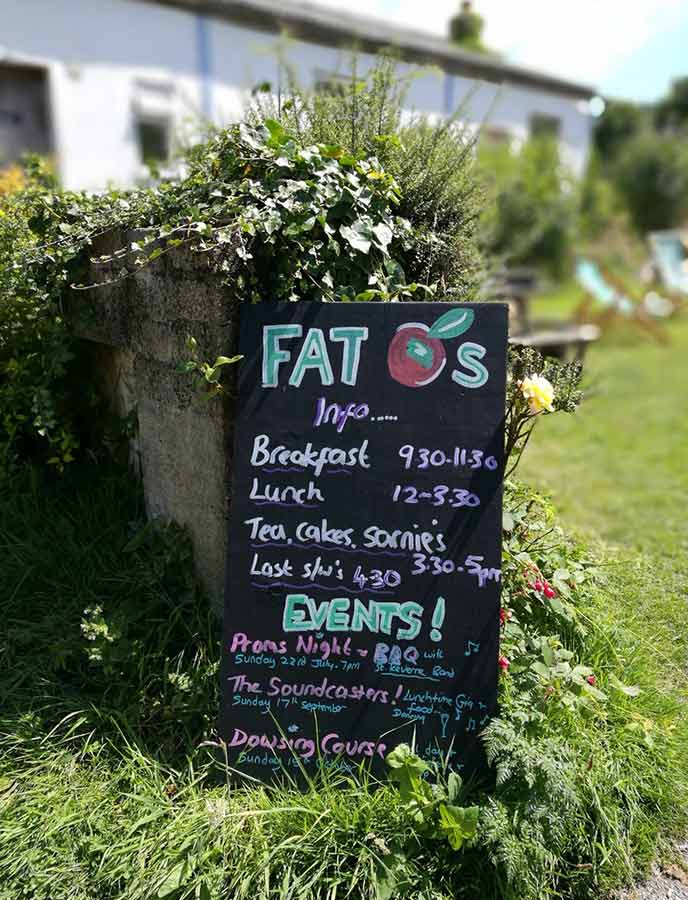 I'd noticed on my outward journey a sign on the roadside for Fat Apples Cafe, and never being one to miss an opportunity for tea and cake, decided to call in post ramble. And I am so glad I did.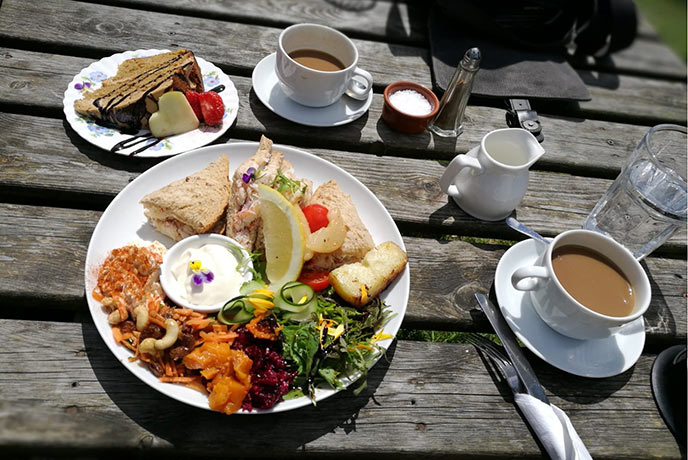 Fat Apples is a unique cafe with masses of outside seating but a limited amount indoors. Everything is mis-matched from the furniture to the side plates and this adds to the charm of the place. Staff are simply lovely, offering a water bowl for Nigel and a menu for me. And the food; well what can I say? You would expect a local seaside cafe to offer pretty fresh produce and I can honestly say without doubt that I had the best crab sandwich in the world, ever! It came with a fabulous salad sprinkled with home grown herbs and flowers. It was an artistic delight and tasted amazing. It was lunchtime when I visited and the place quickly filled up to the point where there was no parking left and a queue formed for places. I guess this spells how popular Fat Apples is and, given that it is in a pretty secret location, probably frequented by locals who have heard on the grapevine what a find this place is.
So, Fat Apples, massive tick in the box and truly a hidden Cornish gem. Just save a place for me.
If you're looking to say in the area, Check out our holiday cottages on the Lizard.