Hampshire has a lot to offer, but one of the lesser known things is the fact it is a brilliant day out for an ale lover. With its own brewery, an ale train, and some great real ale pubs, a tasty day out is just waiting to be had! I spent many years as a barmaid in Alton, and so have some top tips to share with beer lovers who are on holiday in Hampshire.
The Real Ale Train (RAT)
The Real Ale Train situated on the Watercress Line in Alton, Hampshire combines two great things; great beer, and the experience of being on a steam train! The first important thing to note is that booking in advance is required, at the time of writing most of summer is already booked up with a few last-minute places available in June. So, if you are holidaying with Classic Cottages, and like the sound of an Ale Train, I would highly recommend booking both at the same time. Your RAT ticket will cost you around £15 (2017 prices).
Real ale is served from an original restored bar carriage pulled along by a traditional steam locomotive. On each trip, two breweries are showcased from Hampshire and the surrounding counties such as Alton's own Triple FFF, Bowmans, Itchen Valley, Oakleaf, and Ballards. Each pint is a steal at £2, and you also get a free pint with your ticket. The route is to Alresford and back, twice. Some choose to stay on board the train, others get off in Alresford and enjoy a pint there before heading on the last train back. New in 2017 is also the option to reserve a whole carriage, so if you are holidaying as a group, this could be a great option. You can also buy your own RAT tankard to take away with you. If there are some in your party that aren't too fond of ale, there is a fully stocked bar on board selling wines and soft drinks, as well as a selection of hot food.
The Railway Arms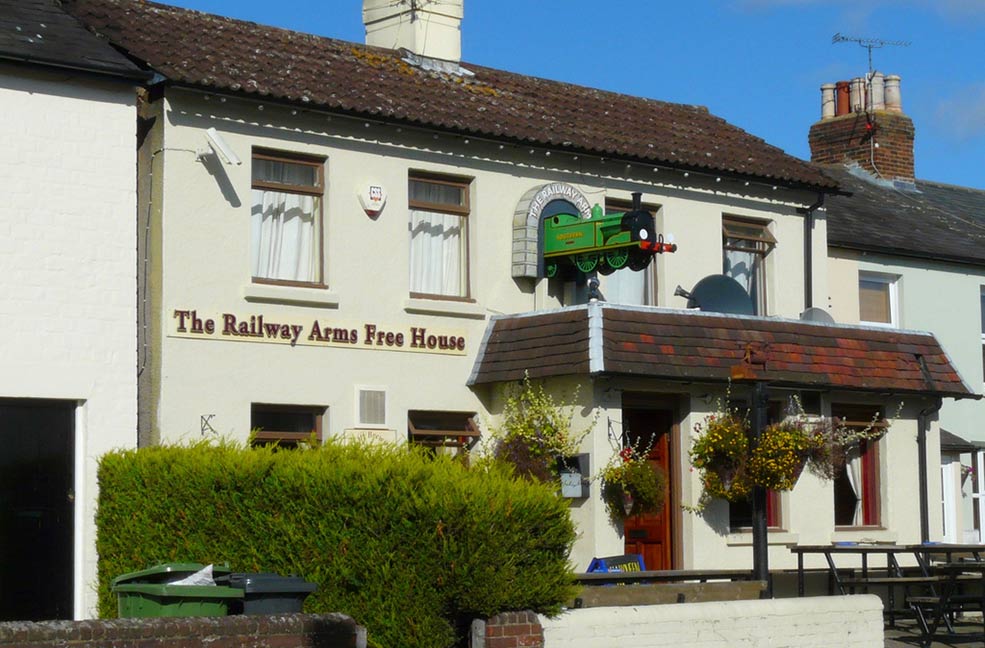 If you haven't had your fill from the RAT, you simply must visit the Triple FFF brewery's flagship pub; The Railway Arms. It is the favoured watering hole of RAT train enthusiasts, and it helps that it is literally just up the road from the train station (you don't want to be walking too far after a skin full after all). They have up to seven ales on pump at any one time, and it really has that old inn rustic feel which is missing from so many public houses these days. The staff know their stuff, and the beer is very well looked after. You will be welcomed like a local in this place, I guarantee it. I can especially recommend the Pressed Rat and Warthog if you like a dark stout, or the Stairway to Heaven if you like a paler golden ale. Ales range from a moderate 3.8% abv, to a staggering 6.6%!
Triple FFF Brewery Tour
As you work off the hangover after a night on the RAT or at The Railway Arms, it may be nice to go and see where all that ale was made. The Triple FFF Brewery is situated in Four Marks, just outside of Alton. You can see where the beer is made, ask about the process, see the hops, and purchase some of the beers in the brewery shop. You can buy polypins, bottles, and other ale themed goods – perfect for taking back to the cottage. You can arrange a tour by ringing the brewery, and also check their website for events throughout the year such as open days, BBQs and tastings.