Ferry Services to the Isle of Wight
Catching a ferry to the island is the start of your holiday adventure to the Isle of Wight and we want to make it as easy as possible for you so you can enjoy your holiday from the moment you leave home.
To get you started our team of ferry experts have put together an "all you need to know" guide to booking your Isle of Wight ferry travel with Classic.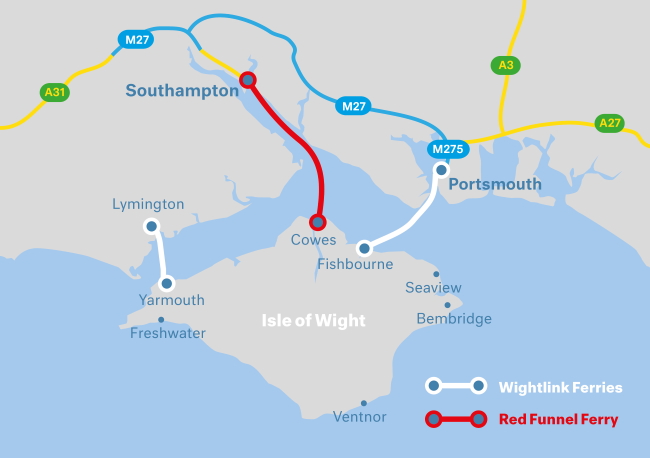 Ferry Routes
Lymington to Yarmouth (Wightlink). Route takes 40 minutes.
Ferries usually run every hour. Best for travellers from the west of England.
Portsmouth to Fishborne (Wightlink). Route takes 45 minutes.
Ferries run every 30 minutes. These ferries are the largest and busiest.
Southhampton to East Cowes (Red Funnel). Route takes 1 hour.
Ferries run every hour. Small tip: Red Funnel offer priority boarding and Signature Lounge access for an additional charge. You can book this when you book your ticket or when you check in at the port.
Booking process
We work closely with both ferry companies to make sure we can get you the best discounted prices for your trip to the island.
When you are ready to book your ferry simply call us on 01326 555555. Not sure where you're going to and from yet? No problem! Call us and we can advise you on the best journey to suit you.
Checklist
When it comes to booking the ferry for you we will need to know the following details:
Departure port
Time of crossing
Number of guests
Car registration
Mobile number
What happens next?
We will send you a quote for your journey via email. Then simply click on the "book now" button and we will get this booked into you.
Payment can be added to the balance of your holiday. However, if the start of your holiday is less than 8 weeks away, we can either take payment from the card you used to pay for your holiday or from a different card should you wish.
You will then receive an e-ticket from the ferry company. It will have your name, number of passengers and car registration details all printed on it.
When more than one car is booked each car will be in the lead name of the name of the holiday booking.
Please note; Wightlink will note the address on the back of their ticket with our Head Office address in Helston, Cornwall as it is linked to our accounts department.
Travel tips
We always advise for you to arrive at the ferry port between 30 - 60 minutes before departure time. If you miss your ferry, please ring us and we will book you onto the next available slot (best not to miss it though as it can be quite a wait in the high season!).
When you arrive at your chosen port, drive up to the check in desk and have your e-ticket handy. You will be assigned a numbered queue to join.
The small print
Car specifications: Standard cars are up to 5m long and 2.24m high for Wightlink, 5.5m long for Red Funnel.
Return journeys: We are only able to make return journey bookings on car ferries. Both crossings must be with the same ferry operator. Unfortunately we are unable to book single journeys.
Alterations to tickets: Any alterations, including cancellations, please get in touch with Classic Cottages and we'd be happy to help.
Cancellations: Any cancellations more than seven days from the date of travel will receive a refund, less the £17.50 administration fee. Any cancellation within seven days of departure, the full cost of the ferry will be charged.
Useful information
Catering: Every ferry offers onboard catering with a choice of hot drinks, snacks and cakes. The larger ferries provide cafeteria style dining with hot food offered all day. Each ferry terminal also offers limited refreshments.
Disabled access: If you require any help or have access requirements, please make us aware so we can ensure you have the help you need when parking on the ferry. We can request specific parking on the ferry to allow for wheelchair access, just let us know whether you need left hand side, right hand side or rear access to your car.
Pets: Pets are allowed on ferries for no additional charge. They can stay in your vehicle, but all ferries have pet friendly areas so you can choose to have to have them with you.
Foot Passengers: We're delighted to work with Hover Travel who offer all Classic Cottages' guests 20% off their travel from Southsea to Ryde. Simply show your cottage booking to a member of their team to receive the discount. Unfortunately, we cannot offer discounted rates for foot passengers with any other ferry operator.