The Minack Theatre was one of the first places I added to my 'things to see in Cornwall' list. I envisioned it as the quintessential Cornish experience; the turquoise sea stretching out in all directions, the glint of sun on stone cliffs, the din of crashing waves just audible behind the voices of the actors. I imagined it would feel like being perched on top of the Earth – and that there must be no better place in the world to watch Shakespeare being performed.
We arrived in Cornwall in September, and almost immediately got swept up into all the little minutia of settling in. Settling in gave way to the routine of daily life and before we knew it, the autumn season had come and gone. We consoled ourselves that it would be better to go in the spring. But when spring came, we decided going in the summer would really be best. And then the summer was over. Soon it was only a month, two weeks and then a week before our stay in Cornwall was to come to an end. And still no Minack.
Our little flat was cluttered with half-packed suitcases when I realized this. We had three days left before heading to London for our flight back to the States. It occurred to me that spending an entire day traveling across Cornwall and back at this time was possibly not the most rational thing to do. But I have never been one for being rational, so I went ahead and booked the tickets and figured out the train times. We woke up early the next morning and caught the first train to Truro. It was raining.
I should elaborate. It wasn't just raining. It was pouring. The type of rain that I believe would be described as 'pelting down' by the English. I registered this detachedly while gazing out the train window. The implications of this did not strike me personally, however, until we found ourselves huddled under a small shelter waiting for the bus to Minack.
'It's a shame about the weather,' the bus driver said when he took our tickets. But when the bus at last stopped before the theatre (after a twenty minute delay in which the bus driver stopped to make a cell-phone call regarding whether or not someone named Scott was on for the morning shift on Thursday), it had stopped. 'Do you see?' I said to my husband, 'it was meant to be.'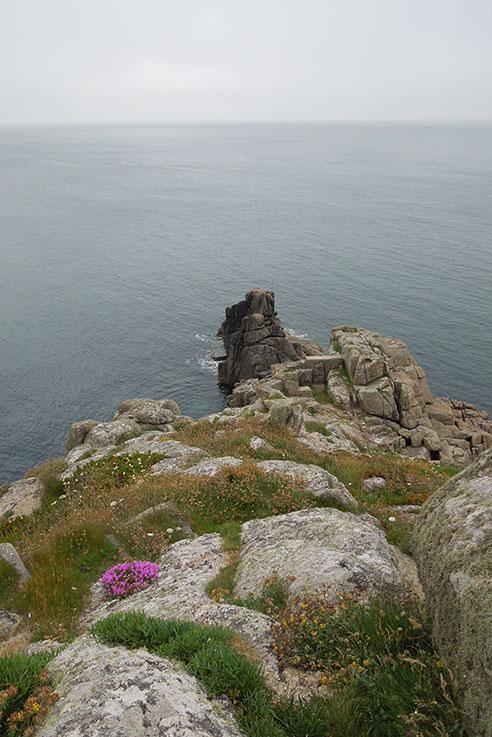 There were about 100 or so people scattered over the stone seats of the theatre, perched on wool blankets and looking perfectly satisfied to be sitting on cold, wet stones. It was a sight I think I will forever associate with my idea of the British: here are a people that will not be deterred by the weather. They will lay out a blanket, open a Thermos of tea and make the best of things.

The play was The Taming of the Shrew performed by the entirely female Shakespeare's Globe. It was everything I had imagined it to be. Perhaps the sun wasn't glinting quite as much as it had in my visions, and the sea more steel than turquoise. But the roar of the sea, the boundlessness of the horizon – the sense of cosmic power I envisioned – were all there. I was completely immersed. So immersed, that I did not at first notice when it again began to rain.
It began to rain, and then it began to pour. The wind started gusting. Backdrops blew over and props flew away. The players had to grip their costumes to themselves and shout to be heard over the whistle of wind in their mics. The rain began to fall in torrents. The woollen blankets people had so neatly arranged beneath themselves became soaked. Umbrellas were popping open here and there like a rare blooming of exotic flowers.
Anywhere else, I am sure people would have got up and left. The actors would have refused to go on given the conditions and a little man dressed in a poncho would eventually have come out and informed the crowd that the show was cancelled.
But nothing like that happened. Not a single person budged. The show went on. People cheered loudly when one poor girl came out, dressed in a drenched spaghetti strapped dress that clung to her like a wet seal skin, to play the trumpet. I could feel my boot filling up with water and my jacket was so wet it was dripping down my back. My teeth were actually chattering. But I was as transfixed as everyone else. If these women would continue to perform, then I would continue to sit and endure. We were in this together. I wasn't just watching Shakespeare; I was experiencing it. And anyway, now I could cross one last Cornish experience off my list.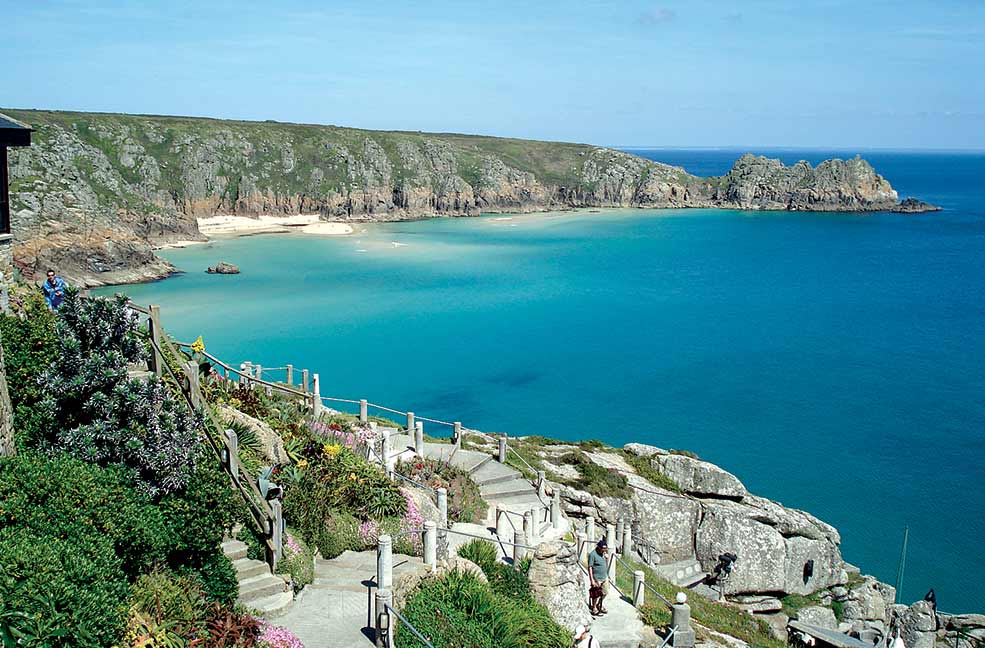 ---
About the author:
Danielle Charles-Davies is an American writer and self-professed anglophile. In 2012, she upped her entire family – cats and all – to the other side of the Atlantic for a year-long working vacation in Cornwall.