Known as the 'Garden of England', Kent is home to a veritable smorgasbord of things to do, whether you and the family want a hair-raising theme park adventure, a hearty trek through the rolling countryside, or you fancy soaking up the local culture and fascinating history at one of the many ancient sites - many of which have set the scene for some superb film and TV series. You can even make your stay a Dickensian one and visit the many towns, pubs and landscapes that fed the imagination of famed author, Charles Dickens.
The coastline itself offers a myriad of fun days out as Kent has some of the best beaches in Europe according to Lonely Planet – not to mention the iconic white cliffs of Dover, which make for a stunning backdrop to your coastal walk.
Kent is only an hour away on the train, making it ideal for weekend getaways from London or week-long holidays full to the brim of exciting activities and memorable sights.
Ready to build the ultimate holiday to-do list? Here's our round-up of the best things to do in Kent…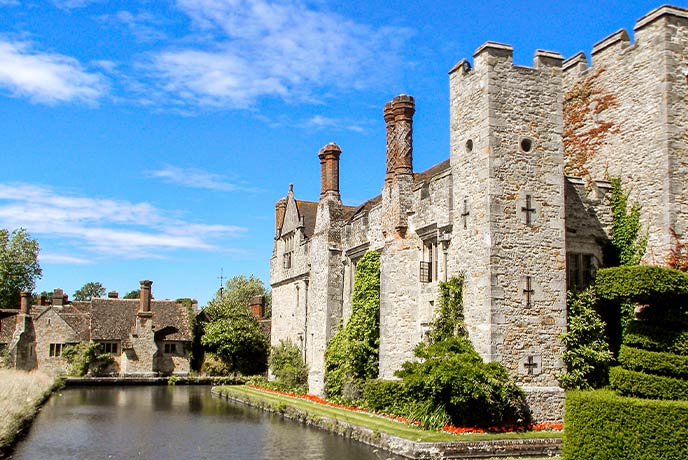 There are many fantastical castles in Kent, including the impressive sights of Leeds Castle and Dover Castle, but none match the castle at Hever for things to do. Come rain or shine, Hever Castle has you covered for something interesting to do, from walking around the beautiful gardens, to exploring every historic twist and turn in the 700-year-old castle.
Childhood home of Anne Boleyn (second wife of Henry VIII), Hever Castle is steeped in history, which can be seen and experienced throughout your visit. Rolling exhibitions give you an in-depth look at the fascinating past alongside the impressive collection of Tudor portraits, while outside, history is brought well and truly to life through live jousting events. Kids can get involved through archery lessons, shield painting, and the interactive Military Museum, which takes you through life as a soldier from 1794 to the present day.
Finish your visit with a stroll around the lake and a bite to eat at one of the EIGHT eateries around the castle – you really can spend a whole day here and wonder where the time went!
White Cliffs of Dover, Dover
Perhaps the most instantly recognisable stretch of coast in the UK, the White Cliffs of Dover are well worth a visit (or two or three) while visiting Kent. The National Trust cliffs get their striking white appearance from chalk, which has formed and changed over millions of years. The history of these iconic cliffs is just as impressive as the staggering landmark. In the 19th century, the cliffs were home to the Langdon Convict Prison for 12 short years as well as playing a big part in both world wars – you can still see etchings of Fan Bay Deep Shelter within the chalk cliffs. You can even stand on the exact spot where the first ever aircraft to cross the English channel landed – just look out for the concrete plane!
To get the best view of the cliffs, we recommend pulling on your well-loved walking boots and heading out on foot. There is a beautiful walk out towards South Foreland Lighthouse, which enjoys reaching views out across the English Channel plus the added horticultural bonus of some unusual plants like the pyramid orchid.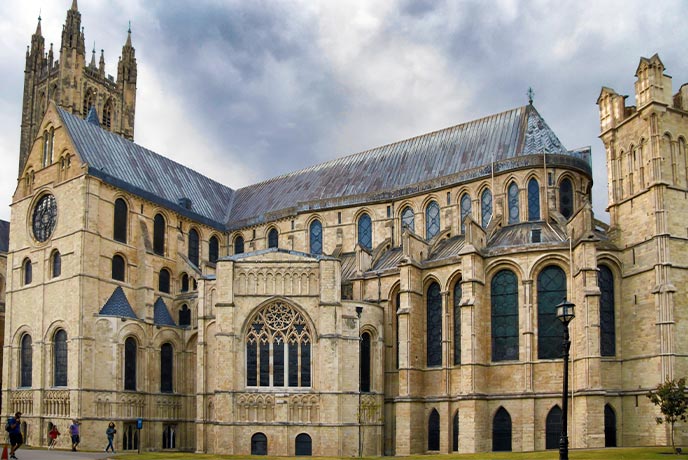 Welcoming visitors and pilgrims for more than 1,400 years, it should be of little surprise that Canterbury Cathedral is one of the best places to visit in Kent as you're always sure to receive a very warm welcome. You'll also be met with staggering architecture and a fascinating history as the cathedral has everything in its past, from murder to miracles. The cathedral is often described as 'England in stone' due to its strong links with much of England's heritage, including the violent power struggle between King Henry VII and Archbishop Thomas Becket (who became the previously mentioned murder victim).
There are plenty of relics to see, as well as the archives and library, which are stocked with over 50,000 books and pamphlets that have been collected over the years. Canterbury Cathedral also makes up a part of Canterbury's UNESCO World Heritage Site alongside St Augustine's Abbey and St Martin's Church, so if you really want to absorb yourself in the history of the area, a trip to all three is a must.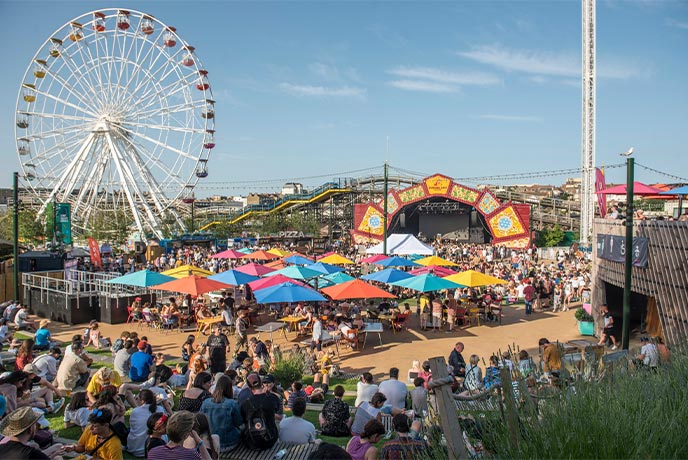 With decades and decades of experience entertaining people (seriously, it opened in the 1870s), Dreamland in Margate is the epitome of seaside fun and one of the best things to do in Kent for families (and adults who want to indulge in vintage nostalgia). Roll straight into the 80s vibes with the roller disco, get your adrenaline rush from the many vintage theme park rides (the UK's oldest rollercoaster is particularly unmissable), or simply eat till your heart's content at one of the many fabulous eateries – we love Cinque Ports for a rustic meal with a view!
Throughout the year, you'll also find an impressive roster of events that really amp up this already packed entertainment sensation. From live music to flea markets, there's something for everyone at this 'all-you-can-treat' amusement park.
Botany Bay, Broadstairs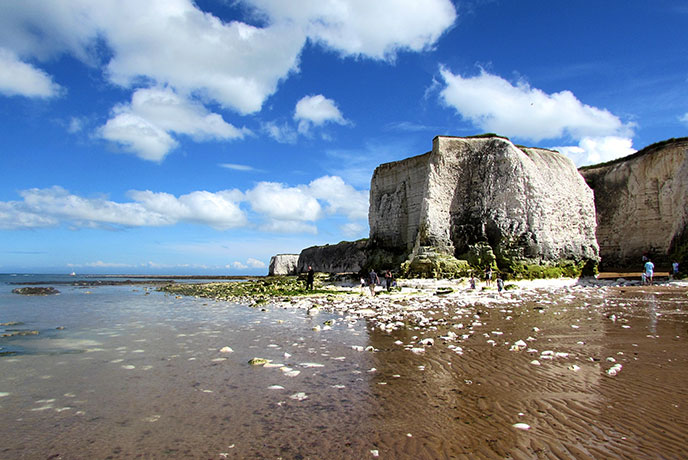 One of the best beaches near London (as well as one of the most photographed beaches in the UK), Botany Bay is popular with locals as well as those wanting to swap city life for the wiles of the ocean for the day. Chalk cliffs and stacks tower over the beach, providing a striking and beautifully Kentish backdrop while also offering beachgoers the chance to do a spot of fossil hunting.
There are some fantastic rockpools along the beach, which provide endless entertainment for the little ones, and the beach is lifeguarded in the summer months. Bring a picnic and relax into a pretty spectacular beach day.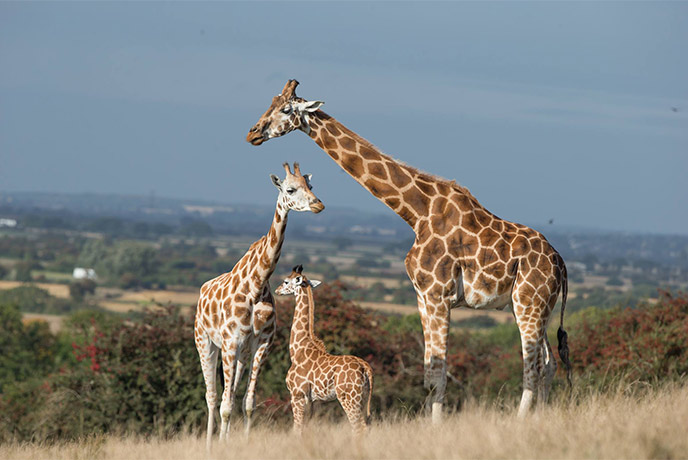 Did you know there is a savannah in Kent? Yep, Port Lympne is home to acres upon acres (600 to be exact) of spectacular Kentish savannah, upon which you'll find a tremendous array of animals. Hop aboard the safari truck to marvel at an incredible range of species up close, from the dizzying heights of the giraffes to the mighty roar of the lions.
In fact, Port Lympne is home to a whopping 900 animals across 75 species so you're sure to find a favourite or two throughout your visit. They even offer some animal experiences, which allow zoologically minded visitors the chance to meet some of the park's inhabitants – this is your chance to tick 'meet a rhino' off your bucket list! Oh, and for those who love a slightly more aged creature, the dinosaur forest will be right up your Jurassic alley.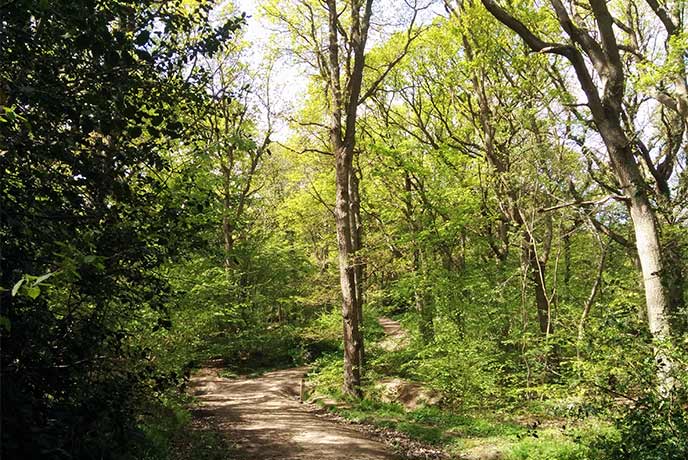 If you're looking for somewhere quiet to just stroll and get back to nature for a bit, Blean Woods Nature Reserve is a beautiful spot to choose. The ancient woodland here is home to all manner of creatures and crawlies, from woodpeckers to nightingales. Five trails can be found hidden amongst the oaks, the longest of which stretches for eight dappled miles.
There are plenty of spots for a picnic as well as pushchair friendly paths, making Blean Woods ideal for a family day out in Kent.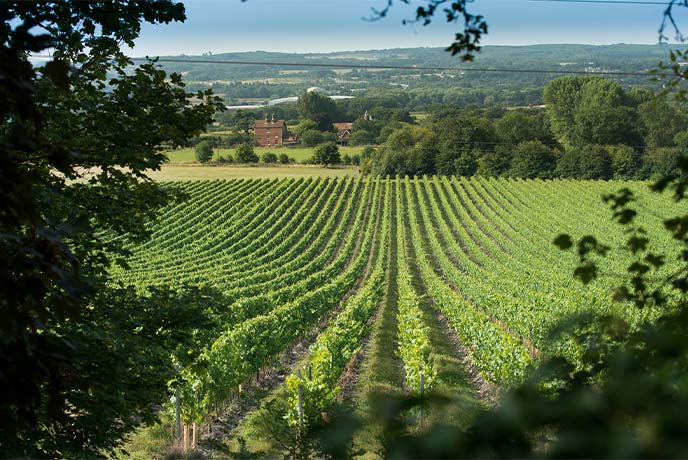 Many days are improved with a glass of something bubbly, so this one isn't to be missed! Nestled in the rolling Kentish countryside, this quintessentially English vineyard is a wonderful way to soak up the glorious surrounds while learning about the lifecycle of the humble grape.
Join the guided tour for a taste of the award-winning wines, or head out for the walking with wine tour, which gives you the opportunity to enjoy the wines amidst the very vines from which they are made. Round it all off with a visit to The Swan restaurant where you can tuck into top-notch nosh alongside the selection of English wines – cheers to that!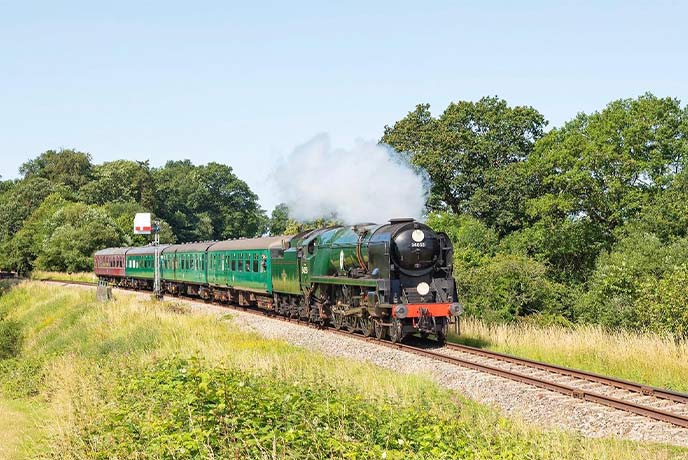 We love an activity that focuses on the journey and not just the destination, which is why we jump on any opportunity to board a vintage steam train! Bringing nostalgia to the train tracks of Kent, Spa Valley Railway has a whole host of stunning steam and diesel locomotives to put a smile on your face.
Alongside their standard offering of beautiful routes between Tunbridge Wells and Eridge, you can also board the trains for an event to remember. From afternoon tea and gin trains to a real-life (but not really) murder mystery Agatha Christie would be proud of, there's a carriage ride to suit every vintage taste.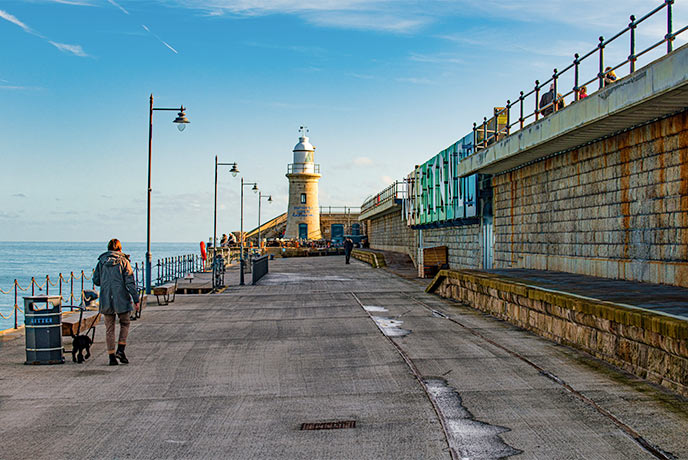 If you're looking for a one-stop shop for all your activity needs, then Folkestone's restored Harbour Arm is an absolute must-visit. What was once a ferry port and historic dockyard is now an epicentre for food and entertainment, with many local businesses joining the seaside experience. At the Goods Yard, you'll find an eclectic mix of foodie delights from wood-fired pizza to fresh seafood and thirst-quenching cocktails, while the Beachside offers diners a relaxed and, you guessed it – beachside – spot to enjoy the breath-taking views and superb cuisine.
And don't worry if you need something to do in between courses, as Harbour's Adventure Golf Course is right there in the sand to provide hours of well-aimed fun. You can also stop by the marketplace, which is full of local retailers and pop-up markets for a fabulous holiday memento.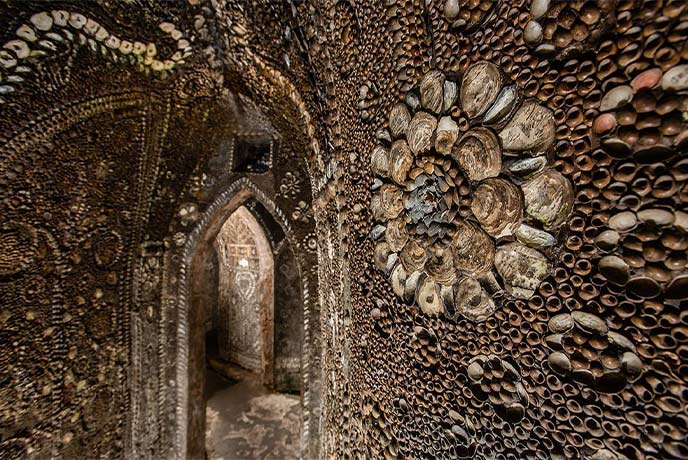 You know that feeling when you go to the beach and return home with a pocket full of shells you're not quite sure what to do with? Well, Shell Grotto in Margate can be your inspiration as they have 2,000 square feet of stunning mosaics that are made out of 4.6 million shells - better start collecting now! The impressive tunnels, which twist and turn for 70 eye-catching feet, are a sight to behold, with intricate patterns spelled out with ancient shells.
Discovered by chance in 1835, the history of the unusual grotto is still cloaked in mystery. Was it an extravagant project or a shell-studded place of worship - who knows! What we can say with absolute certainty is that you can easily get lost in the swirling shapes, which depict a variety of scenes, from gods and goddesses, to what looks like a mysterious altar. This is perhaps one of the most unusual things to do in Kent, and certainly one of our favourites!
Excited to discover the many great things to do in Kent yourself? Take a look at our beautiful holiday cottages in Kent and start planning your fun-filled visit.