Keep kids busy this Christmas and New Year with these two festive (and easy) recipes. All you need is the ingredients and then you can let them loose in the kitchen while you enjoy a cup of tea by the fire.
Sometimes you just want to stay in, especially during Christmas and New Year. But at times this can be difficult, especially if you have kids who need to be entertained. We've all been there. You still need to have something for the kids to do, even when staying in a holiday cottage. So whilst you're trying to relax on your break, why not make the most of your beautiful cottage's kitchen with some Christmas recipes? Keep little hands busy making some sweet treats in celebration of the festive season and have a go yourself with recipes from Cornwall based cookery school Philleigh Way.
In the spirit of Christmas, we've tried to find some of the sweetest festive recipes to keep kids busy. They'll love assembling these little treats to share with you and the rest of your friends and family over the break. Both of these recipes require no baking (unless you choose to make your own shortbread for the Rudolph biscuits) so you can relax by the fire with a cup of tea while they get messy in the kitchen.
Be sure to share your creations with us on facebook, twitter and instagram, we'd love to see the final results.
Melting Snowman biscuits
These were my favourites to 'make' while growing up. Requiring very little assistance, these biscuits are beautifully photogenic and each one can be unique. Ultimately, this will keep little hands busy for hours. And every snowman needs a name, of course.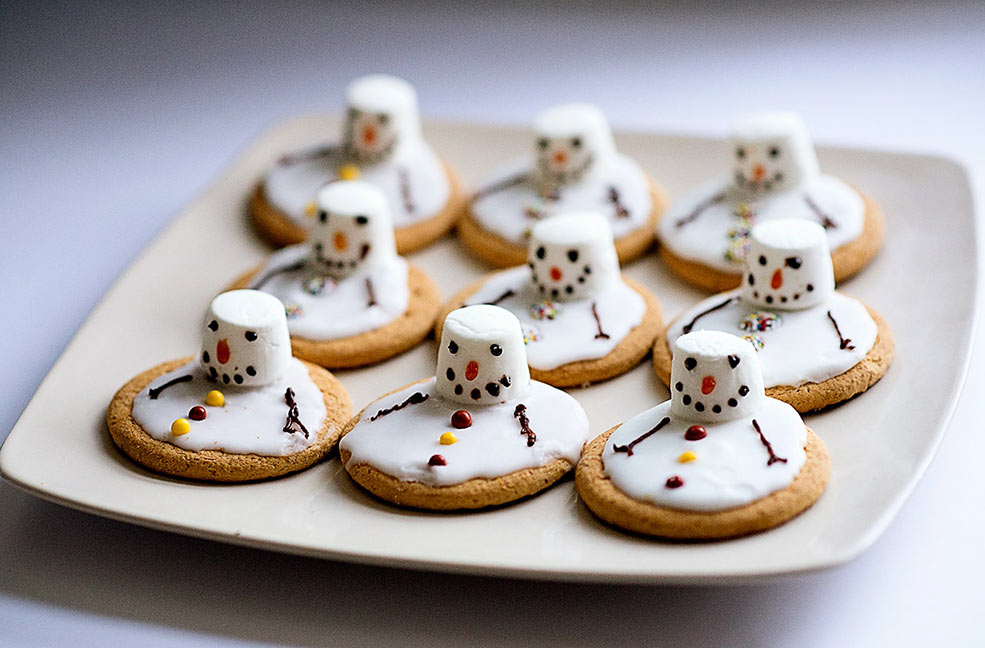 Credit: www.mummydaddyandmemakesthree.co.uk
Ingredients:
Digestive biscuits (or any biscuits you want to use as a base)
Fondant icing sugar
Marshmallows
Pretzel sticks
Coloured writing icing
Any other decorations you may need
Method:
Pop the icing sugar in a bowl and add some cold water little by little until the mixture is thick enough to coat the back of a spoon.
Spoon the icing on to a biscuit so it looks like melting snow, attach your marshmellow on top to make the head of the snowman.
Decorate your snowmen with faces (writing icing), arms (pretzel sticks) and any other features you think they need.
Leave finished biscuits to set.
Shortbread Rudolph reindeer
Another Christmas character to design and decorate. This recipe is super easy but can be made a little bit longer if you want to make the shortbread yourself. Give each of your reindeer different coloured noses and eyes to make them unique.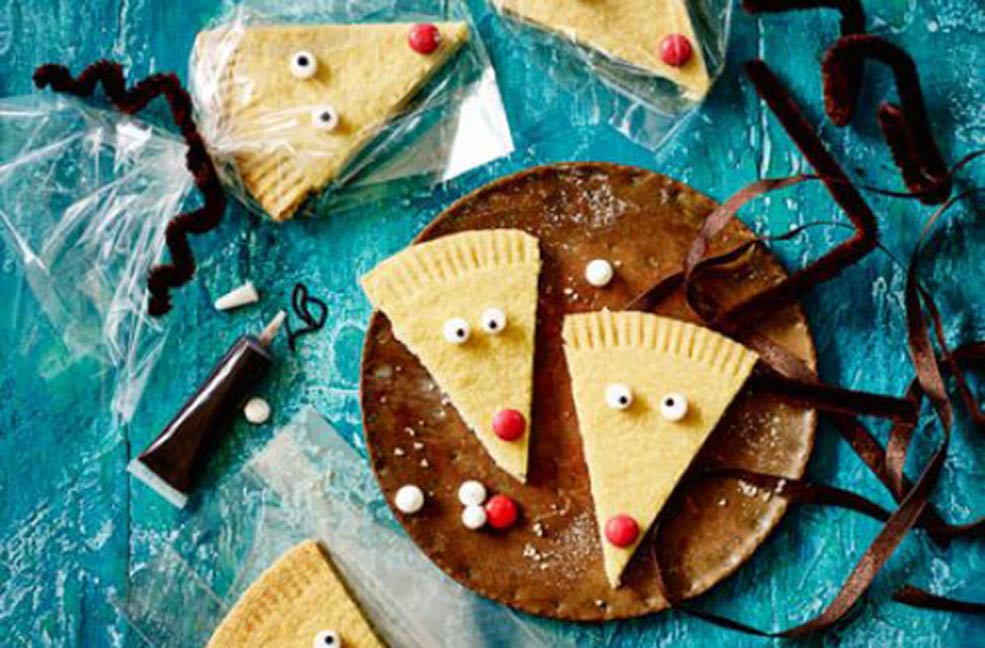 Credit: BBC Good Food
Ingredients:
Shortbread triangles (or make your own)
Icing sugar
Smarties
White chocolate buttons
Pretzels (chocolate coated if you're feeling especially festive)
Coloured writing icing
Method:
Grab your shortbread.
Pop some icing sugar in a bowl and add cold water a little at a time until your mixture coats the back of a spoon.
Dip a smartie in the icing and attach to the pointy end of the shortbread – this makes the nose of your reindeer. Obviously choose a red one if you want to make a Rudolph.
Next add eyes by fixing two chocolate buttons at the wider end of your triangle with icing and then add pupils with coloured writing icing.
Then create some antlers by snapping a pretzel in half. You can either add them to the top of the biscuit or for a cleaner finish attach them underneath using a blob of icing.
Pop your biscuits in the fridge to set before nibbling away.