My favourite part of the Christmas festivities is donning a pair of ice skates, and gliding across the ice in some of the most beautiful settings, with the fresh air filling my lungs. It is a great holiday activity for couples and families alike, and really does get you in the Christmas spirit. Enjoy as part of your stay in one of our holiday cottages.
The most well-known ice rink in Hampshire is the one that can be found at Winchester Cathedral. This year will mark the 11th year of the rink's establishment as part of the wider Winchester Christmas Market. This year however, the rink will also have a Christmas tree at the centre of the rink, adding extra Christmas cheer to your skating session.
The rink is also real ice, which for me is a must. The fresh coolness of real ice cannot be beaten in my opinion. You need to book your slot in advance ideally and you get an hour on the ice, which doesn't sound like much, but actually it is quite the work out! Free skate hire is included in the price of your session, and many people find they have to choose a size up from your usual shoe size. Also wearing thick socks is a good idea as they aren't the most comfortable type of footwear!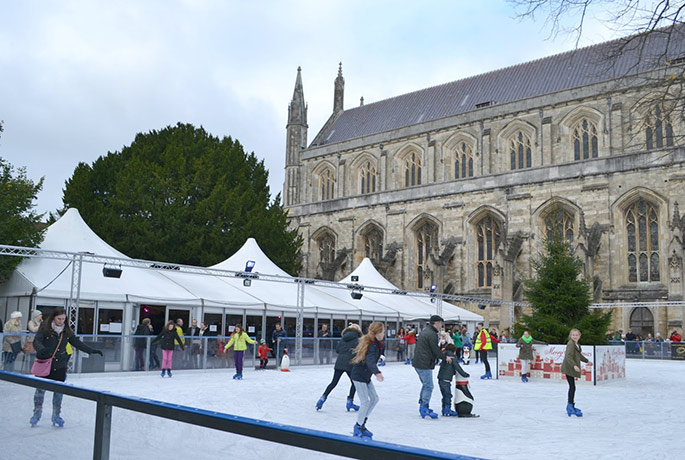 There is also a selection of food and drink available rink-side. The refectory cafe offers some delightful nibbles for the little ones like cake and hot chocolates, and crucially prosecco and mulled wine with mince pies for the grown-ups too! It is open from 16th November to 2nd January. Tickets cost £11 for adults, £8.95 for children between 8 and 16, £6.95 for 4 to 7 year olds, and under 4s are £6.95 but only allowed in selected sessions (prices from 2018).
Please note, the ice rink will not be open in 2020.
Winchester ice rink used to be the only one in the Hampshire area. But now you can also experience skating in the great outdoors in Southampton too. This rink is situated in West Quay Shopping Centre (which means it is really handy if you have a few last Christmas bits to go and grab!).
This one a plastic rink, which although isn't for me, it is seen as a safer choice, particularly for those with little ones as the skates aren't as sharp should someone take a tumble. There is a gorgeous log cabin bar for the adults, and the whole area will be magically lit up with fairy lights. Here too, you get a beautiful backdrop of the old Southampton city walls. Booking early is also advised.
There are penguin and seal shaped skate aids for the little ones and there will also be special Toddler Time sessions just for the tots which is great. It is open daily from 10.30am to 10pm, from the 10th of November to the 6th of January and costs £11.50 for an adult and £9.50 for a child.
So what are you waiting for? Get your skates on and book for your magical ice experience and start planning your Christmas holiday in Hampshire.