Having lived in the Lake District over 20 years ago, I was thrilled when Classic Cottages announced Number 5 Ambleside was joining the portfolio, giving me the perfect opportunity to visit my old haunts and explore some new areas on my mountain bike. I was ably joined by four keen cyclists including two friends from Cornwall, my brother from Yorkshire and another friend from Scotland (we really did converge from all parts of the country!).
June is a wonderful time to visit, with warm weather and long hours of daylight to enjoy. It was a delight to arrive at Number 5 which is perfect for group stays with plenty of room for parking and a spacious open plan living space to welcome us. Outside, a secluded terrace provided the perfect spot for sitting in the warm weather and we enjoyed breakfast and evening drinks here each day. On the first evening we wandered down the road into Ambleside (just a five-minute stroll away) and dined at The Flying Fleece where we enjoyed the local speciality (Cumberland sausage and mash, of course) in convivial surroundings.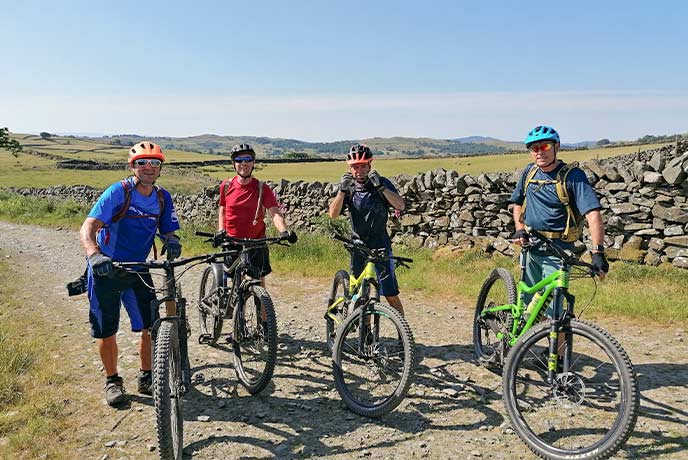 The following morning, we set off in brilliant sunshine to start our first ride in Staveley, just a ten-minute car journey away. This route starts off steeply, taking riders up the hillside onto the nearby fells. Once off the road, the route picks up bridle paths, interspersed with gates (giving us the chance to catch our breath before setting off again). The views were magical, stunning fells in every direction and not a sign of civilization in sight! The tracks are quite bumpy and needed an amount of concentration, but the effort was well worth it. Of course, there was the inevitable puncture, ably fixed and in no time, we were on our way again. Although this route is relatively short (13 miles), the terrain is quite a challenge in places and by the time we had returned to Staveley we were all quite tired. Wilf's café is a great place to refuel and I heartily recommend the bacon sarnies.
With an afternoon free we headed back to Ambleside and headed for Stock Ghyll Force, a scenic 70ft waterfall in a wooded valley and just a 15-minute stroll away from Number 5 in Ambleside. In rainier months, the waterfall is quite spectacular with water cascading down at a rate of knots. During long dry spells, the waterfall may be much less lively, but the woodland is still well worth traversing, and the cool shady trees gave some welcome relief from the sun's rays. The Force Café is close by and offers refreshments with fabulous views - I definitely recommend the honeycomb ice cream, it's delicious!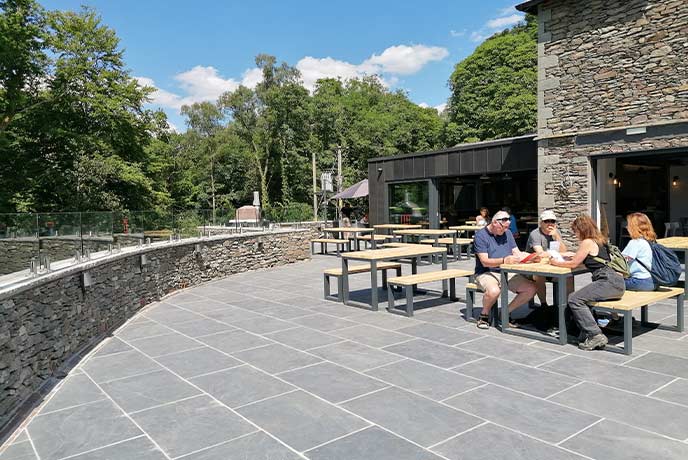 In the evening we headed for the Tap Yard and this proved to be an ideal place for us as we were joined by a couple of my friends who will live in the area. The burgers here are excellent and perfectly accompanied by Cumbrian beers.
Day two, and again we were lucky to wake up to blue skies and sunshine. Today's route was planned around Eskdale Valley, about a 45-minute drive away with the route taking us over Wrynose Pass, one of the steepest roads in England and quite an adventure in itself! Eskdale is such a pretty valley, and the cycle route runs alongside the river Esk, through woodland and open pastures. Although a longer cycle than the day before, at 17 miles, this route was much less tasking as the tracks are mostly undulating with no steep climbs. There were some river crossings and whilst this wasn't a problem for us, I imagine during winter months this route would be much more of a challenge. Halfway round we stopped at the café at The Ravenglass and Eskdale Railway home to a narrow-gauge railway and steam trains that run through the scenic countryside. If we'd had more time, I would have taken a train ride as it looked great fun. Re-fuelling over, we set off again for the second part of the ride, along quiet country lanes through the most beautiful Lakeland countryside.
Dinner that evening was a return visit to The Flying Fleece, however we did call in for a quick pint at the Golden Rule, which is an excellent pub (and favourite with the locals) with outside seating and handily on route, just a couple of minutes away from Number 5.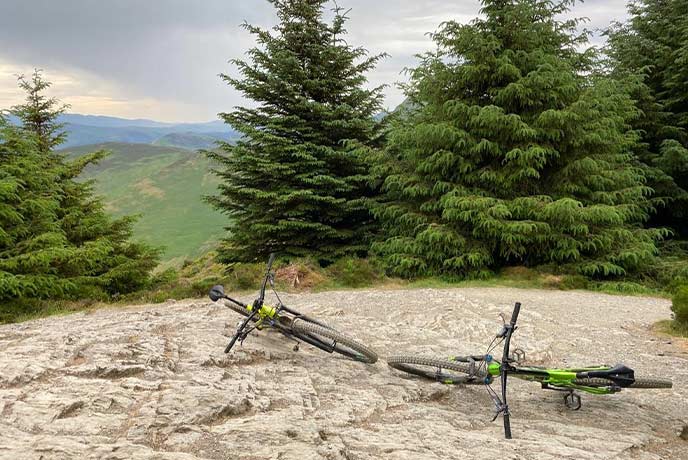 Day 3 had come around too soon, and the North Lakes were calling. Whinlatter Forest to the west of Keswick has purpose-built mountain biking trails amongst pine forests, with spectacular views of Bassenthwaite Lake, Skiddaw and Keswick. The trails are not for the faint hearted, built for speed with switch backs, steep turns and high sided banks adding to the excitement. The trails are split into two, both six miles in length: one to the northside and the other on the southside. Each side has a steep climb along forest tracks, but the effort is well worth the reward of the decent. Siskins Café has a huge outside terrace which sits amongst the mighty pine trees, where you can sit and watch the birds dining on the huge bird feeders. The café is perfectly placed for refreshments and there is always a great selection of freshly baked cakes and scones here.
Number 5 was the ideal base for our Lakeland adventures, with the vibrant town centre close by and beautiful Lakeland countryside on the doorstep. We were all sad to say goodbye but hope to visit again for more thrilling adventures, either on foot or by bike.