With the clocks going back on Sunday 31st October, we've been thinking about how we'd like to spend the extra hour. And while staying snuggled up in bed sounds appealing, we decided there might be a few more creative ways to embrace the shift in seasons that the clock change marks. So, with that in mind, here are five fun things to do when the clocks have gone back…
1. Go Stargazing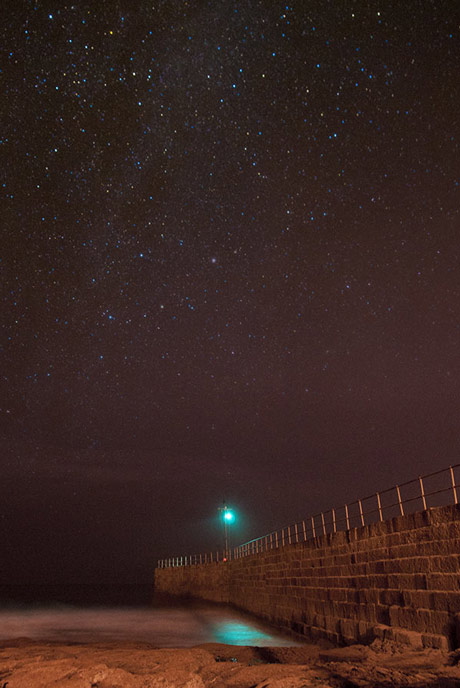 While many of us will understandably mourn the lack of sunshine and daylight hours, there is a big positive to the darker nights: it's prime time for stargazing! There are so many amazing stargazing spots to do it around the country, from designated Dark Sky Discovery Sites in Cornwall to areas of very little light pollution in Dorset and St Davids in Pembrokeshire. A Dark Sky Discovery Site status is only given to spots that are easy to access and with little enough light pollution that you can see the Milky Way. So what are you waiting for, check the Dark Sky Calendar to pick a date, pack a flask of something warm and head out for a nighttime experience you'll never forget. For more tips and a list of Cornish spots, check out our guide to stargazing in Cornwall.
2. Indulge in brunch
With a whole extra hour to enjoy, why not luxuriate over your morning a little longer and indulge in a decadent brunch? Not sure where to head? Treat yourself to a sea view, at somewhere like Gylly Cafe in Falmouth, Cornwall, or find somewhere that does a proper hearty breakfast full of flavour like the Pink Cabbage in Mayfield, Sussex. If you need to take the dog for a walk, why not incorporate a trip to a dog-friendly cafe to the walk? The Bakery in Bembridge on the Island is a strong contender for that.
3. Take a ghost tour
One way to embrace the darker evenings is to get amped up for the autumn and winter festivities to come. We're obsessed with all things spooky for Halloween and there's no better way to get in the mood for the time of trick or treating than with a creepy ghost tour. Head to Bodmin Jail in Cornwall for one of their famous After Dark Events and explore it's 230 years of history by light of the moon; it's tortured and violent history makes it the perfect spot for history buffs and thrill seekers alike. If a jail doesn't appeal, what about a haunted inn? Jamaica Inn - of Daphne Du Maurier fame - runs regular Ghost Hunts. Tuck into a three-course dinner, then enjoy a night of paranormal investigation as you explore the Inn and attempt to communicate with spirits. Alternatively, the murder mystery evenings are always a blast.
4. Try ice-skating
If the thought of ghosts fills you with dread, a jollier way to make the most of the clocks going back is a night on the ice. From Saturday 23rd October you can head to the Eden Project and take a spin on their famed glittering ice rink - the only indoor rink in the county! And if you've got little ones, fear not - they run special toddler ice-play sessions for kids under five, or alternatively you can head to a normal session and hire a penguin or snowman skating aids. (We kind of wish these came in adult sizes). Please note you have to book in advance through their website. You can also try out the Southampton SKATE ice rink for more fun on the ice from November onwards. Again you will need to pre-book on their website.
5. Take your dog to the beach
October is an exciting time for dogs and visitors with canine friends, as it spells the end of the seasonal dog ban. From 30th September, plenty of the country's beaches remove the seasonal ban and open their sand and shores back up to paw prints. You'll find us making the most of the Cornish peaceful autumn beauty at Kynance Cove! See our dog friendly beaches in Cornwall and Dorset blogs to see which beaches take dogs and which don't.
Want to get away now the clocks have gone back? Check out our cottages here.