We set out in search of an old grave, in an even older graveyard, in a little town somewhere above Mousehole. It turns out it was actually really easy to find, so there's not much of a story to tell so far.
We parked the van opposite the small cemetery, in the shadow of the church steeple and started scanning headstones – the kind of task that can't help but make you feel ill-at-ease. After ten minutes of weathered stone deciphering, we looked up to see a comparatively monolithic monument set in the boundary wall – a memorial to Dolly Pentreath.
'Here Lieth Interred Dorothy Pentreath Who Died in 1777'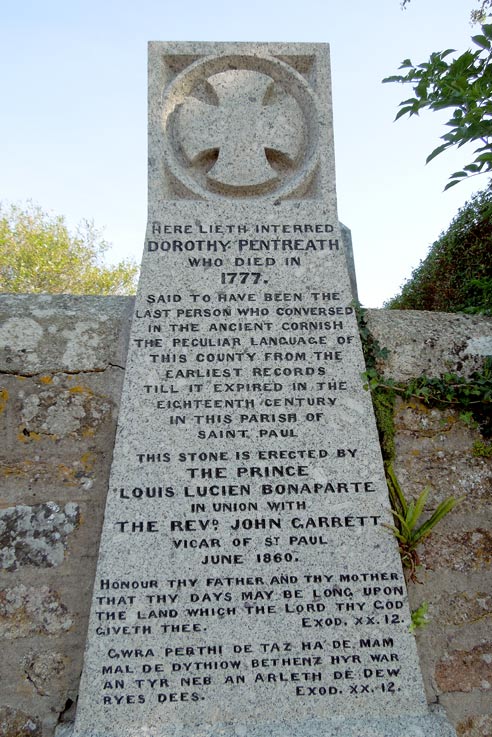 So the legend goes much the way of the engraving, that dear Dolly was the last known person to solely speak Cornish. Stories of her describe a colourful character, a typical hardy fisherman's wife who spent her days selling her wares down on the harbour wall of Mousehole before heading home to the pub – hence her apparently 'ruddy complexion'. And that would be that, were it not for the naysayers. For the engraved version of events is disputed, with many more Cornish speakers coming forth since Dolly's death. The confusion seems to lie in the detail – Dolly wasn't the last Cornish monoglot, that is someone who only speaks one language, but she may have been the last person brought up as a monoglot as she certainly knew English in her later years. Plenty of people since can speak Cornish, but none, it would seem, was it engrained so naturally as that of Dolly. And so she earned her illustrious title, thanks to her local celebrity status as a crazy old Cornish-speaking fortune teller and a chance meeting with an antiquarian documenting the Cornish language.


The village of Paul doesn't give much away about its ancient beginnings, and so we didn't stick around for long. That is, we wouldn't have had it not been for our temperamental mode of transport. The van was dead. Luckily for us, a very short stroll around the corner was a garage, and for a bit of cash, the helpful owner had us back on the road with a wave of Cornish hospitality.