We all love a dash of champagne during the festive period. If you've maybe had a little too much, try these alternative twists on the bog standard flute of champers for ringing in the New Year.
As the year comes to a close, you'll want to start planning your New Year celebrations in the South West. If you're hosting a party, we've got plenty of recipe ideas to get you started. It's really easy to focus on food over the festive season. Before you know it it's New Year's eve and you've baked some beautiful goodies for your guests but you've forgotten to buy anything to drink. King of celebrations is champagne, of course. But what if you fancy something a little different? Drinks can be made super special for celebrating New Year and they don't necessarily need to be boozy. The second recipe here can be made as a mocktail, perfect for those who want to skip the champagne or to make the kids feel like grown ups too.
We'd love to see your creations and celebrations this New Year on facebook, twitter and instagram.
Champagne Sorbet Floats
This recipe uses tangerine sorbet made fresh but shop-bought sorbet will taste just as good (especially for those with less time on their hands). A grown up coke float – perfect for ringing in the New Year.
Ingredients
600ml fresh tangerine juice
125ml sparkling wine
150g granulated sugar
Additional sparkling wine to serve
Method
In a saucepan, heat 200ml of the tangerine juice (or a fruit juice of your choice, something citrus-y works best) and the sugar over a medium heat until the sugar is dissolved. Pour into a bowl and add the rest of the tangerine juice and the sparkling wine. Pop in the fridge to chill.
Once chilled, freeze the mixture in an ice cream machine following the manufacturers instructions. Then place the sorbet in the freezer to firm, this will take several hours.
To serve, scoop your sorbet into champagne flutes or wine glasses and then pour the rest of your sparkling wine over. Be generous, it's New Year.
Serve immediately and maybe add some extra sorbet to yours because you've been such a fantastic host.
Champagne Shirley Temple
A grown up twist on a classic mocktail. Serve for kids by switching out the champagne with 7up, Sprite or ginger beer.
Ingredients
Crushed ice
Pink moscato champagne (or regular champagne)
Splash of grenadine
Maraschino cherries
Orange slices
Method
Fill a glass halfway with crushed ice. Pour in champagne.
Add the grenadine then garnish with a cherry and an orange slice.
Serve with a straw and get ready to ring in next year.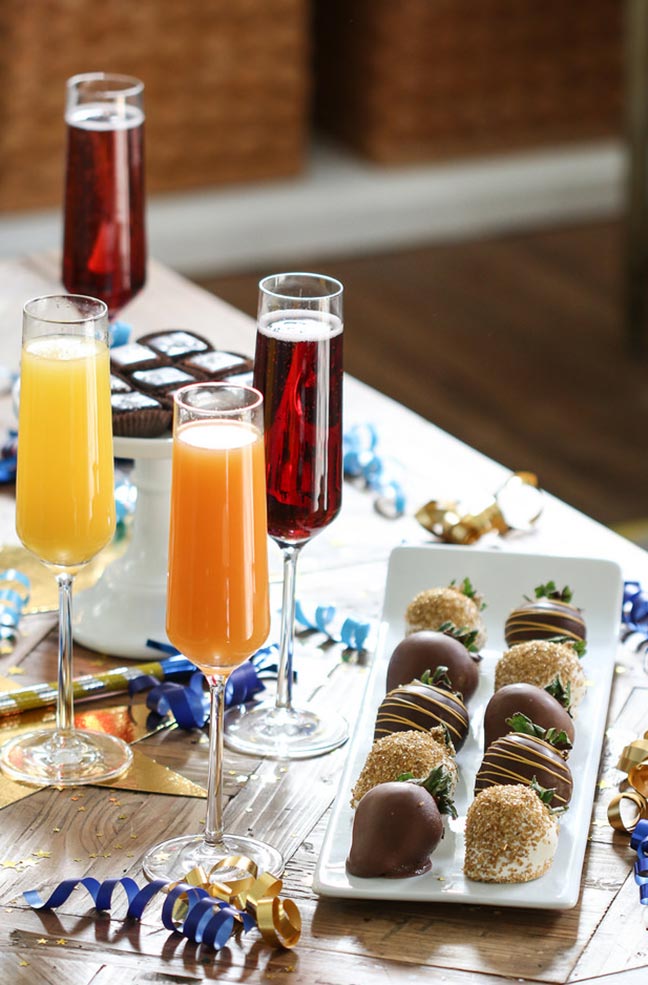 Celebrate New Year in style with a stay in one of our lovely holiday cottages in the South West.