All dog owners know that feeling you get when a place claims to be dog-friendly but then everyone draws a large intake of breath when you walk in with your four-legged friend. It's always good to know which places actually are dog-friendly so I've compiled this list. Our Cockapoo, Monty, has thoroughly tried and tested all of these cafes and restaurants and thinks they're all Grrrreat!
Cantina (Paignton)
This is one of those places which is so dog-friendly that people almost look suspiciously at people without a dog! This lovely relaxed cafe is right next to Goodrington Sands North - one of the most dog-friendly beaches in Torbay, so it is always packed out with happy dogs and owners. The tables are all well spaced out so dogs don't have to be squeezed in under tables. My children are also well looked after here with a whole stack of board games to borrow and a little pick-and-mix sweet bar where they can fill a cup for a pound.
Visto Lounge (Torquay)
Visto Lounge in Torquay is huge and ultra-trendy. Its interior design is all clashing lampshades and old school desks with industrial lighting, so you'd be forgiven for thinking it was not a doggy place, but if you did think that then you'd be completely wrong. Visto Lounge is very dog-friendly - they even provide free dog biscuits to your table! This is one of my favourite places to go for breakfast – their sausage patties are amazing. It's right next to the beach as well, so when you've finished your food you can take doggy for a long beach walk.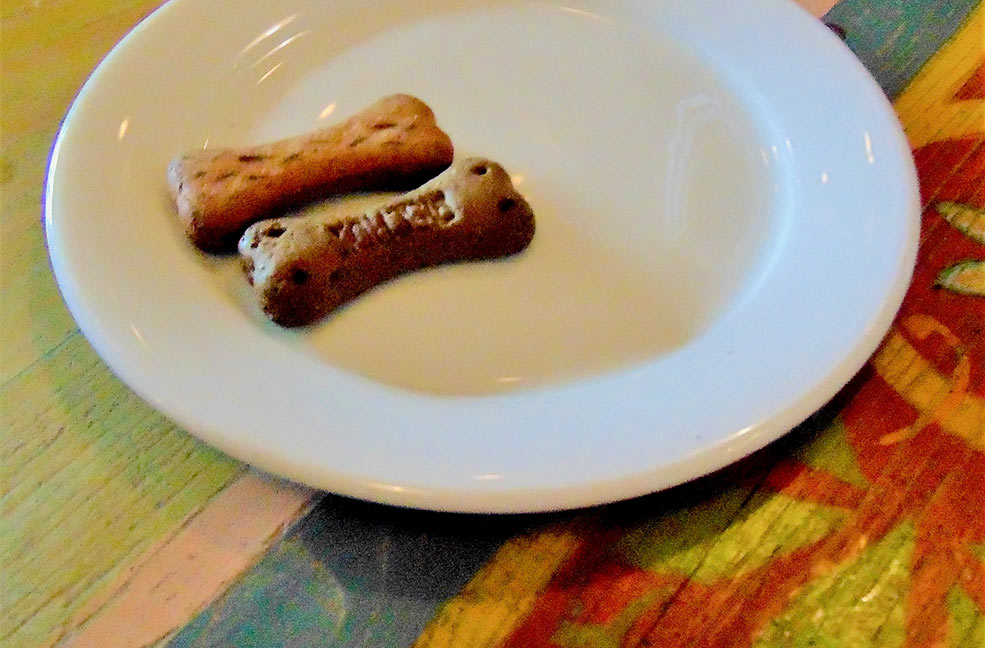 Cafe Alf Resco (Dartmouth)
Cafe Alf Resco in Dartmouth is a perfect gem of a place. From the vintage grocer's bicycle to the French-style courtyard, it's incredibly homely and atmospheric. They do great locally roasted coffee and fresh orange juice squeezed at the cafe. The bread and pastries are also baked in town. Locals and tourists alike flock here for breakfasts and lovely light lunches, but the best news of all is that it's completely dog-friendly.
The Cary Arms (Torquay)
The Cary arms in Torquay is a beautifully situated gastropub. It overlooks the picturesque harbour at Babbacombe Bay. For a great doggy walk you can take the cliff railway down to Oddicombe Beach then walk along the sea-front to the dog-friendly pub. This is my favourite place in South Devon for Fish and Chips.
The Guardhouse Cafe (Brixham)
The Guardhouse Cafe sits on top of the huge coastal headland of Berry Head. Berry Head is a fantastic place for dog walking in Brixham with lots of different routes to take, all of which have stunning views. From the headland, you can see as far as Portland Bill on a clear day. It's also a great place for wildlife spotting. A Humpbacked Whale was recently seen by hundreds of whale watchers from here. My family have often spotted dolphins from these high cliffs. The cafe itself is very relaxed and is very welcoming to dog walkers and their dogs.
The Cricket Inn (Beesands)
The Cricket Inn is a fantastic beach front pub in the small fishing village of Beesands. Beesands is one of my favourite villages in the whole of South Devon. It's not got a chocolate-box prettiness, instead it's got the earthiness and authenticity of a true working village, where people make their living from the sea. Dogs will love all the smells and space here and they're allowed in the pub afterwards where their owners can enjoy great ales and fine wines, as well as fantastic food. As you'd expect, in a fishing village, seafood is a speciality, with crab, lobster and scallops caught in the very waters that you will be looking at through the windows!