Have you heard of the Lounge restaurant chain? They're a popular and growing collection of quirky all-day restaurants. Intrigued, I decided to head to Truro to see what all the fuss was about.
The first thing you'll notice here is no doubt the wonderfully eclectic interiors. The retro papered walls are brought to life with a fantastic mix of vintage oil paintings, old photographs and an enviable collection of art deco mirrors. The result? A seriously cool hangout spot.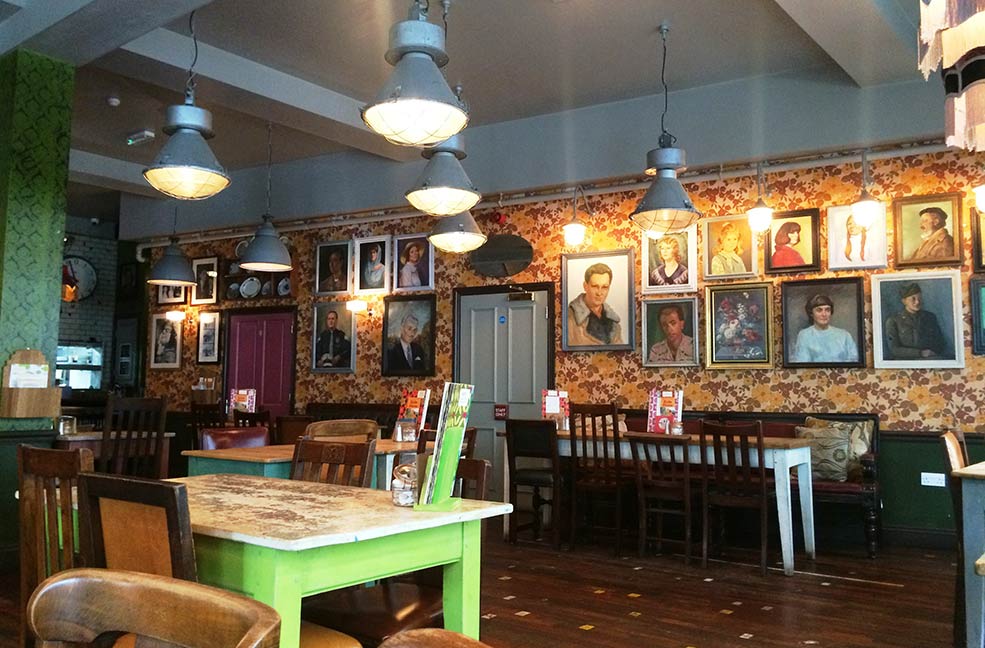 Set in what used to be a building society, Lounge in Truro is huge with two floors and enough indoor seating for 160 people. So I was quite surprised when I arrived around 9.45am and it was totally empty, though I soon realised I'd just missed the pre-work breakfast crowd and was a hair too early for my fellow lazy brunchers, because by 10am the place was buzzing. One other small but lovely detail was the very time-appropriate playlist. Think The La's, Otis Redding and David Gray.
All good so far. But what was the food like? Immediately I was very impressed with the menu offering; the normal menu had a fantastic range of choice as did the special vegan, gluten free and children menus (everything was very clearly marked and easy to follow). Given the range of food on offer and attention to different dietary requirements, this would make a fantastic spot for a large gathering.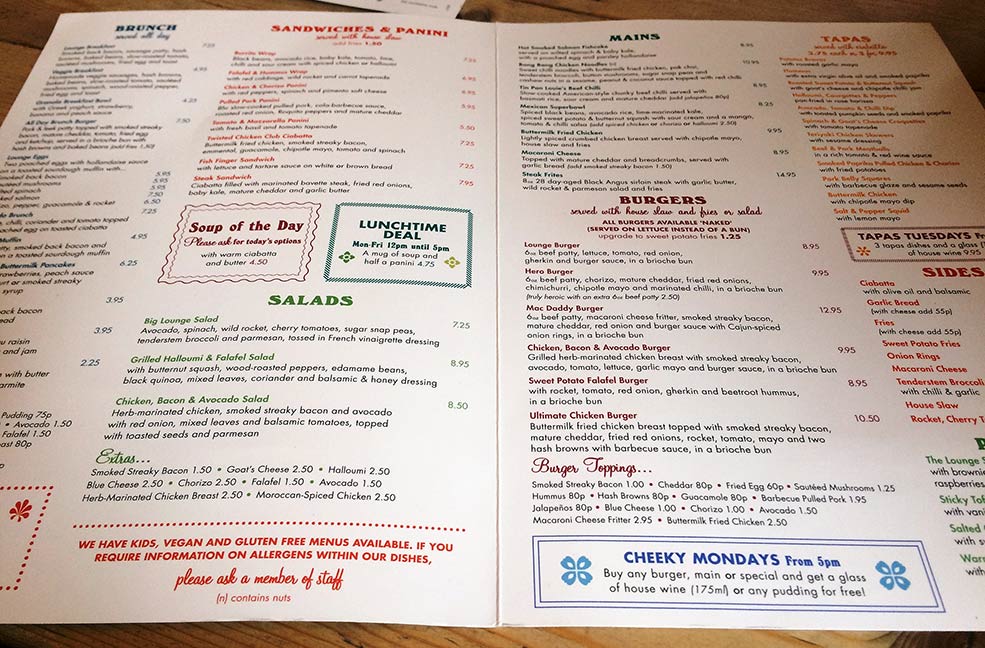 I opted for the full vegan breakfast and as I was the first to place my order I only had a wait time of around 10 minutes. The breakfast included two homemade vegan sausages, two crispy hash browns, a pot of baked beans, a roasted tomato, sautéed mushrooms, a slice of toast and a wonderful mixture of spinach and wood-roasted pepper. It was really delicious and I particularly loved the interesting addition of spinach and pepper. At £6.95, it was great value too; I'm writing this review five hours later and I'm still full!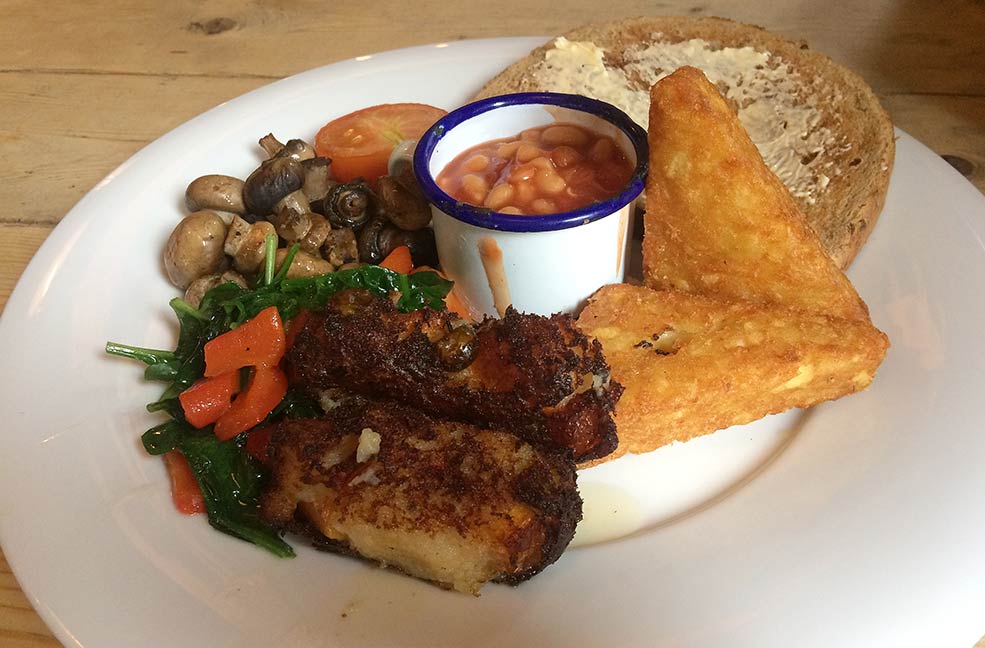 It's fair to say I'll definitely be back to Lounge. I've got my eyes on Mexican Superbowl next time, which comes with lime-marinated kale, avocado rice and a mango and chilli salsa. I also love the look of their tapas menu– from pork belly squares to patatas bravas there'll be something to suit most taste buds. I would also definitely head to the outside terrace if the sun was out. Just head up the stairs and out the back – you won't miss it, it's covered in a bright hand-painted murals! There are also retractable canopies and outside heating, so you can enjoy the terrace whatever the weather.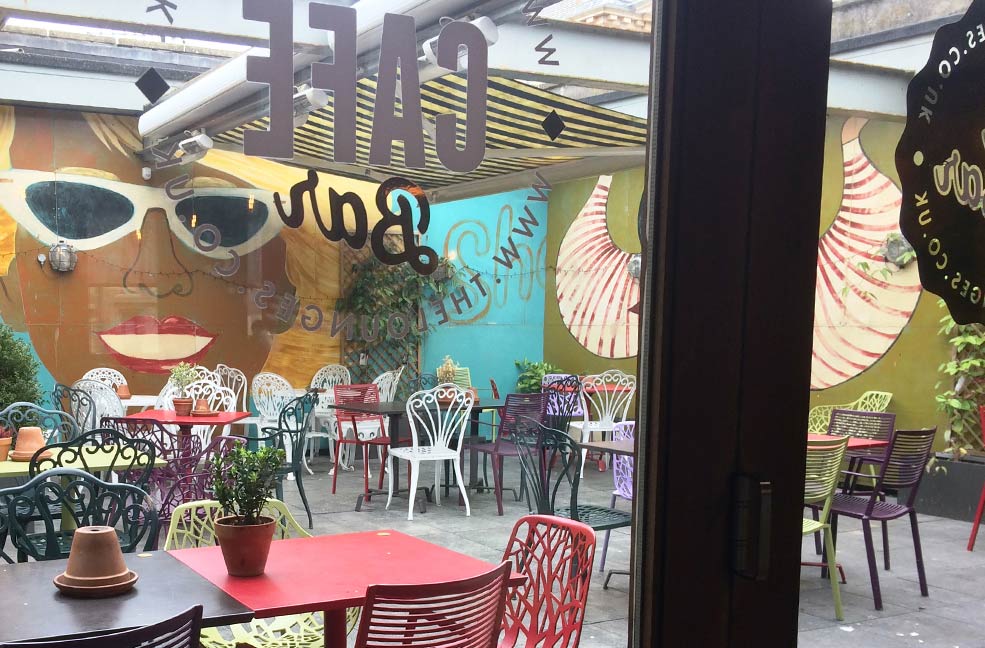 I really enjoyed my time at Lounge in Truro – it has a relaxed, friendly vibe which seemed to attract a wide range of customers, from families on a day out, to friends catching up over a coffee to shoppers grabbing a quick bite to eat between shops. This is even reflected in the opening hours which are 8am – 11pm, Monday to Friday. So don't feel like you have to head there for brunch, I bet this place would be just as cool with a cocktail in the evening or a lazy early dinner with the kids when on holiday in Cornwall.