Any parent knows that travelling with little ones in the car is never easy, with a combination of boredom and short attention spans against you it's easy to see why some parents avoid it like the plague.
As a family that relocated from Kent to the South West we spend a lot of time travelling in the car back and forth to visit family that we left behind. I use to dread the long journey as the kids would just argue for most of it and I find it incredibly distracting while I'm trying to drive.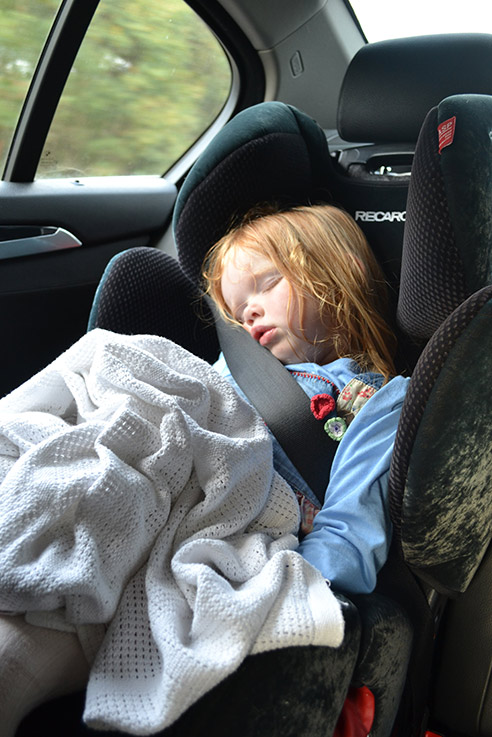 We have tried a whole host of different boredom buster techniques in the past like snacks, travel games and fun bags but the one thing that has made the biggest difference to us is the portable DVD player that we brought. They don't have to cost you a fortune, we brought ours from a local discount store called Trago Mills and the whole set including two screens only cost us £30. It was the best money we have ever spent! It keeps the kids entertained from start to finish and if we're really lucky it sends them to sleep.

If you can't justify paying out for a DVD player then we have also found the 'fun bag' idea works well. We fill their bags with colouring pencils, pads, small toys and mini games. This works best for slightly shorter journeys, maybe a few hours or so but any longer and it starts to lose its appeal.
We use to pack a bag of snacks for when we were travelling but we found that it resulted in the kids constantly asking for food every five minutes which drove us mad, so we swiftly gave up on that one. Instead we now pack a bag of snacks in the boot without the kids knowing and when we stop at services we get some out while pretending that we just brought them. This stops them from asking constantly and saves us money at the same time.
Another great tip that we have picked up is to travel at night. We get the kids into their pyjamas, leave at their bedtime and generally within an hour they have fallen asleep. When we get to our destination we simple scoop them up and place them straight into bed. This method has worked quite well for us in the past unless of course the family we are meeting at the other end wind them up when we get there and get them so excited that they no longer want to sleep! Oh the joys of family.
I'm not really sure that there's a 'one solution fits all' when it comes to achieving harmony on a long journey, as with most things with children it's a case of trial and error but if you've exhausted all your options then next time you come on your holidays in the South West, I'd definitely recommend forking out for the DVD players.