Everyone knows the fun that can be had on beaches in the summer, but I love beaches even more in the Autumn and Winter when they become much emptier. Here's a round up of some year-round beach activities which I do with my family, and a few suggestions of great locations to do them in.
Crabbing
Crabbing feels like a timeless and quirkily British thing to do. It's a great way to involve the whole family in a simple but fun activity. Crabs like hiding in nooks and crannies but are relatively easy to lure out with some bacon or chicken. Once you've found a good harbour wall or large rock pool, you just need to load up your crabbing line and lower it over the edge to the bottom. Wait till you feel a small tug on the line and next comes the challenge which makes the whole activity so worthwhile! Slowly and smoothly bring that line in. If there are more than one of you, now is a good time to call over your companion to stretch out the net and help to get the crab into your bucket. There are a few classic crabbing spots in South Devon with Stoke Gabriel being a great favourite of ours, as well as Brixham and Dartmouth. But sit yourself along any harbour wall in the south west and you'll be in crabbing heaven.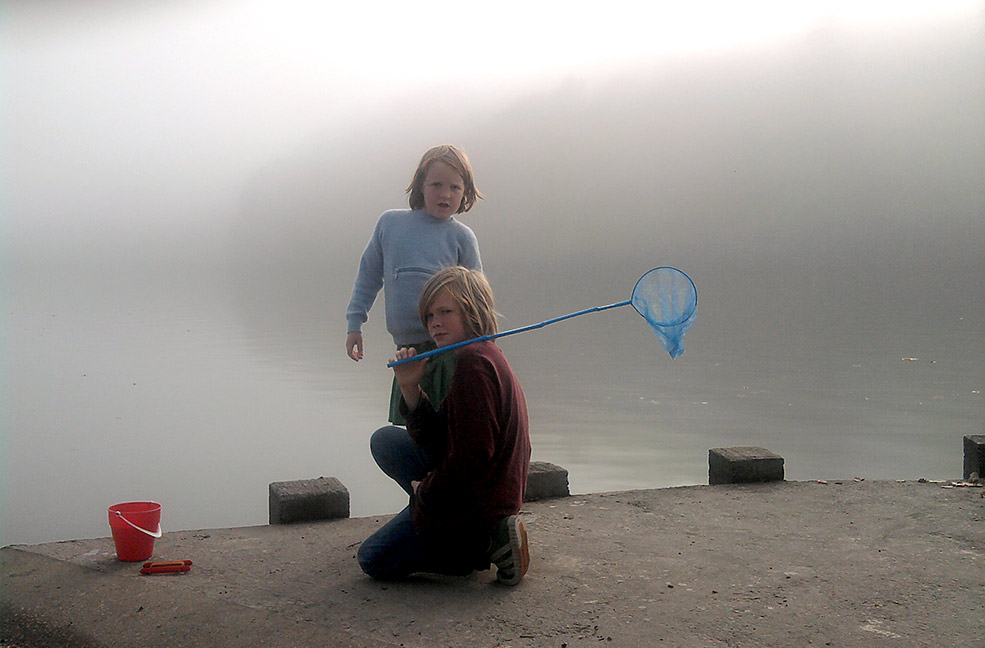 Toasting marshmallows
Some beaches don't allow beach fires while some allow them only in certain places so it's always worth checking beforehand. As a rule of thumb if you have a small fire below the high tide line and clear up afterwards you won't get in trouble. We tend to go to Ness Beach, near Shaldon, which usually has lots of driftwood. Once you arrive armed with some marshmallows and matches, the first challenge is finding some driftwood and a perfect toasting stick. Once the fire is going, everyone has their favourite way of toasting. Some turn the stick slowly for an even toast, some only allow the smallest amount of heat, while some like the outside of the marshmallow to be black and charred. Whichever way you like your marshmallows toasted, this simple activity is one sure way to help your children feel like wild survivalists.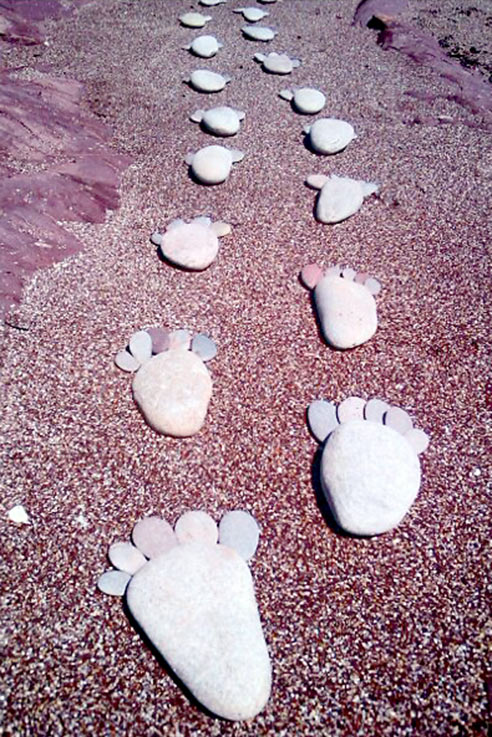 Wild Art
My family are all fans of finding driftwood and pebbles, as well as the flotsam and jetsam of the shore, to create wild art. Faces are always easy to do, with their seaweed hair and pebbly faces. A line of pebble feet is easy to achieve and effective. My children sometimes make wild art on the beach itself and sometimes carry their finds home to collage at a table.
Fossil Hunting
South Devon is not as famous as its neighbour, Dorset, for fossil hunting, but the Jurassic Coast stretches into south east Devon. Places like Sidmouth are important sites for fossil hunters, and always worth a try for families. Hooken Cliff, near Branscombe, is recognised as being the top fossil location in Devon. My 5 year old boy is obsessed with dinosaurs and always amazes us with his encyclopaedic knowledge. Even at good fossil locations there is never a guarantee of finding anything but it's always fun looking.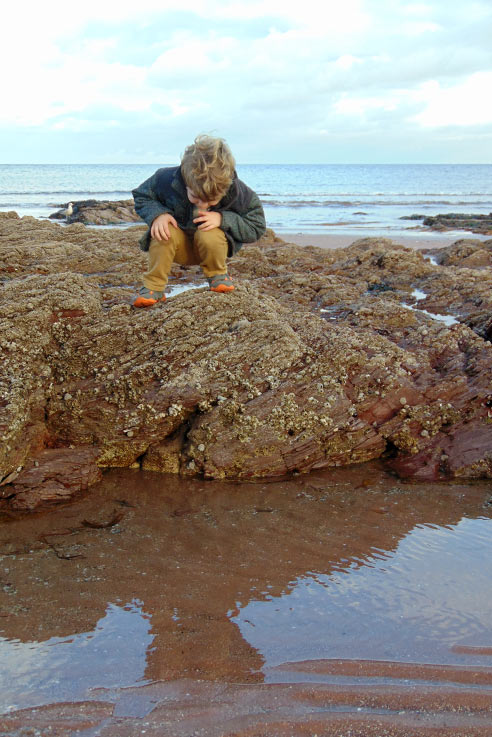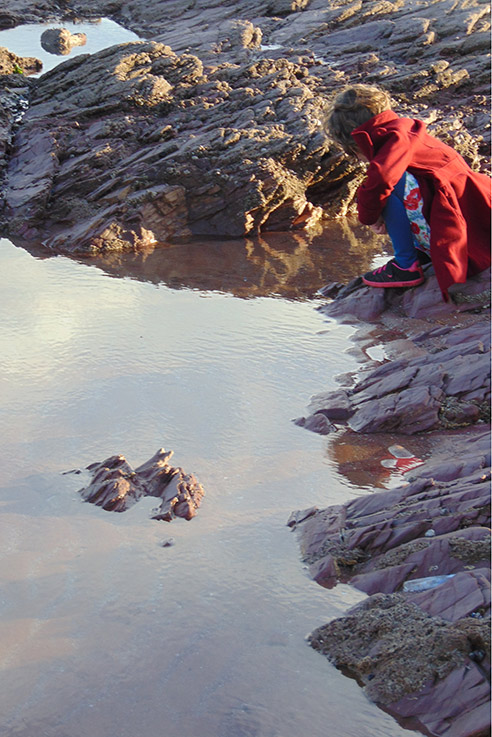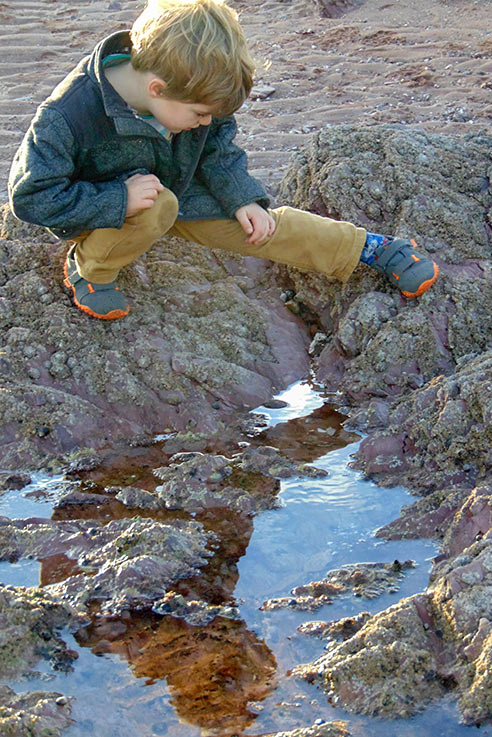 Rock Pooling
The best rock pools for exploring are often the ones nearest to the sea edge. My children have face masks and snorkels for getting in closer to rock pool life, but even when we forget these there is usually something exciting to be spotted. Rock pools often contain small fish, shrimps, crabs and anemones. More unusual finds can include starfish and pipefish. It's usually good to observe quietly for a while, but then we like to get our hands in and move seaweed and rocks aside. Wembury Bay, near Plymouth, is often described as the best rock pooling location in Britain.
Skimming Stones
One of the purest and simplest pleasures of life comes from skimming stones across the sea. It defies logic to see heavy pebbles skim effortlessly - once, twice, three or more times over the waves. Find the flattest, smoothest, roundest pebbles and crouch low. Then give them a good spin in the air and see how many bounces you can achieve. Apparently, the record is 51, set by an American Engineer in Pittsburgh.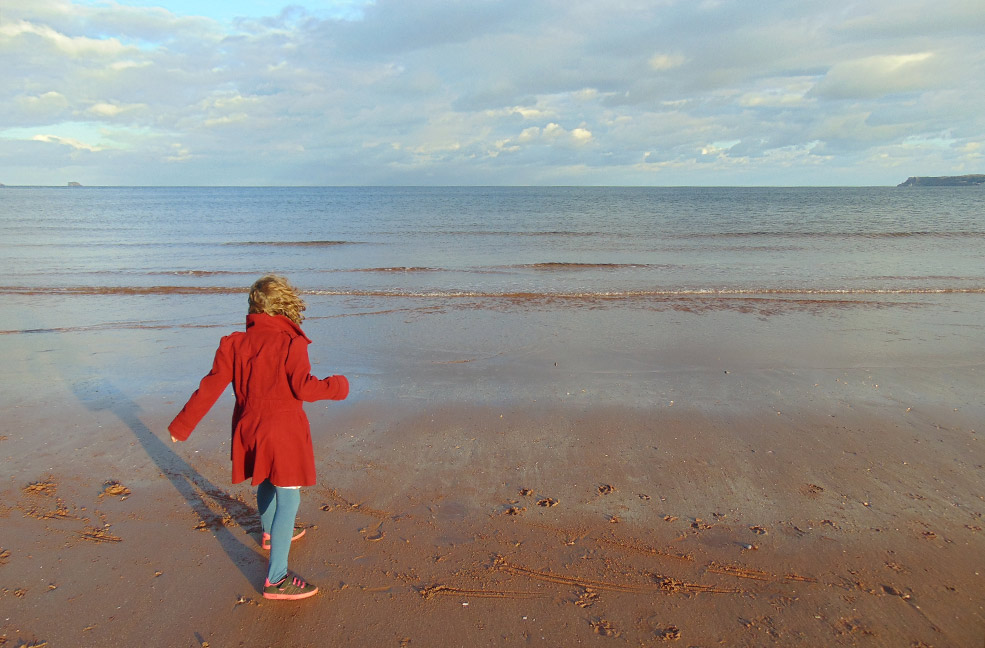 Find yourself somewhere to stay near a beach >