Ashburton is a beautiful and well-laid-out market town, ideally placed on the edge of Dartmoor for walking holidays and adventure holidays. Recently it's also forged a new identity, as the go-to place in Devon for antiques, shabby chic furniture and all manner of vintage ephemera.
Ashburton is the sort of town where every shop is a joyful distraction, full of things that you didn't know you needed but you can now barely imagine living without. It is not a town to rush, its attraction lies in the ambling conversations with relaxed shopkeepers, and the joyous unusual treasures that you find on your fourth visit to your new favourite shop.
5 reasons to stay in Ashburton:
1. It's a small, pretty town on the edge of Dartmoor, ideal for walking holidays and adventures with kids
2. There are so many family friendly attractions nearby, like Pennywell Farm and Woodlands theme park
3. Situated in the middle of Exeter and Plymouth, city life isn't far away if you want a metropolitan day out
4. The town is steeped in history, some of the buildings date back to the 17th century
5. From Number 14 to the Royal Oak Inn, there are some great choices for places to eat and drink in Ashburton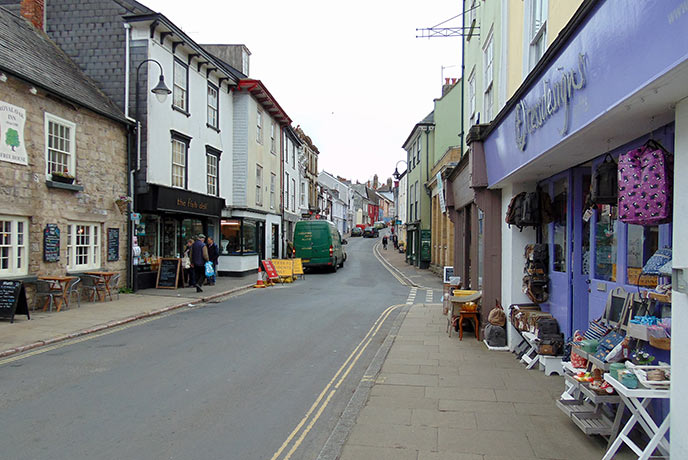 Shopping
Ashburton is not a big town so most of the things to do revolve around getting outside, including walking and cycling on the moors. However, because of its reputation as an antique hunter's paradise, it's also incredibly well supplied with antiques; from clothes to furniture to collector's items. The small size of the town makes it ideal for pottering around and getting to know the locals, who are incredibly welcoming. As well as the antique shops, the town also hosts book shops and art galleries, as well as many pubs, restaurants and cafes.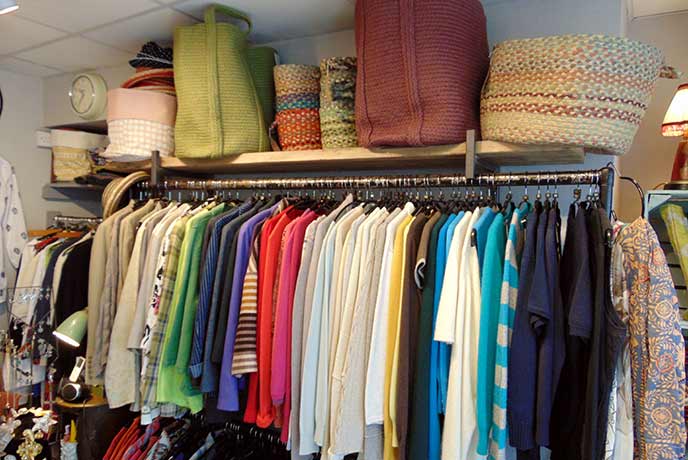 My favourite shops are Number 30, Alchemy and Tom Wood Antiques. Tom's shop is like something from a fantasy film, piled floor to ceiling with the most extraordinary collection of pots and containers, and books and clocks. Tom is a cheery old chap who calls everyone darling and makes you feel like if you chose just the right pot and opened it in just the right way you would surely open a portal to a new world. Emma at Number 30 has a fantastic collection of cashmere and bags, and beautiful vintage clothing; while Sean at Alchemy might rise from his fireside to charm you with his Irish brogue. In truth, any of the many charming shops can provide a welcoming distraction if you amble slowly enough.
Places to Eat and Drink
Ashburton has a great mix of cafes, restaurants and pubs.
The Royal Oak Inn is a great town centre pub which achieves that most tricky balance of being quite definitely a pub for locals, but also incredibly welcoming to visitors. The pub is warm and busy, with a great relaxed friendly feel. It recently had a name change and is now calling itself 'The Hound of the Baskervilles at the Royal Oak', which seems a bit of a mouthful. They are aiming for a themed pub idea with paintings of the fictional Dartmoor Hound, and non-fictional dogs are also welcome!
Usually much quieter is the Bay Horse Inn on North Street. This single bar pub has an open fireplace and a beer garden built into a cliff. I always like a pub which has board games available, and here you can borrow a few traditional favourites like scrabble and draughts.
Number 14 is always popular. This venue is a laid-back café in the daytime and a busy wine bar in the evenings, and it wears both hats well. There is also a pretty courtyard garden with a nice relaxed feel.
Three miles from Ashburton, in Buckfastleigh, is the well-respected Riverford Field Kitchen. This award-winning organic restaurant serves great meat and fish options but is best known for its vegetarian and vegan food. Whether for vegetarians, pescatarians or carnivores, the restaurant always makes sure that the local, seasonal organic veggies are the stars of the plate.
Find out more about Buckfastleigh.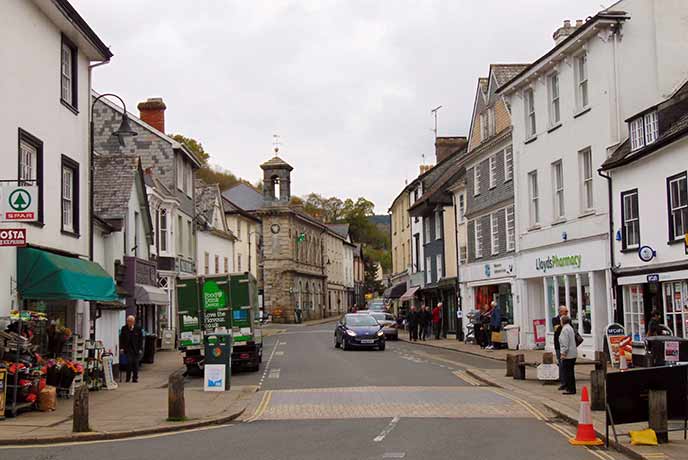 Things to do
For a taste of Dartmoor in a family friendly environment visitors should visit River Dart Adventures. This adventure park is like a cross between a country park and a theme park. The scenery is beautiful, and many people just come for that, but adrenaline seekers can also go on the High Ropes course, or zip down the Mega Zip Wire. The park is just one mile north of Ashburton, and is set on a 90-acre former country estate. The River Dart flows through the park and provides an opportunity for visitors to try canoeing, zorbing, paddling or swimming. Some of the top-end activities carry an extra charge, but the entrance fee entitles you to visit all the great adventure playgrounds, lakes, and various climbing areas and zip wires. My family's favourite part of the park, especially in good weather, is the pirate lake. This great area has a shallow lake with beaches, as well as rope swings and balance beams. In the summer, it is full of children carrying water squirters who will good-naturedly 'defend' the pirate ship for hour after hour.
Nearby Buckfastleigh houses four great family attractions. Buckfast Butterflies, the South Devon Railway, Dartmoor Otter Sanctuary and Buckfast Abbey can all be found here.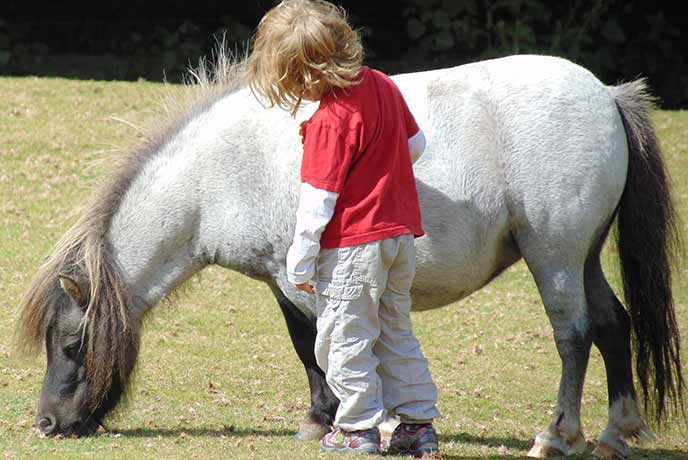 The Miniature Pony Centre is nearby in Moretonhampstead. The name Miniature Pony Centre almost under-sells the attraction because there's lots more to do than look at ponies, although the ponies themselves are fantastic! This is a great place to come with young children, who can wander freely among the ponies. For a small additional fee, visitors aged between 3 and 10 can have a short pony ride around a paddock with experienced instructors. As well as the ponies, there are indoor and outdoor play areas, zip-wires, trampolines, two superb outdoor play areas, as well as a well-run petting zoo. Visitors can see donkeys, pygmy goats, rabbits, guinea pigs, and many other small animals.
Another great animal experience, especially for younger children is Pennywell Farm. This activity farm is most famous for its miniature pigs, but there are loads of great activities, shows, displays and animal handling experiences to be had at this great attraction. Hold a mini-pig, bottle feed a lamb, and feel the prickles on a hoglet's back (that's a baby hedgehog to you and me!). There are some great children's rides here as well, including quad bikes, go-karts, a mini railway and pony rides.
Woodlands Family Theme Park is the largest family-friendly theme park in Devon. Woodlands has something for everyone. It has a small zoo, a large indoor play area, lots of outdoor play areas, and a handful of big rides. The indoor play area is huge and always busy, come rain or shine. The Trauma Tower is always popular as it launches visitors rapidly sky-wards. The small zoo is usually surprisingly quiet, while the most popular rides are some of the large adrenaline rides. There is a swinging pirate ship, a hair-raising 500 metre toboggan ride, and some fantastic water-coasters. The water slides are taken on large inflatable canoes which reach terrifying speeds as they hurtle down the pipes.
Dartmoor and beyond
Ashburton skims the southern edge of Dartmoor which makes it feel wild and isolated, but is also a 2-minute drive to the Devon Expressway. It is half way between the two large cities of Plymouth and Exeter, so it is ideally situated for visitors who want the feeling of country freedom and the convenience of nearby city life. Dartmoor itself begins just on the edges of Ashburton, and as you drive north you are immediately transported to one of Britain's last true wildernesses. Dartmoor has a tranquil, rugged quality which always impresses. Alongside its many moors, rivers and forests, Dartmoor is most noted for its craggy Tors, climbable rocky outcrops which top most of the hillsides. These, and the wild Dartmoor ponies, are two of the most unique features of the landscape, but there are natural treasures right across the 368 square miles of this National Park.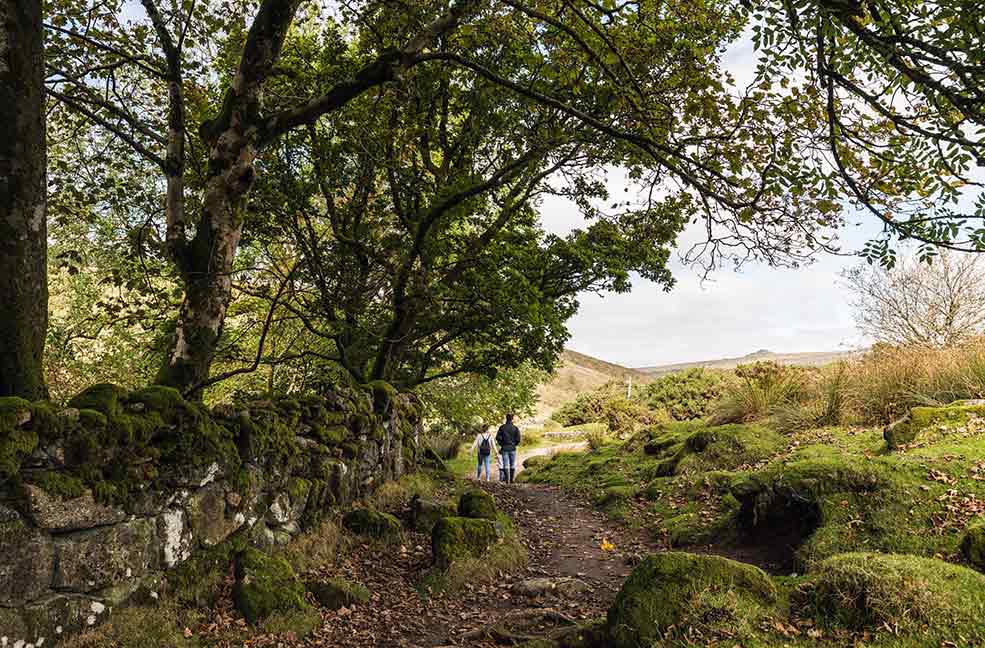 History
Ashburton is an ancient stannary town. Stannary town is a West country description of a town which once contained a tin works. There are only four stannary towns in Devon, and in the 1500s, 40% of Devon's tin was sold through Ashburton. Ashburton's tin mining history started in Roman times and ended as recently as the 1970s. As well as its tin trade, Ashburton made a living from passing trade on the main road from Exeter to Plymouth. Many of the buildings in the town date from the 17th century, when the town was flourishing. At the beginning of the 20th century, the town suffered when the railways bypassed this peaceful place, but its proximity to Dartmoor and its reputation as an antiques centre is certainly causing a flourish once again.
Take a look at our cottage collections for even more holiday inspiration.