If you're looking for a walk with a difference then make sure you check the tide times before you attempt this one;
St Helens is a beautiful place with a swathe of beach, lovely café and beach huts, perched opposite Bembridge Harbour. Pretty Seaview is just around the corner and Ryde a bustling seaside town is next door.
St Helens Fort is one of a small chain of round forts which were built in the Solent in the 1800s to protect Portsmouth from Napoleon. St Helens Fort was constructed to protect St Helens anchorage and came into its own during the First World War when it was used as a gun battery.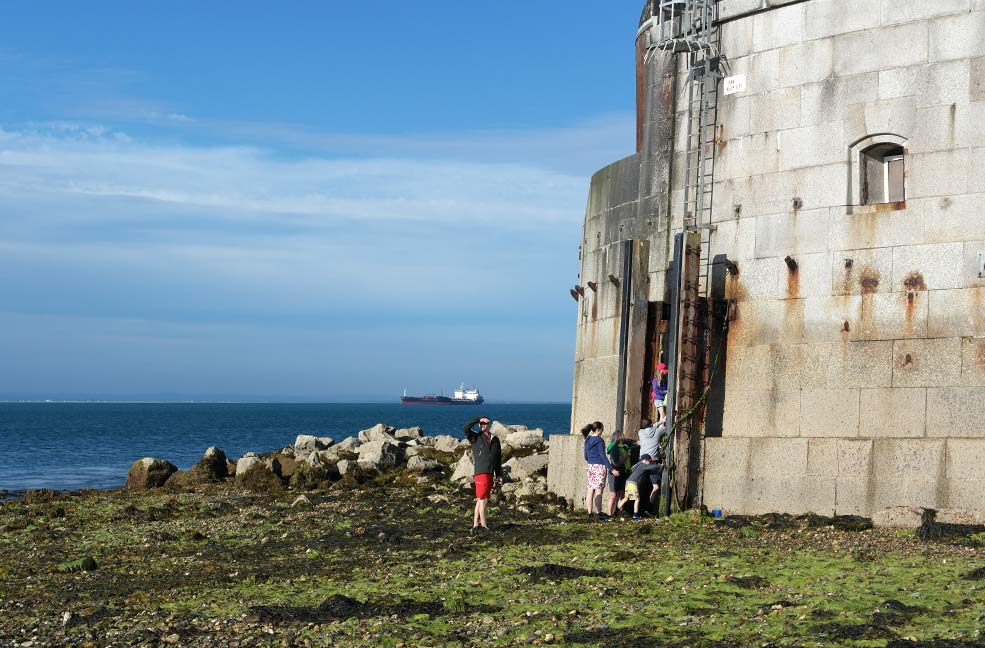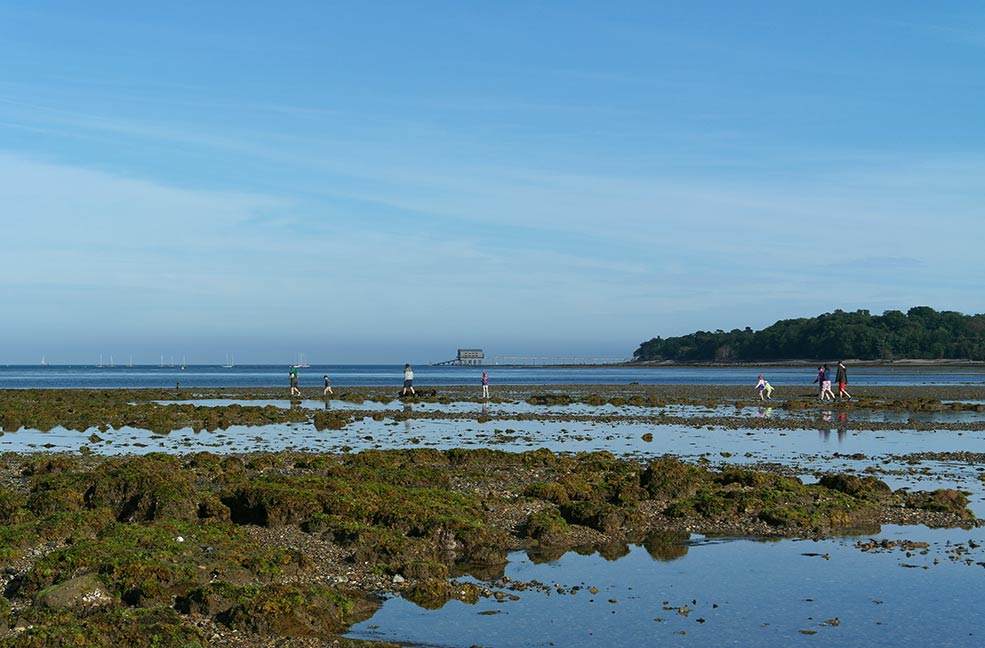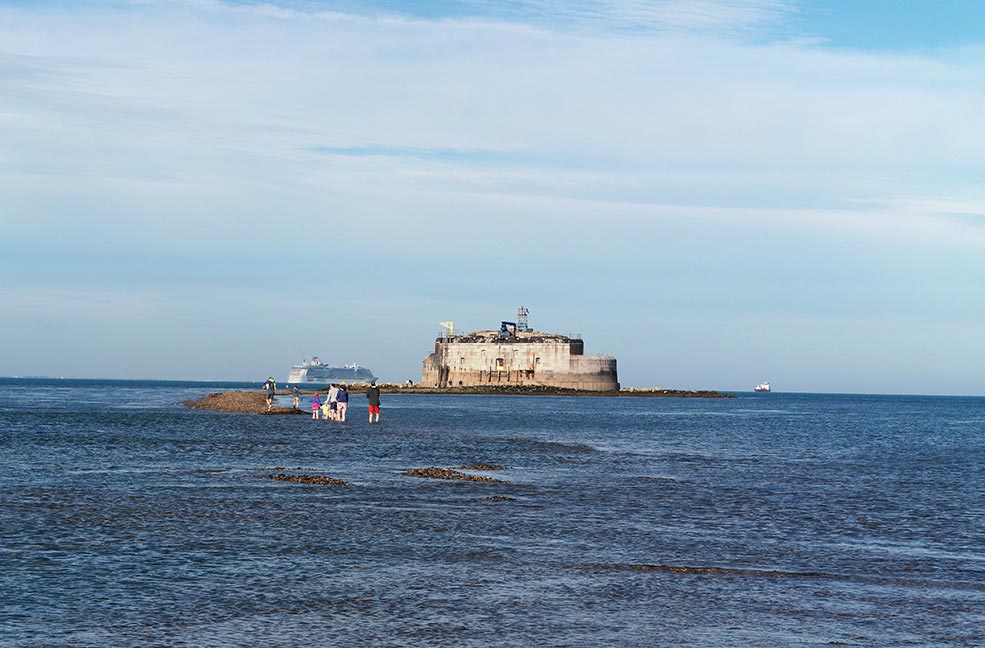 These days it is privately owned. However, there's a local tradition at low spring tide to walk across from the beach to the fort. This is only possible four times a year, the most popular time being August (this is probably due to the water being at its warmest!) when thousands of locals take part. The date is never advertised; locals just seem to know when it will happen so if you do want to join in you'd need to stay for a week around the lowest tide and hope it happened during your holiday.
I didn't realise my recent trip to the Island last weekend would coincide with a low spring tide and I just couldn't resist the opportunity to join in. To be honest there weren't many takers, it was a lovely evening but the water was freezing. There is a causeway to follow but parts were submerged and I ended up paddling at least half the way there and back. You need trainers, underfoot the rocks are slippy and in places covered in seaweed. Nigel (trusty Labrador retriever) thought it was the perfect walk as it was mostly in water and he did find plenty of smelly seaweed to roll in! As we got closer the walking became easier, mainly due to the receding tide and more of the causeway becoming exposed.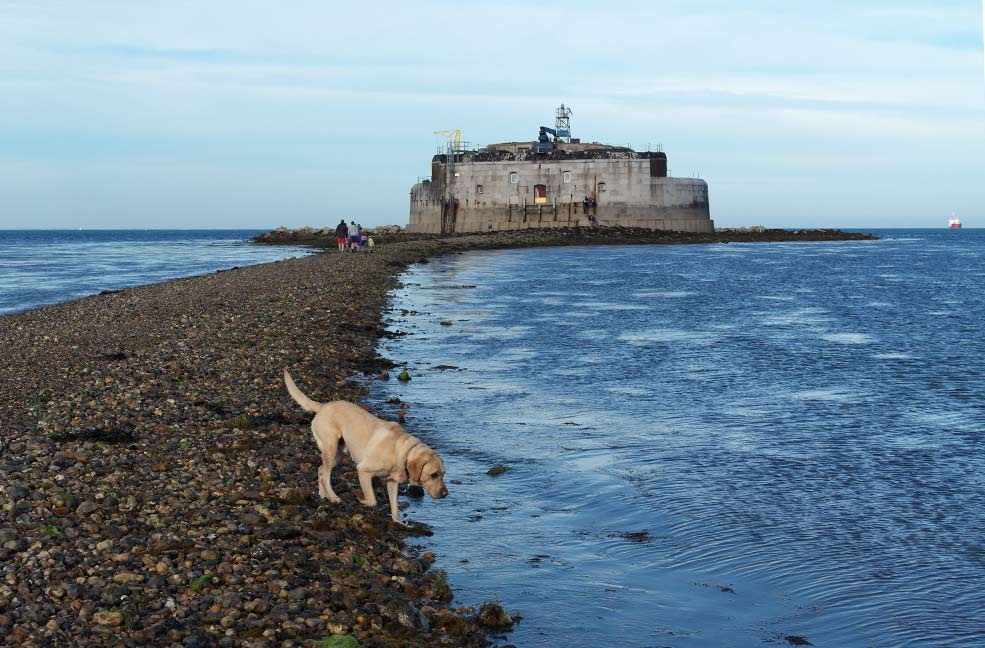 It took about 20 minutes to get to the fort. Once there, there is a ladder and folk were taking it in turns to clamber up to walk around the perimeter. I declined this one as I didn't fancy lifting Nigel up the ladder and had I tried it would definitely have ended in disaster. The building itself it certainly unusual. Over the years the Forts have had many uses (I understand that at least one in the Solent is now a hotel), but St Helens Fort is not occupied. I would have loved to have looked inside.
I have to say once we reached the fort the views were amazing across the Solent. It was odd looking back at St Helens from so far out to sea and seeing Bembridge Lifeboat station from a different angle. On the return walk we passed a family who had misjudged the causeway and were nearly waist deep in cold seawater; note to self, always stay on the path!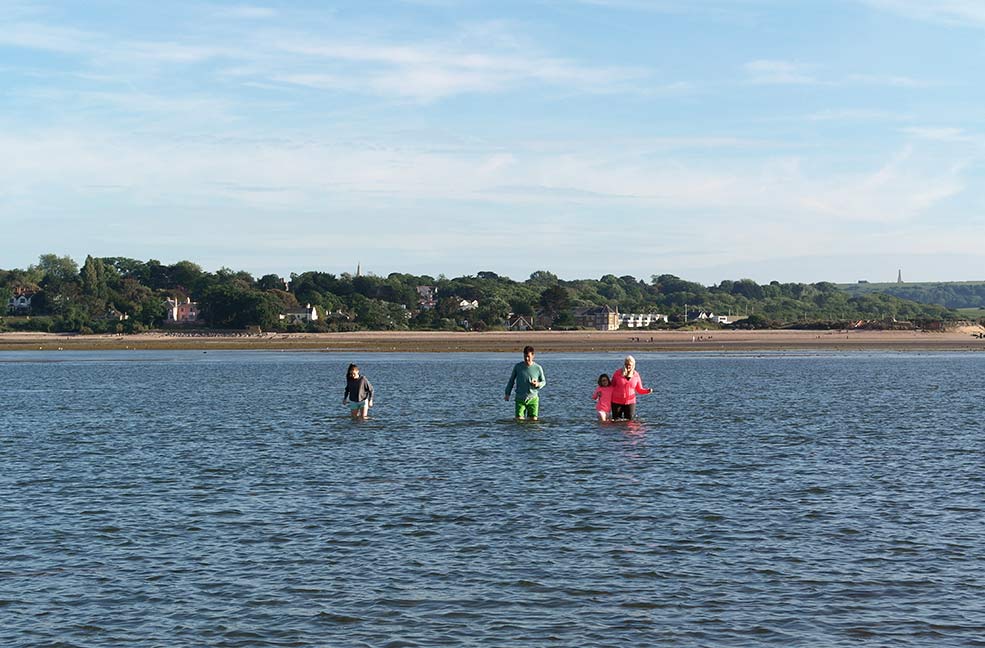 Highly recommended for your spring or summer holiday to the Isle of Wight. The walk took about an hour, but be warned, there is only a very limited time to get there and back before the tide catches you and it doesn't look a comfortable place to spend the night.