Finding things to do with the children can be a challenge at times during the holidays. It doesn't matter whether you've never been to this corner of the country or have lived here all your life Via Ferrata is here to save the day. Challenge the whole family to a full morning or afternoon of scaling the quarry face of an old granite quarry and finish the session off with an awesome, and very scenic, zip-line.
Via Ferrata Cornwall is so much more than just a wicked adventure. Launched in the summer of 2020 by BF Adventure, which supports Cornwall's most vulnerable children, Via Ferrata Cornwall was created to generate desperately needed funds to meet the rising demand for their services. All profits from Via Ferrata Cornwall are being channelled straight back into BF Adventure, with 60 - 80 disadvantaged young people a week currently supported by the charity's programmes. They transform young people and their families using a unique outdoor environment to create a positive change within families and the communities in which they live. If you want to find out more about the amazing work that Via Ferrata and BF Adventure do please check out their social impact report here.
How does 3 hours of traversing across quarry walls that haven't been seen from this angle for nearly 100 years sound? Pretty awesome right? Well here at Classic we couldn't say no to a morning full of adrenaline, fun and laughter, so off we went. Tucked away between Falmouth and Helston in Cornwall, we arrived to the smiling faces of Harry and Will, our instructors for the morning. Afraid to say they aren't the Duke of Cambridge and Sussex, but they are good at what they do and are a good laugh. We should probably mention that you do not need any rock climbing experience and anyone 8 years+ can take part in the Adventure Zone or 10 years+ in the Full Classic route.
Harnessing up was a little different to normal with the instructors giving detailed explanations on how to get your harness tight and safe so they didn't need to come and help, being very COVID-19 safe and aware. Next up was the challenge of hooking your harness to the safety wire while still on the ground. We won't tell you how to do it, but it was a good fun little challenge to start the adventure off!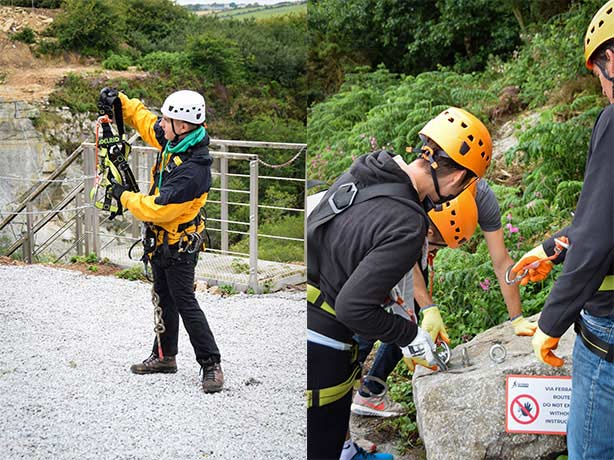 Into the first quarry you go, and across your first rock face. With little challenges for you to do as you go along your first rock face, you really get to know your harness and how things work. The bridge was certainly a favourite amongst our group! While above the water on this course keep an eye out for the little fish too. After completing the first course you can have a quick break or dive straight into the second course in the next quarry.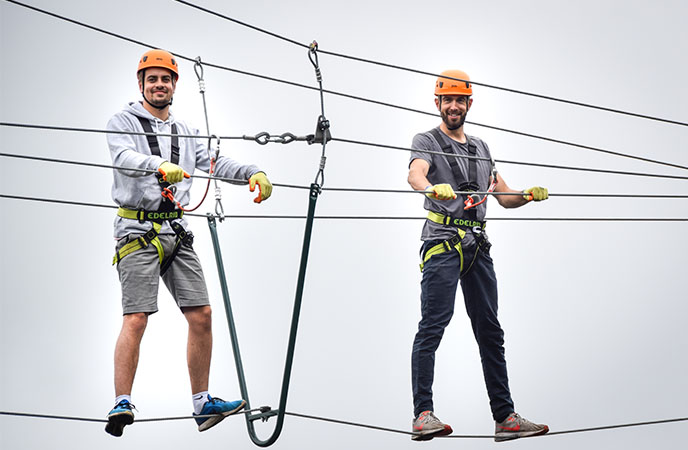 A zigzag route will take you all over the face of the rock with a lake of water beneath you. If you are lucky you might have a group of canoers on the water too! The instructors are always on hand if you ever need any help and if you decide you want to stop at any moment just let them know. They are a great group of people and are bound to make you laugh, even if you are a bit nervous.
To finish the awesome second course off, you get to go down the zip-line. If you are lucky and have enough time you can go down the zip-line as many times as you like, we managed three times! Standing at the top of the line you get an incredible view of the area. You can see right over to Goonhilly Satellite Station on the Lizard Peninsular, and watch the liners going past the Helford River around our coastline.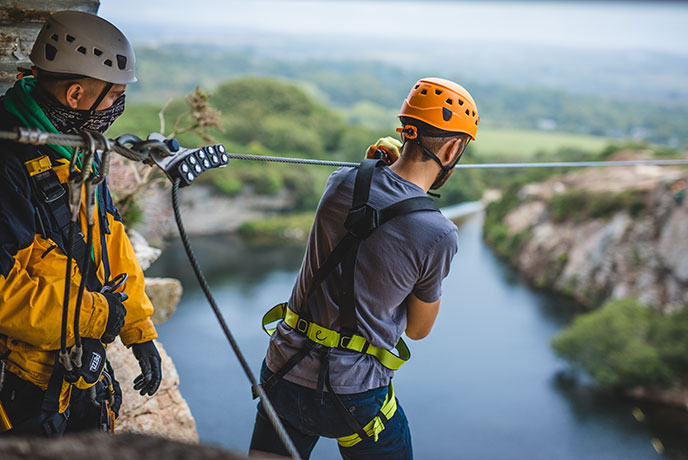 After an incredible few hours of climbing, fun and laughter we headed back to the café for a much needed drink and piece of cake, all made on site by The Cornish Barista. The cakes were super yummy and you won't want to share any of it! A special thank you to Harry and Will our instructors for making our morning as fun and as safe as possible.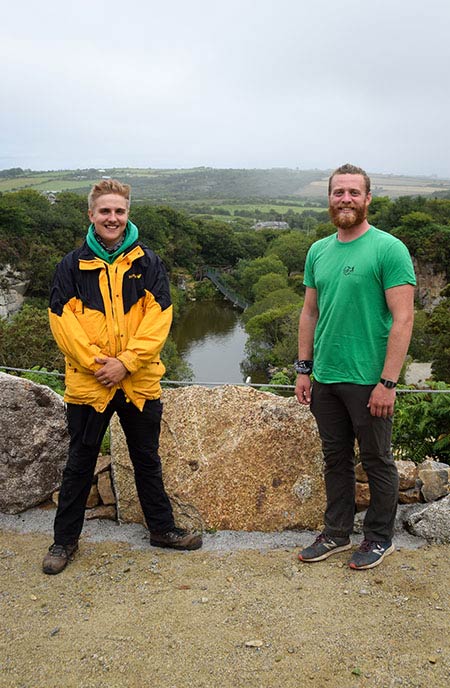 Every thought has been put into place at Via Ferrata regarding COVID-19 safety. Everyone naturally is about a meter or more apart while on the courses and there is little to no contact between you and the instructors. All payments for the day, apart from café purchases, are made online to reduce further contact. Via Ferrata will be opening for the 2021 season on April 3rd.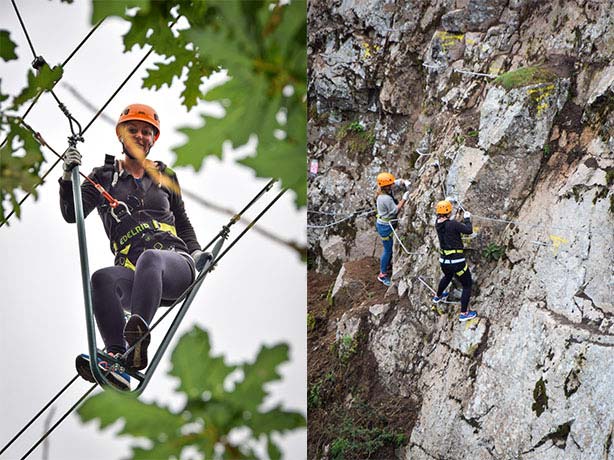 So if you are looking for an action packed few hours Via Ferrata Cornwall is the place to go! There is something for all the family and is a lot of fun too.
Need somewhere to stay so you can experience the adrenaline rush going around the quarry? Check out these gorgeous properties nearby.
Header image taken by Caroline Kearsley.