Nestled on the south coast backed by lush countryside, Polridmouth is perfect for those seeking beachside seclusion. While it's hardly considered secret, its lack of facilities and slight trek involved in reaching it ensures it's never crowded like the likes of St Ives and Newquay in the height of summer.
Polridmouth at a glance:
> Dog friendly year round
> 50p parking
> Half a mile walk to the beach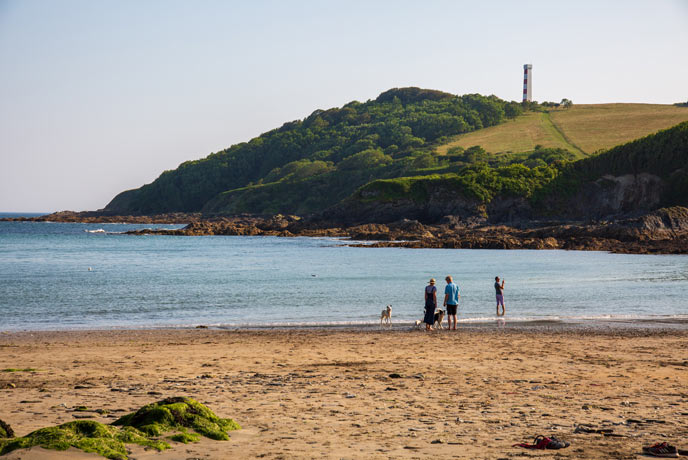 I've been visiting this beach since I was a child so I love the nostalgia a trip there brings. However, these days instead of bringing buckets and spades I bring along my cheeky golden retriever, Monty, who is even more fun. Luckily for us Polridmouth is dog friendly all year round making it a great choice for dog owners whatever the season. It's worth bringing some water for your pup as there is little in the way of facilities here.
To get to Polridmouth follow signs for Menabilly and then drive to the end of Menabilly road where you'll find a field car park to your right. Park up and then follow the footpath towards the beach – you'll pass an honesty box for parking along the way where you should pay 50p for your parking.
Once you've parked up and paid, take the footpath down towards the beach, it's about half a mile and a very beautiful and gentle downhill walk (though that means uphill on the way back). Along the way you'll walk through tree lined paths, past fields of cows and eventually you'll be rewarded with the beautiful view of the coast and the lush headland of Gribbin Head topped with a striking red and white striped daymark tower. You'll eventually come to a wooden gate and you can either go straight on to the first cove, or turn left along the coast path and visit the second.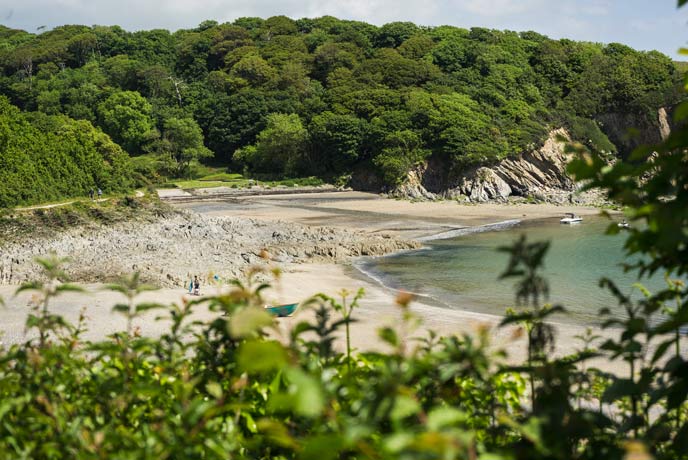 The two distinct bays are separated by a rocky headland, though at low tide you can walk from one to the other along the sand, we tend to explore both. The cove to the west has a great set of rock pools perfect for clambering over and exploring. The bay to the east is a strange but attractive one in that it backs on to the private lawns and lake of Polridmouth cottage. If you feel like stretching your legs some more take a walk up to Gribbin Head, simply take the coast path and get ready for a serious hill hike.
If you're in the mood for more exploring, have a mooch about the estate of Menabilly. Fans of Daphne du Maurier will be in their element as the novelist once lived in the area and many of her novels are said to be heavily influenced by her time here.
It's worth noting that there are no nearby toilets here and nowhere to purchase food or drink from, so pack a picnic! While there aren't any lifeguards on duty here, it's widely considered a safe spot for swimming thanks to the sheltered location and gentle waters.
After wandering about the area we plopped down on the sand and Monty entertained himself by swimming in the inviting gentle waters. And then promptly coming over to us and shaking himself dry. Ah the joys of dog ownership!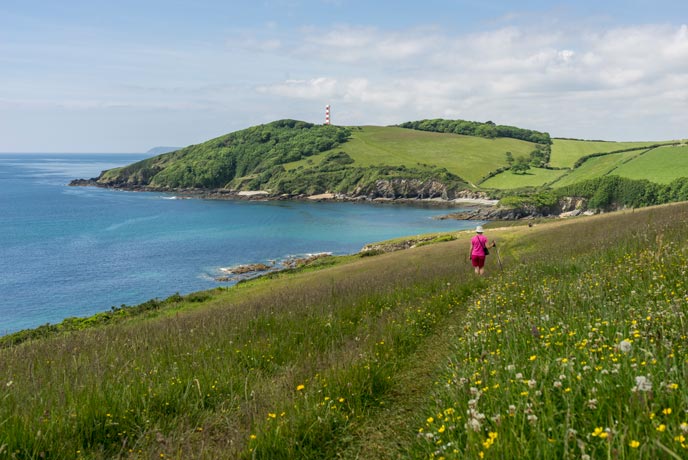 If Abby's adventures have inspired you to visit Cornwall, browse through our collection of Cornwall holiday cottages and start planning your holiday now.