The Annual Jane Austen Festival really is a great time to visit the city when on holiday near Bath for literary and history enthusiasts alike. You can find over 80 Jane related events between the 8th and the 17th of September; a fabulous time to explore all things Austen.
2017 held the 17th event of its kind, which opened on Saturday with a spectacular Regency Costume Parade along the famous Bath Promenade. Throughout the festival you can find everything from public feasts, movie screenings, comedy walks, dances, music, readings, and the chance to meet some of the directors who have enabled Austen's work to come to life on the big screen.
Jane Austen is one of my favourite writers, due to her sheer persistence to write in a time where it wasn't an accepted past time for women. Much like me, her favourite thing to do was to curl up in a library with her nose stuck in a good book. As a child, it is said that she used to argue with characters in the books she read (something I still do as an adult!) and create different endings for them when she was displeased with the authors version of events. Her and her sisters used to put on plays for their parents, and from a young age she started to write.
She was a meticulous writer, and was a stickler for detail, for it was in the details that the true story was told according to Jane. She was quite a rebel, and thus the basis of her still wide appeal. She embodies feminism in one of its earliest forms. She was expected to marry, but never did. Instead she went on to become one of the greatest literary minds this country has ever known. This is why I very much enjoy the festival every year, and can highly recommend it to anyone who yes, loves books, but who also has that rebellious feminist inside of them.
2017 is also very special because it marks the 200 year anniversary of Jane's death. She visited Bath often to take the waters, and to enjoy the high fashion of the vibrant city. Be sure to visit the Jane Austen Centre on Gay Street whilst visiting too. She was known to have paid two lengthy visits to the city towards the end of the 18th Century, and she also lived there for a spell between 1801 and 1806. She used the gorgeous city as inspiration too, and Bath features in her novels; Northanger Abbey, and Persuasion.
The festival is a fabulous time to meet others who share your enthusiasm for the literary heroine. Most of the events are within walking distance of one another, as although Bath is a city, its centre is quite small which means the festival is very accessible to visitors. The Royal Crescent, the Museum of Bath Architecture, and the Assembly Rooms are all used as venues which are also worth a visit in their own right. There is also a fantastic bus network should you prefer to take a load off.
Some parts of the festival are ticketed, so check out the listings ahead of time to make sure you get the most out of your Austen experience. There will be tickets available on the door to some events if it hasn't sold out, but better to be safe than sorry. Many people choose to dress up for the occasion and you are more than welcome to do this too. Maybe just a bonnet, or the whole hog - your choice!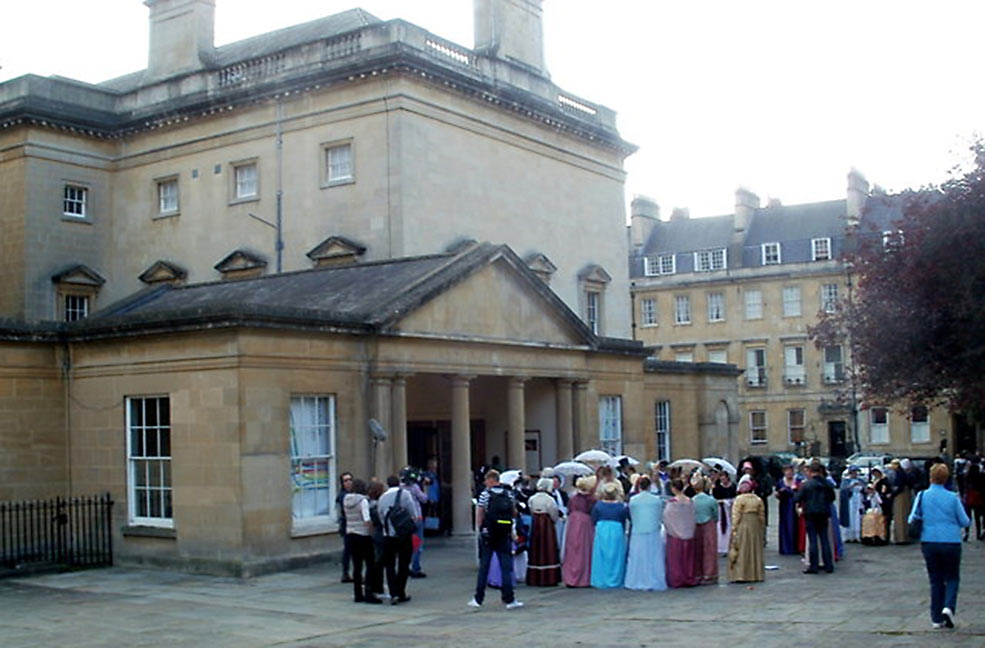 Bath is a city full of things to do and places to see, so your visit needn't stop at the festival. Enjoy the plethora of restaurants, sight-seeing tours, the architecture of historic buildings such as Bath University and of course, you must visit Bath Spa and the Roman baths. Visiting Bath is great for all the family as it's also known for its shopping and the Bath rugby team.