Gyllynvase beach is a popular beach in Falmouth, home to the brilliant Gylly Beach Cafe and Wesup. There's plenty to keep you busy at this Cornish hot spot.
Having parked on the road that runs parallel with the beach, next to the Queen Mary gardens, I sauntered through the gate on to the sand at Gyllyngvase beach in Falmouth. This is my local beach so I regularly visit throughout the year for walks, sea swimming, kayaking or just a hot chocolate at Gylly Beach cafe. My friends used to brew up tea or a thermos of mulled wine and come to sit by the sea wrapped in blankets in the winter months, I much prefer a sunny spring day or even a red hot bank holiday weekend.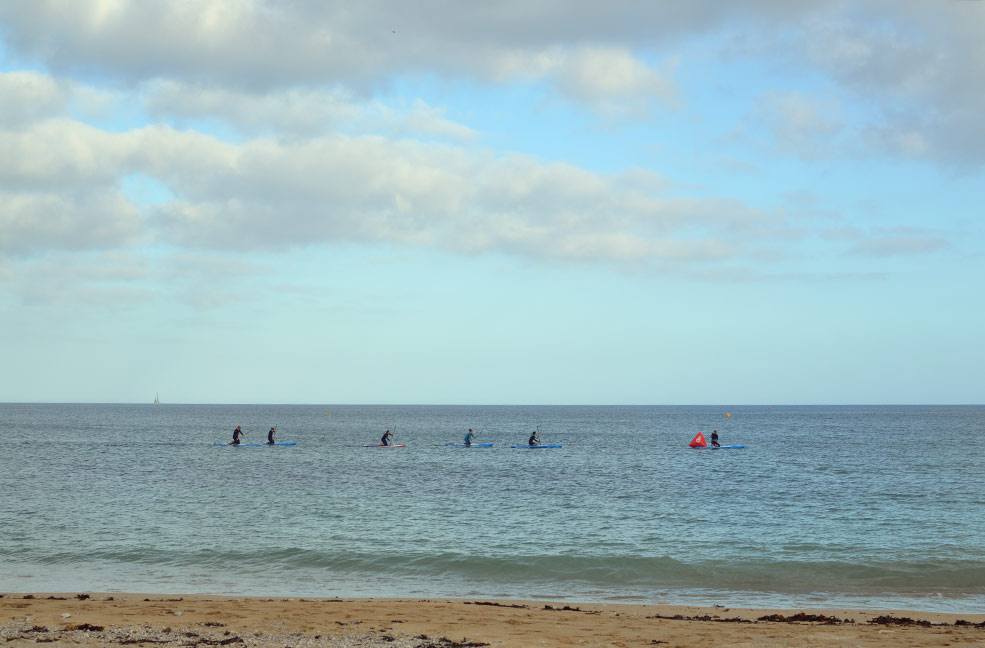 Beach profile:
Parking: A pay and display car park (that is free in the winter) and road parking
Eateries: Gylly Beach Cafe
Dogs: Welcome from October to Easter
Public conveniences: Public toilets on the beach
Close to: Falmouth
For today, I'm meeting a friend for a walk along the beach and round the headland to Swanpool beach for a famous hedgehog ice cream. We walk along the waterside as we chat. On a warmer day, I'd take my shoes off and paddle as we go but the weather isn't quite there yet. You can still see the sand through the clear, calm waters though. The bay shelters the beach making ideal conditions for Stand Up Paddle boarding, especially if you're a beginner.
Gylly, as it's known to locals, can get really busy in the summer but right now there's a good mix of families, teenagers and couples spread out along the sand. Between October and Easter, the beach is filled with dogs playing fetch and running through the waves. The convenience of how close the beach is to Falmouth town (about 10 minutes) makes this an easy location for walks with your favourite four-legged friend.
My favourite thing about Gylly is the view. It changes every time I visit; from ships out on the horizon to boats racing for the latest regatta, there's always something new to see here. Pendennis castle rises above the ocean to the left of the bay and to the right you can see the mouth of the Helford river, on a clear day you might even spot some keen paddle boarders making their way to the river.
The path leading to Swanpool beach leads off at the right of Gyllynvase if you're looking out to see. Looking back, you get great views of the cafe, beach and along the busy Falmouth seafront. Follow the path around the headland and you'll come across many picture-perfect moments where you'll have to stop to take a snap. The return walk from Swanpool to Gylly gives you just as many moments as you see things you might not have noticed on the way there.